Cukrzyca to jedna z najczęściej występujących obecnie chorób na świecie. Zazwyczaj jest ona diagnozowana już w zaawansowanym stadium, gdyż jej początkowe objawy nie są zbyt charakterystyczne. Tymczasem szybkie jej wykrycie znacznie zwiększa szanse na przeprowadzenie efektywnego leczenia i uniknięcie niebezpiecznych powikłań narządowych.
Jakie są pierwsze objawy cukrzycy?
Spadek wagi ciała
Utrata wagi spowodowana jest tym, że organizm nie wykorzystuje odpowiednio węglowodanów, co powoduje, że korzysta z tłuszczów oraz białek. Osoby pragnące zrzucić zbędne kilogramy zazwyczaj bagatelizują ten problem, a nawet traktują jako coś pozytywnego. Jednak, gdy występują również senność i zmęczenie, to oznacza to, że spadek wagi niekoniecznie wynika z treningu lub efektywnej diety, ale może być spowodowany problemami zdrowotnymi.
Wzmożony apetyt
Wzmożony apetyt (inna jego nazwa to polifagia) jest spowodowany fizjologią tej choroby. Niewystarczająca ilość insuliny uniemożliwia prawidłowy transport glukozy do tkanek. Reakcją organizmu na niską zawartość cukrów w tkankach jest właśnie zwiększone łaknienie.
Częste oddawanie moczu i zwiększone pragnienie
Do lekarza należy się zgłosić, gdy oddaje się znacznie większe ilości moczu niż zwykle. Wskazaniem do wizyty lekarskiej jest także silne uczucie pragnienia pomimo picia znacznych ilości płynów lub ciągła suchość w ustach, która w skrajnych przypadkach uniemożliwia swobodne połknięcie pokarmów. Przyczyną tych symptomów są osmotyczne właściwości glukozy. Podwyższone stężenie cukru we krwi w znacznym stopniu utrudnia poprawne działanie nerek, co w konsekwencji powoduje, że w moczu występuje nadmiernie wysoka zawartość glukozy. Poza nią do uryny dostają się także duże ilości wody (co wynika z właściwości osmotycznych) i dlatego dochodzi do wielomoczu. Wielomocz jest przyczyną zwiększonego pragnienia (inaczej określanego jako polidypsja), które ma przeciwdziałać wystąpieniu odwodnienia organizmu.
Problemy skórne
W początkowej fazie cukrzycy często występują stany zapalne jamy ustnej, śluzówek lub narządów płciowych. Zazwyczaj są to infekcje spowodowane przez drożdżaki, które mają skłonność do nawracania. Te infekcje prowadzą do pieczenia oraz świądu. Inne dolegliwości skórne wywoływane przez cukrzycę to m.in.:
czyraki,
grzybice paznokci,
wykwity,
wypadanie włosów.
Senność oraz osłabienie
Wstępny etap cukrzycy wiąże się też ze wzmożoną sennością oraz osłabieniem. Brak odpowiedniej dawki snu może wywołać apatię, a także depresję. W takiej sytuacji nie wszystkie parametry organizmu znajdują się na odpowiednim poziomie. Dlatego w przypadku tych symptomów zalecana jest jak najszybsza wizyta lekarska.
Charakterystyczny zapach moczu
Jest to typowy objaw dla rozwijającej się cukrzycy. Z powodu zwiększonego metabolizmu białek dochodzi do powstawania dużej ilości ciał ketonowych. Organizm człowieka stara się doprowadzić do równowagi metabolicznej i dlatego dochodzi do wydalania ciał ketonowych wraz z moczem, co prowadzi do jego nieprzyjemnego, kwaśnego zapachu. W dalszej fazie choroby może też wystąpić nieświeży oddech, który jest spowodowany obecnością acetonu. W przypadku ketonemii (czyli nadmiernie dużej zawartości ciał ketonowych w ciele człowieka) często występują przewlekłe nudności.
Inne symptomy
Do innych początkowych symptomów cukrzycy należą m.in.:
zaburzenia dotyczące rytmu serca – określa się je potocznie jako kołatanie serca,
częste występowanie bólów głowy,
pogorszenie ostrości wzroku,
spowolnienie gojenia się ran,
skurcze mięśni (najczęściej dotyczą łydek),
drętwienie oraz mrowienie kończyn.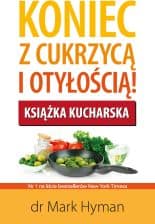 Koniec z cukrzycą i otyłością – książki i poradniki
Kliknij tutaj i sprawdź ceny!
Rodzaje cukrzycy
Wyróżnia się przede wszystkim dwa podstawowe typy cukrzycy:
Cukrzycę typu 1 – najczęściej występuje u ludzi znajdujących się w młodym wieku. Jej symptomy ujawniają się nagle, nasilają się w przeciągu zaledwie kilku dni oraz dają wyraźny obraz choroby.
Cukrzycę typu 2 – symptomy tej choroby są różnorodne, niezbyt specyficzne i ciężkie do zaobserwowania, gdyż nie są mocno nasilone. Nie powodują u chorych obawy, co w konsekwencji sprawia, że cukrzyca typu 2 w wielu przypadkach rozwija się przez długi czas (nieraz przez wiele lat) i może spowodować wystąpienie groźnych powikłań. Z tego powodu istotne jest wykonywanie systematycznych, profilaktycznych badań krwi na stężenie glukozy, a także badań moczu. Te badania mogą potwierdzić lub wykluczyć cukrzycę.
Istotne jest wczesne rozpoznanie
Nie wolno lekceważyć nawet najmniejszych symptomów cukrzycy, gdyż wczesne rozpoznanie tej choroby jest niezwykle istotne dla zdrowia osoby chorej. Zastosowanie prawidłowego leczenia oraz kontroli cukrzycy zmniejsza ryzyko wystąpienia powikłań cukrzycy. Do powikłań tej choroby można zaliczyć m.in.:
neuropatię cukrzycową – uszkodzenie układu nerwowego, które może doprowadzić do zaburzeń czucia,
retinopatię cukrzycową – uszkodzenie oka, które może doprowadzić do zmętnienia soczewki, a w skrajnych wypadkach nawet do ślepoty,
nefropatię cukrzycową – uszkodzenia nerek, które mogą stać się powodem ich niewydolności,
chorobę niedokrwienną w obrębie ośrodkowego układu nerwowego – niedokrwienie mózgu, które może przyczynić się do jego uszkodzeń,
stopę cukrzycową – nieprawidłowości dotyczące ukrwienia stopy, które mogą stać się przyczyną infekcji, wrzodów, a w pewnych wypadkach nawet martwicy i w konsekwencji konieczności usunięcia chorej kończyny,
cukrzycową kwasicę ketonową, która objawia się m.in. wymiotami, nudnościami, odwodnieniem, bólami brzucha, oddechem Kussmaula (powolnym i głębokim), wielomoczem, zaburzeniami świadomości czy zwiększonym pragnieniem. U osób z tym problemem niezbędna jest hospitalizacja,
chorobę wieńcową – niewydolność serca i jego niedostateczne ukrwienie. Ta choroba znacznie zwiększa ryzyko zawałów, które mogą doprowadzić do zgonu,
śpiączkę cukrzycową – jest spowodowana hiperglikemią (nadmiernie wysokim stężeniem cukru we krwi) lub hipoglikemią (niedocukrzeniem). Znaczne wahania glukozy we krwi są konsekwencją niewłaściwej kontroli cukrzycy lub jej zupełnym brakiem. Z tego powodu istotne jest, aby początkowe objawy cukrzycy nie pozostały bez kontroli.