Aloes jest sukulentem, czyli rośliną, która musiała przystosować się do życia w warunkach ograniczonego dostępu do wody. Zrobiła to poprzez wykształcenie tkanki wodnej, która służy do gromadzenia wilgoci. Aloes zawiera ponad 200 wartościowych i odżywczych składników. Liście aloesu wypełnia żelowa substancja, miąższ, który składa się z ok. 99% wody. Aloes dzięki swojej budowie doskonale znosi suszę, dlatego nawet w warunkach domowych nie wymaga częstego podlewania. Wzmianki o tej roślinie znajdują się już w Biblii, wykorzystywana jest tam do obrządków pogrzebowych.
Właściwości odżywcze aloesu
Aloes jest skarbnicą witamin, minerałów, aminokwasów i kwasów tłuszczowych, zawiera:
witaminę A,C,E, B1, B2 ,B3, B6, B12
kwas foliowy
cholinę
wapń
magnez
cynk
chrom
selen
sód
potas
żelazo
miedź
mangan
Aloes zawiera również aminokwasy, w zależności od momentu zerwania go, będzie to od 18 do 20 aminokwasów, a w tej liczbie mieszczą się również aminokwasy, których człowiek nie jest w stanie sam wyprodukować i pozyskuje je z zewnątrz, np. z aloesu. Aloes posiada również w swoim składzie kwasy tłuszczowe, w tym dwa sterole:
kampesterol, który odpowiada m.in. za właściwości przeciwzapalne rośliny
beta-sitosterol, obniża poziom cholesterolu we krwi poprzez blokowanie wchłaniania go w jelitach
Pozostałe kwasy tłuszczowe zawarte w aloesie, to kwas:
linolowy
linolenowy
mirystynowy
kaprylowy
oleinowy
palmitynowy
stearynowy
Bez względu na to czy aloes pochodzi z Madagaskaru lub Wysp Kanaryjskich, sięga tam kilku metrów czy jest to domowa roślina doniczkowa zawiera tyle samo substancji odżywczych i leczniczych wykorzystywanych w produkcji leków wzmacniających czy bakteriobójczych. Od dawna wiadomo, że aloes ma swój udział w leczeniu chorób nowotworowych. Jednen z jego składników – aloeemodyna blokuje rozwój białaczki.
Aloes dobry na wszystko
Właściwości zdrowotne aloesu znane są od stuleci, chociaż w różnym okresie czasu przeważały odmienne cechy. Od dawna aloes stosuje się jako środek przeczyszczający i żółciopędny, chociaż w tym przypadku należy postępować z nim bardzo ostrożnie. Albo inaczej ,właściwości medyczne aloesu są tak intensywne, że nie można traktować go jak ziołową herbatkę, tylko prawie jako lek. A zgodnie z procedurami dot. stosowania leków, należy również z tym sukulentem obchodzić się ostrożnie.
Aloes pomaga w leczeniu oparzeń, wystarcza przeciąć liść wzdłuż i przykładać do chorego miejsca. Maści preparowane z aloesu stosuje się w leczeniu zewnętrznych dolegliwości skórnych. Ponieważ zawiera on antyprostaglandyny hamuje procesy zapalne skóry. To dlatego aloes na twarz jest tak popularny wśród osób mających problemy z cerą. Maści oraz inne preparaty zawierające wyciąg lub miąższ z aloesu pomagają przy nerwobólach i reumatyzmie. Z aloesu wytwarza się wino, od dawna zalecane do leczenia astmy, a sok z aloesu obniża poziom cukru u pacjentów chorych na cukrzycę.
Zastosowane aloesu
Aloes ma wiele różnorodnych zastosowań, a w miarę upływu lat coraz lepiej rozpoznawane są właściwości tego sukulenta, aloes posiada:
działanie przeciwzapalnie, z tego powodu aloes na twarz w postaci okładów z miąższu zaleca się osobom z problemami skórnymi
działanie zmiękczające
działanie przeciwbólowe i przeciwobrzękowe
aloes łagodzi swędzenie
rozszerza naczynia włosowate, tym samym przyśpiesza proces gojenia
spowalnia rozwój bakterii, wirusów i grzybów
pomaga w gojeniu niewielkich oparzeń czy poparzeń słonecznych, wystarczy przyłożyć aloes na twarz czy inne poparzone miejsce
łagodzi dotkliwe objawy półpaśca
zapobiega wysychaniu rany ze względu na swoje właściwości nawilżające
poprawia ukrwienie skóry
pomaga przy łagodniejszych odmrożeniach
ma właściwości przeciwwirusowe
pozyskiwany z aloesu  sok pomaga zwalczyć stany zapalne układu trawiennego, w tym wrzody i niestrawność
sproszkowany aloes łagodzi zmiany chorobowe w żołądku
łagodzi ukąszenia i użądlenia owadów
łagodzi objawy łuszczycy, egzemy i alergii
działa uodparniająco na organizm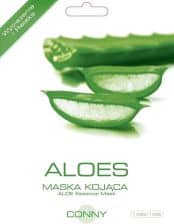 Szeroki wybór maseczek z aloesu
Kliknij tutaj i sprawdź ceny!
Aloes na twarz
Ze względu na swoje właściwości nawilżające, łagodzące, przeciwbakteryjne aloes jest stosowany w przemyśle kosmetycznym. Wykorzystuje się go w preparatach służących do leczenia ran, oparzeń, otarć skóry a także do leczenia łuszczycy, egzemy, alergii czy ugryzienia owadów. Przyłożony do rany łagodzi ból. Aloes posiada działanie przeciwświądowe i ściągające dlatego leczy drobne rany i niewielkie krwawienia. Z uwagi na naturalną zawartość wilgoci jest doskonałym środkiem nawilżającym i odmładzającym cerę. Podnosi elastyczność skóry, zmiękcza ją i koi. Jest składnikiem wielu kremów, toników, mleczek pielęgnacyjnych. Zawierają go też żele i kremy do golenia, a maszynka do golenia dla kobiet posiada specjalną wyściółkę aloesową do łagodzenia skutków golenia delikatnej skóry.
Wino z aloesu:
50 dag liści aloesu
1/2 l wytrawnego czerwonego wina
3 łyżki miodu
4 łyżki spirytusu rektyfikowanego
Aloes przeznaczony do wyrobu wina powinien pozostawać we względnej ciemności, dlatego zerwane już liście powinno się przechowywać w lodówce co najmniej przez tydzień. Następnie liście należy posiekać i zmieszać z pozostałym składnikami oraz odłożyć w ciemnym miejscu na kilka dni. Po tym czasie roztwór trzeba przecedzić i przechowywać w lodówce. Wino z aloesu pije się 3 x dziennie po łyżce na godzinę przed posiłkiem.