Zestaw garnków i patelni to niezbędnik w każdej kuchni. Są wygodnym rozwiązaniem, ponieważ zawierają komplet najpotrzebniejszych naczyń do gotowania, dzięki nim przyrządzimy każde danie. Wybierając zestaw patelni i garnków, warto zwrócić uwagę na ich jakość. Jest to bowiem inwestycja na długie lata użytkowanie. Marka Venice od wielu lat zajmuje się produkcją najwyższej klasy naczyń kuchennych. Ich produkty są chętnie wybierane ze względu na solidność, wytrzymałość oraz bezpieczeństwo. Porozmawiamy z Panią Magdą Jaworską z Venice o ofercie, a także założeniach firmy. Pani Magda opowie jak wybrać bezpieczny zestaw, który posłuży nam latami oraz jak gotować zdrowo.
Garnki Venice
Zestawy garnków Venice to komplet, który umożliwia przygotowanie każdej potrawy. Są nie tylko funkcjonalne, ale energooszczędne, dzięki nieprzywieranej powłoce można przygotowywać w nich zdrowe i lekkostrawne potrawy. W zestawie znajdują się zarówno patelnie, głębokie rondle i duże garnki. Więcej na ten temat przybliża nam pani Magda, przedstawicielka Venice "Nasze zestawy, zostały skomponowane w oparciu o wieloletnie doświadczenie w tej branży. By stworzyć zestaw idealny, rozmawialiśmy z szefami kuchni renomowanych restauracji, gospodyniami domowymi i wieloma klientami, każda sugestia była brana pod uwagę. Dzięki temu, wiemy, że by komplet garnków zaspokajał potrzeby nawet najbardziej wymagających konsumentów, powinien być różnorodny"
Pani Magda Jaworska przybliżyła nam też ofertę garnków Venice, dzięki niej wiemy że producent oferuje zarówno garnki do gotowania na parze w systemie wieżowym, głębokie patelnie do smażenia bez tłuszczu, czy frytkownice. Ostatnim hitem naczyń Venice okazała się patelnia z funkcją rozmrażania noforst.
"Bardzo często słyszę pytanie: Dlaczego warto wybrać te garnki? Marka Venice oferuje najlepszą jakość w korzystnej cenie. Garnki są wykonane z najwyższej jakości stali szlachetnej, która gwarantuje użytkowanie ich przez lata. Nie są to kolejne garnki wykonane z cienkiej blachy, z plastikowymi rączkami, które po miesiącu czy dwóch nadają się do wyrzucenia. Naczynia i garnki Venice to inwestycja na lata. Wiele zastosowań, bezpieczeństwo oraz niezawodność to coś co charakteryzuje nasze komplety. Dodatkowo, każdy zestaw posiada 20 lat gwarancji." – dodaje pani Magda.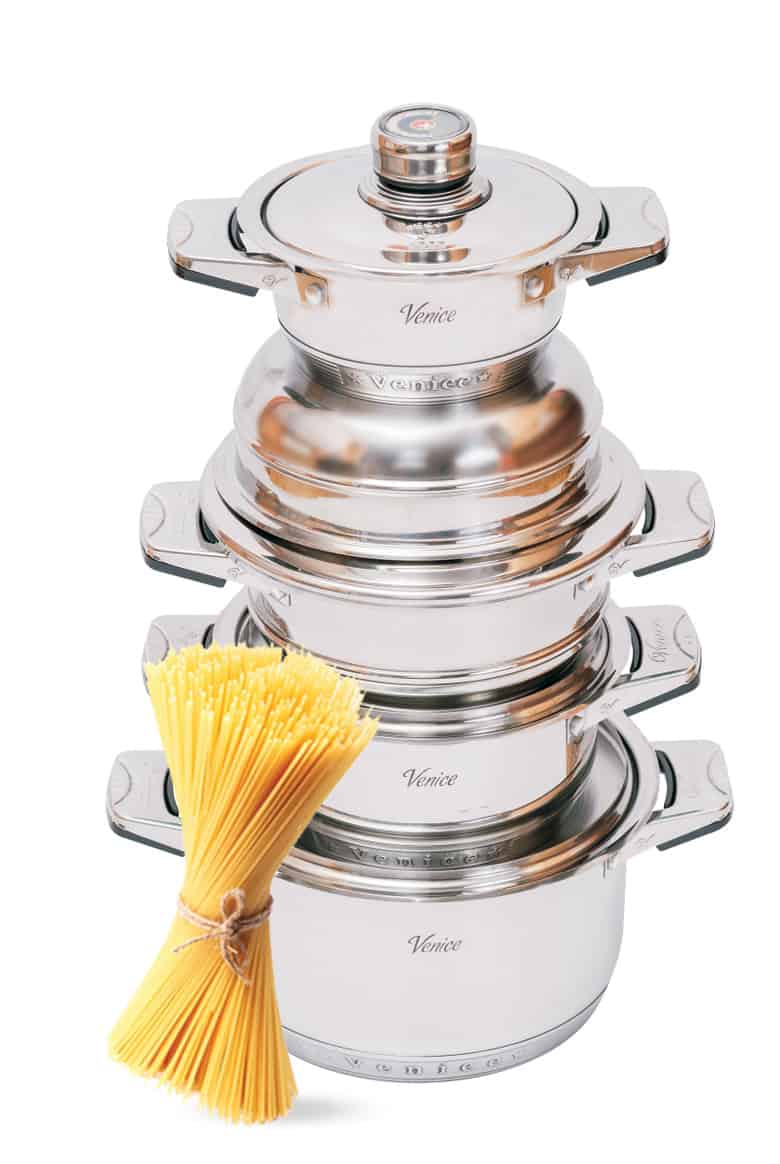 Jak wybrać garnki dobre dla zdrowia?
"Wybierając garnki lub naczynia warto zwrócić uwagę by były one z renomowanych firm. Unikajmy najtańszych naczyń, pochodzących od nieznanych producentów. Ze słabej jakości garnków może z łatwością odpaść emalia lub zedrzeć  się teflon, co prowadzi do zachodzenia szkodliwych reakcji chemicznych. Z kolei tanie aluminiowe garnki w kontakcie z kwaśną potrawą, mogę uwalniać glin, który jest bardzo niebezpieczny dla naszego zdrowia – podkreśla pani Magda – Jeśli więc chcemy jak najlepiej troszczyć się o bliskich, zadbajmy o to by nasze potrawy były zdrowe. A zdrowie nie wynika tylko z tego co wrzucimy do garnka, ale i  z tego, do jakiego garnka wrzucimy."
"Garnki Venice wykonane są z najwyższej jakości materiałów, najmocniejszych oraz najwytrzymalszych metali używanych w produktach – dodaje przedstawicielka Venice – naczynia odporne są na wszelkie zadrapania i zarysowania, nie odpryskują i nie wykruszają się nawet przy intensywnym użytkowaniu. Co więcej nie reagują w kontakcie z kwaśnymi potrawami, dzięki czemu nie zachodzą w nich niepożądane reakcje chemiczne. Dzięki czemu przygotowywanie potraw dla małych dzieci czy dla alergików jest bardzo bezpieczne."
Jakie zalety niesie gotowanie w garnkach Venice?
Marka Venice umożliwia gotowanie produktów na parze w systemie wieżowym oraz smażenie bez użycia tłuszczu, zapytaliśmy panią Magdę, jakie korzyści ma przygotowywanie potraw w ten sposób.
"Gotowanie na parze pozwala zachować cenne witaminy, mikro i makroelementy. Związki te nie przenikają do wody, jak w przypadku tradycyjnej metody gotowania, a zostają w pożywieniu. Co więcej gotując w ten sposób zachowujemy smak warzyw i owoców, są one jędrne i mają ładny kolor. W takiej formie do ich jedzenia, zachęcimy nawet dzieci, które zazwyczaj nie przepadają za rozgotowanym brokułem czy marchewką – zachęca pani Magda"
"Jeśli chodzi zaś o smażenie bez tłuszczu, to garnki i patelnie marki Venice zostały zaprojektowane w ten sposób, by umożliwiać przyrządzanie potraw, bez dodatku tłuszczu. Potrawy nie przywierają do dna, dzięki czemu możemy zrezygnować z oleju czy smalcu. Jedzenie przyrządzone w ten sposób jest lekkie, pożywne i pełne smaku. Nie musimy się martwić zbędnymi kaloriami, które odkładają się w naszym organizmie w postaci nadprogramowych kilogramów. Gotowanie bez tłuszczy gwarantuje lepsze zdrowie i samopoczucie. Jesteśmy mniej narażeni na choroby układu krążenia – twierdzi przedstawicielka Venice."
Cena i opinie na temat  naczyń i garnków Venice
Jako że na temat zestawów marki Venice krążą różne opinie, poprosiliśmy panią Magdę Jaworską, o odniesienie się do tego tematu. W odpowiedzi usłyszeliśmy:
"W ostatnim czasie wiele osób, postanowiło wykorzystać nasze dobre opinie, podszywając się pod Venice. Dlatego też na rynku dostępnych jest wiele podróbek sprzętów naszej firmy. Chcielibyśmy przed nimi przestrzec wszystkich kupujących. Naczynia marki Venice są sprzedawane jedynie przez oficjalnych przedstawicieli na naszych pokazach. Zapraszamy więc na niezobowiązujące spotkania, które regularnie odbywają się w różnych miastach Polski. Uczestnicząc w pokazie mają Państwo możliwość przekonania się na własnych oczach o możliwości naszych garnków. Odpowiemy na wszystkie Państwa pytania, oraz zaprezentujemy nasze produkty. Zawsze można podejść, zobaczyć dotknąć. Nie sprzedajemy kota w worku – zapewnia pani Magda"
"Co więcej, nasi klienci są bardzo zadowoleni. Nasze zestawy cieszą się ogromnym uznaniem i pozytywnymi opiniami. Dostajemy informacje, że garnki Venice ułatwiają gotowanie w domu, a także są świetnym prezentem da bliskich – z dumą dodaje pani Magda"
Zapytana o cenę reprezentantka firmy Venice dodaje: "Jeśli chodzi o cenę to zestaw garnków kosztuje około 7 tysięcy złotych, w zależności od tego co zawiera zestaw. Ponadto każdy pokaz jest inny, więc i oferta może nieznacznie się różnić. Pamiętajmy, by nie kupować garnków w internecie, gdzie cena bardzo różni się od tej z pokazów. Może to świadczyć o tym, że ktoś próbuje nas oszukać."
Podsumowanie
Wybierając oryginalny komplet 19 naczyń i garnków Venice, wykonanych ze stali szlachetnej, mamy pewność co do wysokiej jakości wykonania i materiałów użytych w produkcji. 20 letnia gwarancja świadczy o tym, że marka Venice na pewno zasługuje na uwagę. Pani Magda Jaworska przybliżyła nam obraz firmy, a na koniec podzieliła się przemyśleniami:
"Zwracajmy uwagę na to co jemy, oraz w jaki sposób przygotowujemy nasze posiłki. Przykładając uwagę do posiłków jakie przyrządzamy, dbamy o zdrowie i dobre samopoczucie całej rodziny, a to przecież najważniejsze."
My zgadzamy się z Panią Magdą i zachęcamy do uczestnictwa w pokazach, na których dowiecie się Państwo się więcej o tajnikach zdrowego gotowania czy o tym na co zwrócić uwagę wybierając sprzęt do kuchni.
Cena oryginalnego kompletu garnków i naczyń Venice: 7 900 zł
Sprawdź opinie Klientów: