Masło shea to składnik doskonały. Razem z olejem arganowym stał się najpopularniejszym składnikiem kosmetyków. Jest jednocześnie olejem jadalnym pochodzącym z Afryki subsaharyjskiej, stosowanym tam co najmniej od XIV wieku i preparatem kosmetycznym o właściwościach nawilżających, kojących, uelastyczniających, przeciwzmarszczkowych. Masło shea należy do składników o najszerszym spectrum zastosowań w kosmetyce.
Skąd się wzięło masło shea?
Masło shea nosi też wymiennie nazwę karite lub masło galam. Otrzymuje się je dzięki procesowi przetwarzania orzechów masłosza. A masłosz Parka to drzewo rosnące w zachodniej i centralnej Afryce. Należy do rodziny sączyńcowatych. Ta niezwykła roślina może żyć 300 lat, a pierwsze jej owoce pojawiają się dopiero po 30-40 latach. Rośnie do wysokości ok. 25 m. Owoce shea swoim wyglądem przypominają jagody. Wewnątrz każdego owocu znajduje się  nasiono i to z niego wytwarza się masło. Aby otrzymać 1 kg masła należy zużyć 15 kg nasion. Owoce zbiera się od lipca do grudnia, gotowy wyrób będzie się różnił barwą i zapachem w zależności od terminu zbioru.
Masłosz Parka  było traktowane w kulturze afrykańskiej jako święte drzewo, przede wszystkim ze względu na czas swojego egzystowania. Do Europy produkty pozyskiwane z masłosza, czyli masło i drewno dotarły w XVIII w. W XX w masło shea było już szeroko stosowane w kosmetyce, z czasem w wielu produktach zastępuje się je masłem kakaowym.
Na czym polega wyjątkowość masła shea?
Masło shea składa się w 90% z dwóch kwasów: oleinowego i stearynowego. Jest bogate w nienasycone kwasy tłuszczowe o zdecydowanie wyższej jakości niż w innych masłach roślinnych. Nienasycone kwasy tłuszczowe odpowiadają w kosmetyce za nawilżenie skóry i jej odmładzanie. Masło shea zalecane jest osobom o suchej skórze, skłonnej do zmarszczek.
Masło shea rozpoznawalne jest przede wszystkim ze względu na zawartość związków niezmydlających się, dzięki którym produkt zyskał właściwości dermatologiczne. Masło shea zawiera fitosterole, witaminę A oraz katechiny, które rozpoznano także w zielonej herbacie. Pochodne kwasu cynamonowego natomiast działają przeciwzapalnie i przeciwbakteryjnie.
Jak masło shea działa na skórę?
To szerokie spektrum oddziaływania na skórę i korzyści jakie otrzymuje się wskutek stosowania masła shea zadecydowały o jego popularności w kosmetyce. Masło she działa na skórę w przeróżny, często zaskakujący sposób:
natłuszcza skórę pozostawiając na niej delikatny filtr
zapobiega utracie wody z naskórka
chroni skórę przed przesuszeniem
łagodzi podrażnienia, również zmiany alergiczne na skórze
łagodzi stany zapalne skóry
łagodzi podrażnienia spowodowane nadmiarem słońca
przyspiesza gojenie drobnych ran i odparzeń
zmiękcza oraz wygładza naskórek
chroni przed działaniem czynników zewnętrznych, takich jak wiatr, niska temperatura, czy słońce, zawiera naturalny filtr słoneczny SPF 5
poprawia elastyczność, jędrność oraz  sprężystość skóry
działa przeciwzapalnie  oraz antybakteryjnie
zawiera witaminy A i E
zawartość witaminy F w maśle shea odpowiada za rozluźnienie napiętych i bolących mięśni
pozostałe substancje wzmacniają cement komórkowy warstwy rogowej, dzięki temu poprawiają elastyczność skóry
stosowany jako maska na włosy zamyka szczeliny w strukturze włosa i pomaga w ich regeneracji
stosowany wyłącznie na końcówki włosów chroni je przed nadmiernym przesuszeniem
zalecane jest do stosowania przy: cellulicie, rozstępach, wysypce, łuszczeniu się skóry po opalaniu, ukąszeniach owadów, odmrożeniach, trądziku, wypryskach, opryszczce,
poprawia kondycję skóry stóp: leczy pęknięcia skóry np. na piętach, stwardnienia skórne, uszkodzenia skóry spowodowane wysoką temperaturą
masło shea stosuje się  w leczeniu reumatyzmu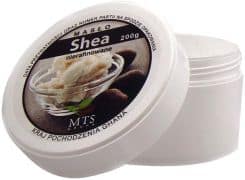 Szeroki wybór kosmetyków z masłem Shea
Kliknij tutaj i sprawdź ceny!
W jakich produktach można znaleźć masło shea?
Masło shea może przybierać różną postać i można znaleźć je w wielu produktach, w różnorodnych proporcjach. Można je spotkać w następujących wyrobach kosmetycznych:
preparatach do masażu ciała
balsamach do ciała i  włosów
szamponach i odżywkach do włosów
mydle
szminkach
maściach dermatologicznych
kremach do twarzy, pod oczy, do opalania, do rąk, do stóp
peelingach
Masło shea rafinowane i nierafinowane
Masło shea tak jak wszystkie oleje dostępne są na rynku jako produkt rafinowany i nierafinowany. Różnią się między sobą m.in. sposobem produkcji. Masło nierafinowane produkuje się ręcznie poprzez kilkakrotne wyciskanie nasion masłosza w temperaturze poniżej 70 st. C. Podobnie jak produkcja oliwy z pierwszego tłoczenia, proces ten jest nieinwazyjny i pozwala na zachowanie większości właściwości odżywczych, przede wszystkim cennej witaminy E. Otrzymany produkt nie wymaga środków konserwujących, jego zapach i smak pozostają naturalny.
Natomiast masło rafinowane produkuje się dwojako. Jednym ze sposobów jest obróbka chemiczna przy pomocy rozpuszczalników i w temperaturze powyżej 90 st. C. Drugi ze sposobów to odfiltrowanie oleju już po wyciśnięciu go w prasach. Oba te sposoby wydłużają datę ważności i pozbawiają masło charakterystycznego aromatu. Oba jednak pozbawiają je wielu tak cennych właściwości.