Nie ochroni Cię przed nimi wielopiętrowy budynek ani uszczelnione okna. Kiedy już znajdą drogę do szafki z jedzeniem – strzeż się. Czeka Cię walka z legionem upartych owadów, które właśnie odkryły swoje mrówcze Eldorado. I nie zamierzają z niego zbyt łatwo zrezygnować.
Wbrew obiegowej opinii problem mrówek w mieszkaniu czy domu nie dotyczy jedynie tych siedzib, w których nie przywiązuje się wagi do utrzymania porządku, czy też miejsc położonych w sąsiedztwie rozległych ogrodów bądź lasów. Zdarza się bowiem, że kolonia pracowitych owadów zbuduje sobie gniazdo w szczelinach budynku, a wtedy przed nieproszonymi gośćmi nie ochroni nas nawet wysokie piętro. Najczęściej w zamkniętych pomieszczeniach spotykamy żółtawe mrówki faraona, które niestety mają w zwyczaju budować gniazda pod podłogą, czym mogą doprowadzić do jej zniszczenia; wyróżniające się znacznymi gabarytami gmachówki oraz pospolite hurtnice. Problem narasta w trakcie upałów, kiedy znękane wysoką temperaturą owady szukają chłodnego schronienia i stają się naprawdę uciążliwe dla domowników. Jak pozbyć się mrówek – skuteczną i niedrogą metodą?
Siła natury
Jeżeli w Twoim mieszkaniu przebywa małe dziecko albo boisz się, że środki owadobójcze mogłyby zaszkodzić domowym zwierzętom, w pierwszej kolejności wypróbuj metody naturalne:
Mrówki są bardzo wrażliwe na nieprzyjemne dla nich zapachy. Spróbuj namierzyć miejsce, przez które owady przedostają się do mieszkania, a następnie punkt ten spryskaj obficie octem lub sokiem z cytryny. Pamiętaj, żeby nie ominąć framug drzwi – mrówki będą wspinać się po nich, by ominąć przeszkodę na progu. Jeżeli insekty zdążyły już wydeptać sobie drogę do innego pomieszczenia (przeważnie takie szlaki przebiegają poza zasięgiem naszego wzroku, pod meblami lub wzdłuż ścian) – spryskaj je także.
Progi pomieszczeń wysyp proszkiem do pieczenia, cynamonem, solą lub pieprzem.
Na parapetach okien, na progach i na trasie mrówek wyłóż świeże lub suszone liście laurowe, lawendę, liście pomidorów albo majeranku.
Jeżeli mrówki dostały się już do szafki z jedzeniem (to ona stanowi cel ich wędrówki!), wyjmij całą zawartość. W przypadku, gdy na środkach spożywczych dostrzeżesz ślady żerowania owadów, wyrzuć je bezzwłocznie. Pozostałe artykuły zapakuj do szczelnie zamkniętych pudełek i umieść poza zasięgiem nieproszonych gości. W szafce natomiast postaw niski spodek z rozpuszczonym w wodzie miodem – zadziała niczym lep na muchy. W zależności od liczby owadów co kilka-kilkanaście godzin wymieniaj płyn. Spodeczek możesz także umieścić niedaleko miejsca, w którym mrówki wchodzą do mieszkania – to zatrzyma ich tryumfalny marsz wgłąb pomieszczeń.
Sztuka wojny
Zdarza się, że, jeśli początkowo ignorowaliśmy widok tuptających po naszym parkiecie pojedynczych insektów, kiedy wreszcie zdecydujemy się działać, na domowe sposoby jest już za późno. Jak pozbyć się mrówek chemicznymi metodami?
Jeżeli nie razi Cię ostry zapach, posmaruj progi i szlak, z którego korzystają mrówki, terpentyną. Pamiętaj, że nie na wszystkich powierzchniach możesz użyć terpentyny bez ryzyka ich zniszczenia!
Jeśli posiadasz w domu boraks (proszek do lutowania), wymieszaj go z żółtkiem gotowanego jajka i wyłóż na drodze mrówek. Owady z pewnością skuszą się na smakowity dla nich kąsek i wrócą z nim do mrowiska. W ten sposób można zlikwidować całą kolonię, a nie tylko te owady, które dostały się do domu. Zabijanie pojedynczych mrówek nic Ci nie da.
Udaj się do najbliższego sklepu ogrodniczego – tam z pewnością znajdziesz cały wachlarz produktów przeznaczonych do walki z mrówkami i innymi owadami. Do godnych polecenia zaliczyć można m. in.  Faracid, szczególnie skuteczny w walce z mrówkami faraona, czy Expel, którego zaletę stanowi fakt, że można go stosować zarówno w formie roztworu (do posmarowania np. framugi drzwi), jak i proszku (do wysypania progów i szlaku preferowanego przez insekty).
Z kolei środek o nazwie Faratox B zawiera syntetyczny odpowiednik hormonu produkowanego przez dojrzewające owady. Uniemożliwia on wzrost larw i dalsze składanie jaj przez królową. Środek ten nie truje mrówek bezpośrednio, stanowi zatem wyjątkowo humanitarny sposób radzenia sobie z owadami, jednak jego efekty nie są natychmiastowe.
Pod lodówką lub szafką, która wzbudziła zainteresowanie mrówek, wyłóż płytkę Globol. Pomoże ona ochronić całe pomieszczenie zarówno przed mrówkami, jak i karaluchami, muchami oraz komarami przez kilka tygodni.
Jeżeli chcesz pozbyć się mrówek z ogrodu bez konieczności wykładania nowych kostek z trutką po każdym deszczu, wypróbuj proszek Glotox, który nie rozpuszcza się tak łatwo pod wpływem wilgoci.
Doraźnie pomoże także Raid – jego dużym plusem jest łatwa dostępność oraz przyjemny zapach. Jest także bezpieczny dla zwierząt domowych.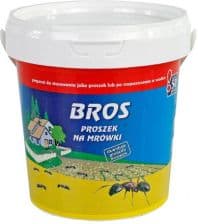 Szeroki wybór środków na mrówki
Kliknij TUTAJ!
Broń XXI wieku
W sytuacji, gdy problem z mrówkami powraca co sezon, warto rozważyć zakup podłączanego do gniazdka elektrycznego odstraszacza na owady, którego będziemy mogli używać wielokrotnie. Urządzenie to emituje niesłyszalne dla ludzkiego ucha i zupełnie nieszkodliwe dla domowników infradźwięki, które skutecznie odstraszają mrówki i karaluchy, a także szczury, myszy oraz muchy. Aby szkodniki nie uodporniły się na bodźce, natężenie dźwięku wciąż się zmienia, co zwiększa skuteczność tej metody. Na portalach internetowych bez trudu znajdziemy rozmaite modele odstraszaczy o rozpiętości cenowej od stu do kilkuset złotych. Właściciele zwierząt powinni jednak pamiętać, że o ile infradźwięki są niesłyszalne dla np. papug czy kanarków, to stanowić będą olbrzymi dyskomfort dla psów.
Na koniec warto pamiętać, że zawsze lepiej zapobiegać niż leczyć – co w przypadku problemów z nieproszonymi owadzimi gośćmi oznacza szczególną dbałość o czystość w mieszkaniu i ograniczenie okruchów i odpadków organicznych, które stanowią pożywkę dla mrówek. Pamiętaj także, żeby nigdy nie ignorować problemu – kilka pierwszych owadów widocznych we wnętrzu można przepłoszyć bez większego wysiłku, jednak z całą kolumną będziemy mieli niewątpliwie większy problem.