Święta Wielkanocne to czas zadumy oraz radości, jednak już na kilka dni przed ich nastaniem warto zastanowić się nad tym, co będzie królowało na świątecznym stole. Zgodnie z tradycją w Wielką Sobotę należy wybrać się z koszyczkiem na świecenie pokarmów, które spożywane będą podczas wielkanocnego śniadania, a także w lany poniedziałek. Jakie jednak tradycyjne potrawy wielkanocne powinny pojawić się na świątecznym stole?
Czego nie powinno zabraknąć na wielkanocnym stole?
Najważniejszym elementem kojarzącym się ze Świętami Wielkanocnymi są oczywiście jajka, jednak oprócz nich na świątecznym stole nie powinno również zabraknąć takich potraw wielkanocnych jak biała kiełbasa, mazurek, wielkanocne baby, chleb, tradycyjna szynka, a także biały barszcz, żur lub zupa chrzanowa.
Jajka
Tradycyjnym produktem spożywczym, bez którego nie mogą obejść się żadne Święta Wielkanocne są oczywiście jajka, które symbolizują życie, a także nadzieję na życie wieczne. Poświęconymi w Wielką Sobotę jajkami każda rodzina dzieli się podczas świątecznego śniadania, podobnie jak opłatkiem podczas Wigilii. Podczas świątecznego śniadania jajka najlepiej podawać z majonezem lub chrzanem, jednak można również przygotować różnego rodzaju sałatki, pasty jajeczne lub jajka faszerowane.
Jajka faszerowane szynką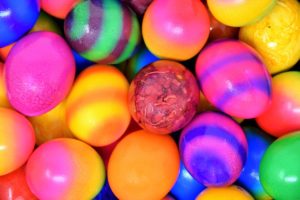 Składniki:
4 jajka ugotowane na twardo,
1 łyżka majonezu,
100 g szynki wielkanocnej,
1/2 łyżeczki ulubionej musztardy,
1 rzodkiewka,
po 1 łyżeczce posiekanej natki pietruszki oraz szczypiorku,
szczypta soli i pieprzu do smaku
Sposób przygotowania:
Ugotowane jajka należy obrać, przekroić wzdłuż oraz wydrążyć żółtko. Żółtka należy umieścić w małej miseczce, rozgniatając je widelcem oraz dodając do nich pokrojoną w małą kostkę szynkę, a także posiekany szczypiorek, natkę pietruszki, majonez, musztardę oraz odrobinę soli i pieprzu do smaku. Całość należy bardzo dokładnie wymieszać, faszerując masą jajka oraz posypując je poszatkowaną rzodkiewką.
Wielkanocne zupy
Tradycyjną wielkanocną zupą może być w zależności od regionu barszcz biały lub żurek, które przez wiele osób są ze sobą utożsamiane, jednak istnieje pomiędzy nimi kilka znaczących różnic. Jedną z nich jest przede wszystkim zakwas, ponieważ barszcz biały powstaje na zakwasie z mąki pszennej, natomiast żurek na zakwasie z mąki żytniej. Do żurku z powodzeniem można dodać pokrojone na połówki jajka oraz białą kiełbasę, która również kojarzona jest z Wielkanocą.
Żurek wielkanocny
Składniki:
1 opakowanie włoszczyzny,
0,5 kg białej kiełbasy (surowej),
1 mała cebula,
1 ząbek czosnku,
300 ml zakwasu na żurek,
2 liście laurowe,
1,5 l wody,
po 4 ziarenka pieprzu czarnego i ziela angielskiego,
2 łyżeczki majeranku,
odrobina soli i pieprzu do smaku,
2 łyżki śmietany 18%,
2 ugotowane na twardo jajka
Sposób przygotowania:
Do dużego garnka należy włożyć włoszczyznę (marchewki, seler, pietruszkę i pora), zalewając ją wodą oraz dodając do garnka obraną cebulę i czosnek, a także przyprawy. Wywar należy zagotować, zmniejszając następnie ogień oraz gotując wywar przez około 40 minut (do momentu aż warzywa będą miękkie). Po upływie tego czasu do garnka należy włożyć białą kiełbasę, gotując zupę przez kolejnych 15 minut. Ugotowaną zupę należy przecedzić, stawiając garnek z powrotem na palniku, wlewając do niego zakwas oraz zagotowując go. Gdy żur będzie już gotowy, należy doprawić go odrobiną soli i pieprzu, dodając do niego śmietanę (należy uważać, aby się nie zważyła). Tak przygotowany żur należy podawać z połówkami jajek oraz pokrojoną w plasterki kiełbasę.
Pasztet
Wśród potraw wielkanocnych nie może oczywiście zabraknąć pasztetu, który najlepiej przygotowywać z różnych gatunków mięs (indyka, cielęciny, wieprzowiny, wołowiny), ponieważ wtedy jest on najsmaczniejszy. Pasztet najlepiej przygotować na kilka dni przed świętami, ponieważ ten mrożony traci niestety część swojego aromatu.
Pasztet wielkanocny
Składniki:
po 500 g udźca z indyka, szynki wieprzowej, świeżego boczku i mięsa wołowego,
po 300 g wątróbki drobiowej i filetu z kurczaka,
1 średniej wielkości cebula,
2 marchewki,
1/2 selera,
2 świeże bułki,
4 jajka,
5 ziarenek ziela angielskiego,
2 liście laurowe,
odrobina soli, pieprzu i gałki muszkatołowej do smaku
Sposób przygotowania:
Mięso należy bardzo dokładnie opłukać pod bieżącą wodą, wkładając je do dosyć dużego garnka (oprócz wątróbki) i zalewając sporą ilością wody (tak, aby przykryła ona mięso). Warzywa należy obrać i umyć, wkładając je do garnka z mięsem razem z zielem angielskim, liśćmi laurowymi oraz solą. Całość należy gotować na średnim ogniu przez około godzinę, sprawdzając jednak, czy mięso jest już miękkie (w razie potrzeby należy gotować nieco dłużej). Na około 5 minut przed końcem gotowania do garnka należy dołożyć wątróbkę. Mięso na jeden dzień należy odstawić do przestygnięcia, wyjmując je następnie razem z warzywami. W wywarze należy zamoczyć bułki, natomiast mięso należy wraz z warzywami i bułkami zmielić przy pomocy maszynki do mielenia. Do tak przygotowanego mięsa należy dodać żółtka, natomiast białka trzeba ubić na sztywną pianę, przekładając ją do zmielonego mięsa. Aby uzyskać pasztet o kremowej konsystencji, należy dolać do niego ok. 3 szklanki wywaru, doprawiając całość gałką, solą oraz pieprzem, mieszając następnie do uzyskania jednolitej konsystencji. Powstałą masę należy przełożyć do aluminiowych foremek, piekąc pasztet przed 1 godzinę w piekarniku nastawionym na temperaturę 180 stopni Celsjusza.
Mazurek
Wielkanocny stół nie może istnieć bez mazurka, ponieważ ta słodka potrawa wielkanocna stanowi prawdziwy symbol Świąt Wielkiej Nocy. Wielu osobom wydaje się, iż mazurek to typowo polski deser, jednak prawda jest taka, iż dotarł on do naszego kraju najprawdopodobniej z Turcji. Tradycyjny mazurek przygotowywany jest z kruchego ciasta z bakaliami, którego wierzch zawsze jest polukrowany. Warto jednak wiedzieć o tym, iż oprócz tradycyjnych mazurków w cukierniach dostępne są również mazurki z kajmakiem, cytrynowe, a nawet bezglutenowe, dzięki czemu każda osoba znajdzie coś dla siebie. Mazurka można również upiec w domu, mając pewność, iż nie zawiera on żadnych zbędnych dodatków.
Mazurek wielkanocny
Składniki:
1,5 szklanki mąki pszennej,
100 g masła,
1/4 szklanki kwaśnej śmietany (18%),
4 łyżki cukru pudru,
1 żółtko,
1 opakowanie cukru waniliowego,
po 50 g migdałów oraz rodzynek (należy je wcześniej sparzyć

)
Sposób przygotowania:
Mąkę należy przesiać przez sitko, aby pozbawić ją ewentualnych grudek, dodając do niej następnie 3 łyżki cukru pudru oraz masło. Całość należy posiekać przy pomocy noża, dodając do masy śmietanę, cukier waniliowy oraz żółtko. Masę bardzo szybko zarobić nożem, zagniatając ciasto oraz rozwałkowując je dosyć cienko w kształcie prostokąta. Tak przygotowane ciasto należy wyłożyć na blachę, posypując je migdałami i rodzynkami, piekąc je następnie przez około 15 minut w piekarniku nastawionym na temperaturę 190 stopni Celsjusza.