Wydawanie kilkuset złotych na kremy przeciwzmarszczkowe uważamy za grubą przesadę. W czasach, gdy naukowcy każdego dnia odkrywają zbawienny wpływ popularnych i łatwo dostępnych przypraw na ludzką cerę, przepłacanie w celu uzyskania szumnie reklamowanych kosmetyków jest najzwyklejszą głupotą. W polskiej kuchni znajdziemy wiele przykładów substancji dodawanych na co dzień do potraw, które idealnie sprawdzą się także w roli kosmetycznej. Jeśli w to nie wierzycie, wypróbujcie już dziś kurkumę, koper włoski, rumianek, bazylię. Gwarantujemy, że różnicę w wyglądzie cery zauważycie już po kilkukrotnym zastosowaniu. Wszelkie kremy mianowane nowoczesnymi, tak naprawdę naszej skórze potrafią zrobić więcej szkody, niż pożytku. Specyfiki te naszpikowane są różnymi substancjami chemicznymi z dodatkiem witamin, co stosowane w nadmiarze, może poważnie naruszyć delikatną strukturę naszej skóry. Mało mówi się także o związkach rakotwórczych, obecnych w kremach oraz innych produktach kosmetycznych renomowanych firm. Krem wcierany w skórę nie pozostaje nigdy niedaleko pod jej powierzchnią, jego składniki eksportowane są do krwiobiegu, a potem do organów. Jeśli chcemy cieszyć się długim zdrowiem, powinniśmy robić wszystko, by w sposób świadomy korzystać ze współczesnych rozwiązań kosmetycznych. Najbardziej rakotwórczymi składnikami zawartymi w powszechnie znanych kremach są:
trójetanoloamina
imidazolidinyl
hydantoina
diazolidinyl
Kosmetyki antyzmarszczkowe pod lupą
Wiele z nich naszpikowane jest także substancjami będącymi elementem składnikowym ropy. Te składniki są szczególnie niebezpieczne dla skóry, ponieważ utrudniają jej oddychanie. Mogą być powodem występowania bardzo obfitego trądzika. Kwasy alfa to kolejna sprawa warta rozpuszczenia. Niby nie powinny być szkodliwe, bo znajdują się także w owocach, jednak zdzierają wierzchnią warstwę naskórka, przez co ułatwiają dostęp do naszej skóry wszystkim zarazkom z zewnątrz. Ich stosowanie więc także powinno zostać ograniczone. Najwięcej kontrowersji wzbudza jednak hormon wzrostu dodawany do wielu współcześnie produkowanych kosmetyków, głównie przeznaczonych do pielęgnacji skóry u osób po czterdziestym roku życia. Hormon tego rodzaju potęgować może różne choroby, na czele z cukrzycą oraz zespołem cieśni nadgarstkowych. Jeśli teraz pomyślimy o tym, aby to wszystko wcierać w twarz kilka razy dziennie, to naprawdę można się przerazić…
Pomysł na maseczkę z kurkumy może być przez Was traktowany powierzchownie, ale prawda jest taka, że już w starożytnych Indiach wszystkie panny młode wykorzystywały ją jako naturalny środek upiększający przed ważnymi dla siebie wydarzeniami, np. ślubami.
Kilka zalet kurkumy
Ma wiele antyoksydantów hamujących niszczenie komórek.
Świetnie złuszcza skórę, poprawia jakość tekstury.
Leczy stany zapalne, opryszczkę, nadmierne przesuszenie.
Nadaje skórze jednolity odcień.
Idealnie wygładza zmarszczki.
Nie zabarwi nam ona twarzy nawet przy długotrwałym stosowaniu, jednak przy jej stosowaniu trzeba być ostrożnym.
Maseczka z kurkumy
Przygotowujemy:
2 łyżki miodu
solidną szczyptę kurkumy
1 łyżkę soku z cytryny
połowę łyżeczki oliwy z oliwek, a także olej z pestek winogron lub słonecznikowy
3 łyżki jogurtu (dobry dodatek na zwalczenie pryszczy)
Wykonanie maseczki:
Mieszamy kurkumę z sokiem z cytryny oraz miodem, powstanie wtedy masa.
Niewielką ilość masy nakładamy na twarz.
Pozostawiamy specyfik na twarzy przez 20 minut, aby zastygł.
Można przy tym delikatnie masować skórę.
Po upływie 20 minut zmywamy wszystko pod prysznicem.
Na koniec można nakremować twarz ulubionym balsamem nawilżającym.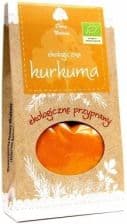 Kurkuma
Kliknij tutaj i sprawdź ceny!
Jedynym minusem maseczki z kurkumy jest to, że przy zmywaniu może ona dość mocno brudzić ręczniki, później trudno pozbyć się przebarwień. Dlatego do zmywania maseczki z kurkumy warto przeznaczyć jeden wybrany ręcznik, by nie brudzić wszystkich znajdujących się w domowej łazience. Twarz wycierać można także ręczniczkami papierowymi. Liczymy na to, że nasz artykuł na dobre zachęci wszystkie Panie do swoistego odwrotu w kierunku naturalnych składników. Kuchnia, i to nie tylko polska, pełna jest jeszcze wielu specyfików, gotowych do odkrycia w dziedzinie kosmetyki. Warto spróbować ich wszystkich.
Nie tylko kurkuma
Kurkuma może być wstępem do głębszych poszukiwań w dziedzinie kosmetyki. Maseczka z kurkumy może być wykonywana nie tylko na bazie miodu, ale także na bazie najzwyklejszej gliceryny. Tą maseczkę można z powodzeniem stosować jako zamiennik kremu do rąk. Jeśli zależy nam na tym, by skóra rąk była gładka i przejrzysta, powinniśmy krem z kurkumy i gliceryny stosować dwa razy dziennie, a jeśli pracujemy fizycznie w ciężkich warunkach, gdzie panuje suche powietrze, opłaci się stosować tą miksturę jeszcze częściej, po każdym umyciu rąk w łazience. Krem do rąk na bazie kurkumy pozwoli powrócić do estetycznego stanu każdej skórze skatowanej działaniem środków chemicznych, np. do mycia naczyń oraz czyszczących. Dłonie znów będą ładne i nie trzeba będzie ich wstydliwie chować za sobą w czasie spotkań towarzyskich. Rękawiczki będzie można stosować tylko w czasie srogich mrozów.