Opis płatków owsianych
Płatki owsiane są produktem spożywczym wykonywanym z owsa zwyczajnego. Zawierają w sobie około 68% węglowodanów, 7% tłuszczy (w tym zdrowych, nienasyconych kwasów tłuszczowych), 13% białka oraz 10% błonnika.
Czas przechowywania płatków owsianych od momentu ich produkcji wynosi do 6 miesięcy, ponieważ tłuszcze w nich obecne mają skłonność do jełczenia. Nadają tym samym gorzki smak.
Obecnie produkuje się płatki owsiane w 3 rodzajach: zwykłe, górski i błyskawiczne. Płatki zwykłe poddawane są najmniejszej obróbce hydrotermicznej. Aby je przygotować, należy je najpierw ugotować. Płatki owsiane górskie wystarczy zagotować, ponieważ wcześniej zostały poddane nieco większej obróbce niż poprzedni rodzaj. Ostatnie są płatki owsiane błyskawiczne. Są one gotowe do spożycia już po otwarciu opakowania, nawet na zimno.
Istnieją dowody na to, że owies był uprawiany już 1800-700 lat p.n.e. w północnej i środkowej Europie.
Skład odżywczy produktu
Płatki owsiane posiadają liczne substancje odżywcze wpływające korzystnie na stan zdrowia. Najwięcej znajdziemy białek, owies jest jednak niezwykle bogaty w cenne aminokwasy. Połączenie tych płatków z produktami mlecznymi zapewni organizmowi wszelkich niezbędnych do prawidłowego funkcjonowania aminokwasów.
Płatki owsiane posiadają sporą ilość witaminy B1, B6, E, kwasu pantotenowego, selenu oraz magnezu. Są również dobrym źródłem flawonoidów oraz substancji antydepresyjnych.
Właściwości lecznicze
Witamina B1 oraz kwas pantotenowy mają duży wpływ na kondycję psychiczną. Zmniejszają narastające zmęczenie i rozdrażnienie, relaksując cały organizm. Selen i magnez są niezbędne do prawidłowego funkcjonowania układu nerwowego oraz mózgu. Wszystkie wspomniane substancje likwidują zły nastrój i skutecznie poprawiają humor.
Witamina E jest natomiast silnym przeciwutleniaczem. Przeciwdziała procesom starzenia się skóry i chroni komórki. Flawonoidy są rzadko spotykane wśród zbóż. Owies jest wyjątkiem. Mają właściwości podobne do witamin.
Płatki owsiane są głównie znane z dużej ilości błonnika. Wśród wszystkich zbóż, owies ma tej substancji najwięcej. Ciekawostką jest, że pełne ziarno owsa składa się aż w 1/3 z błonnika. Wpływa to na obniżenie poziomu szkodliwego cholesterolu LDL oraz na zapobieganie wielu chorobom. Błonnik rozpuszczalny w owsie ma zdolność tworzenia w jelitach substancji podobnej do żelu. Żele takie mają lepką konsystencję i są odporne na działanie enzymów trawiennych. Dzięki temu szczelnie powlekają śluzówkę przewodu pokarmowego i działają jako naturalny opatrunek. Błonnik zapobiega także otyłości i cukrzycy typu 2, ponieważ spowalnia procesy przyswajania cukrów w układzie pokarmowym. Wiąże również substancje toksyczne i przyspiesza ich wydalanie z organizmu. Inne właściwości zdrowotne płatków owsianych:
zapobieganie nowotworom poprzez hamowanie namnażania się komórek nowotworowych
wzmacnianie układu immunologicznego
poprawa pracy i perystaltyki jelit
wspomaganie leczenia nadkwasoty i zgagi
zapewnianie uczucia sytości
zapobieganie powstawaniu zakrzepów
profilaktyka i leczenie miażdżycy
łagodzenie podrażnień, głównie spowodowanych alergią
obniżanie ciśnienia krwi
wzmacnianie mięśni
wspomagają zasypianie
Najnowsze badania wykazały, że spożywanie owsianki przez dzieci znacznie wpływa na obniżenie ryzyka wystąpienia astmy.
Zastosowanie kulinarne płatków owsianych
Płatki owsiane spożywane są najczęściej na śniadanie, ponieważ dodają dużej dawki energii oraz zaspokajają apetyt na dłuższy czas dzięki błonnikowi. Tradycyjnie zalewa się je mlekiem i w tej postaci spożywa.
Są głównym składnikiem owsianek, kakao owsianego, kisielu owsianego, rozmaitych batoników zbożowych, granoli, muesli i ciasteczek. Wypieka się z nich ciasta lub dodaje do już wypieczonego pieczywa. Są głównym składnikiem kotletów wegetariańskich oraz panierek. Dużo rzadziej wykonuje się z nich placuszki wzorowane na racuchach, jednakże jest to spotykane. Regionalnie płatki owsiane wykorzystywane są do produkcji zakwasu na żur.
Sposób wykonania jest bardzo prosty i zależy od zakupionego rodzaju płatków. Zazwyczaj kupuje się płatki owsiane błyskawiczne, ponieważ czas ich przyrządzania jest najkrótszy. Jak zatem ugotować płatki owsiane?
Na początku warto zapamiętać, że płatki te bardzo szybko kipią, należy więc stale stać przy gazie i mieszać całość. Garnek w którym przygotowujemy potrawę powinien stać na małym ogniu. Płatki zalewamy wodą tak, aby znacznie je przykryła. Następnie, stale mieszając, czekamy do momentu, aż płatki wsiąkną wodę i staną się miękkie.
Jeśli celem gotowania jest owsianka, po wyparowaniu wody dodajemy 1–2 szklanki mleka i dalej mieszamy. Wyłączamy ogień i odstawiamy posiłek na kilka minut. Po tym czasie owsianka stanie się kleista. Jest wówczas gotowa do spożycia.
Z czym można jeść owsiankę?
Owsiankę można spożywać na wiele sposobów – wedle upodobań. Dla fanów słodkich potraw ciekawym rozwiązaniem będzie dodanie do owsianki cukru, syropu klonowego, soku owocowego lub miodu. Można do niej dodać suszone lub świeże owoce pokrojone w kawałki, orzechy, bakalie, rodzynki, a nawet przypraw takich jak cynamon. Wersja dla dzieci może zostać posypana kakao, wiórkami kokosowymi lub startą czekoladą.
Wersja ostrzejsza może zawierać suszone pomidory, ogórki zielone, paprykę lub natkę pietruszki. Można również jedynie posolić gotową owsiankę.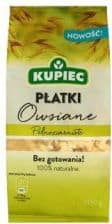 Płatki owsiane
Kliknij i sprawdź ceny!
Płatki owsiane jako produkt kosmetyczny
Płatki owsiane są niezwykle często wykorzystywane w warunkach domowych do pielęgnacji, włosów, dłoni czy skóry całego ciała. Są naturalnym antyoksydantem, zatem działają przeciwzapalnie i opóźniają procesy starzenia się skóry. Staje się ona ujędrniona i odżywiona. Wykonywanie z tego produktu maseczek do twarzy i ciała spowoduje łagodzenie obecnych podrażnień. Peelingi na jego bazie skutecznie oczyszczą skórę. Poniżej znajduje się kilka przepisów na domowe kosmetyki:
Maseczka odżywcza do twarzy – 2 łyżki zmielonych płatków owsianych należy wymieszać z kilkoma łyżkami ciepłej wody. Powstałą papkę nanieść na oczyszczoną skórę twarzy i pozostawić na około 15 minut. Następnie całość spłukać ciepłą wodą i nałożyć krem. Maseczkę tak wykonaną można potraktować jako peeling i masować twarz wykonując okrężne ruchy
Tonik owsiany – garść płatków owsianych zawinąć w czystą ściereczkę i zanurzyć w misce z bardzo ciepłą wodą. Ściereczkę należy kilkukrotnie odcisnąć, a kiedy woda zrobi się mętna – przemyć nią twarz. Cera stanie się nawilżona, a podrażnienia znikną
Maska do włosów – 1/3 szklanki sproszkowanych płatków owsianych, 1/3 szklanki przegotowanej wody, łyżkę miodu, 1 łyżeczkę ulubionego olejku do włosów oraz łyżkę ulubionej maski do włosów zblendować bardzo dokładnie lub wymieszać. Produkt nałożyć na włosy pozostawiając na pół godziny. Następnie bardzo dokładnie spłukać