Suplementacja i praktykowanie zdrowego stylu życia stało się niezwykle popularne. Stosowanie przypraw i owoców z całego świata nie jest już niczym zaskakującym. Do jednego z najpopularniejszych dodatków suplementów diety można zaliczyć piperynę, czyli alkaloid, który występuje w korzeniach czarnego pieprzu. Co warto o nim wiedzieć? Co daje suplementacja?
Piperyna- Czym jest?
Piperyna to alkaloid występujący w korzeniach pieprzu czarnego. Jego ostry smak jest spowodowany właśnie piperyną. Wiele badań wykazało pozytywny wpływ ze stosowania piperyny i szereg korzyści, jakie z tego płyną. Piperyna oprócz gastronomii znalazła swoje zastosowanie również w medycynie i jest niezwykle cenionym składnikiem.
Piperyna- Właściwości
Badania naukowe, że piperyna wykazuje działanie:
Antybakteryjne,
odchudzające,
antynowotworowe.
Jej działanie docenią również osoby narażone na chorobę Alzheimera oraz osoby ciepiące na bielactwo, gdyż przyczynia się do namnażania komórek barwnikowych wśród ludzi zmagających się z tą chorobą. Suplementy diety zawierające piperynę pomagają również zrzucić kilka kilogramów osobom pozostającym na diecie. Do korzyści stosowania piperyny zalicza się również działanie antynowotworowe i antybakteryjne. Osoby, które są w wysokiej grupie ryzyka lub osoby, które właśnie zmagają się z nowotworem, powinny zapytać swojego lekarza o to, czy w ich przypadku wskazane jest stosowanie piperyny. Być może objawy choroby zostaną złagodzone. Działanie odchudzające piperyny polega na tym, że ogrzewa ona organizm i poprawia przemianę materii. Dzięki temu zbędne produkty przemiany materii zostaną szybko usunięte z organizmu. Działa również przeczyszczająco i moczopędnie, dlatego zwłaszcza kobiety, które cierpią na choroby układu moczowego, będą mogły pobudzić pęcherz do szybszej pracy i w rezultacie do wydalenia zalegających w nim bakterii.
Jak stosować piperynę?
Najczęściej można zakupić ją w formie kapsułek suplementu diety. Codzienne przyjmowanie piperyny może być bardzo skuteczne. Nie warto jednak przerywać stosowania suplementu diety. Kapsułki należy jednak zażywać zgodnie z zaleceniami umieszczonymi na ulotce opakowania. Przedawkowanie piperyny może mieć bardzo groźne konsekwencje. Stosowanie piperyny w świeżej postaci jest w Polsce niemożliwe. Oczywiście suplementy diety zawierające piperynę powinny być kupowane w aptekach lub sprawdzonych sklepach z odżywkami.
Zalety stosowania piperyny
Piperyna a odchudzanie
Wiele osób pragnie cieszyć się pięknym i smukłym ciałem, jednak często powolna przemiana materii skutecznie utrudnia osiągnięcie tego wymarzonego celu. Na szczęście dzięki piperynie cel ten staje się coraz bliższy. Przyspieszenie metabolizmu i ogrzanie ciała od wewnątrz zwiększa jego bieg i wprowadza na szybsze obroty. Dzięki piperynie resztki jedzenia nie zalegają w ciele i nie lokalizują się w tkance tłuszczowej. Pokarm jest na bieżąco spalany. Niestety nie ma na to potwierdzonych dowodów, jednak warto spróbować. W połączeniu ze zdrową dietą i intensywnym treningiem uzyskanie wymarzonej sylwetki staje się, na wyciągniecie ręki. Wiele badań wskazuje również na to, iż piperyna wzmaga w organizmie uczucie sytości, dlatego spożywanie posiłku nie jest tak częste.
Piperyna a choroby nowotworowe
Choroby nowotworowe mogą dotknąć wszystkich. Badania naukowe w Stanach Zjednoczonych ukazały, że stosowanie piperyny może zmniejszyć rozwój komórek nowotworowych, zwłaszcza w przypadku kobiet borykających się z rakiem piersi. W połączeniu z kurkuminą hamuje rozwój nowotworowych komórek macierzystych. Warto jednak podkreślić, że dawka, jaka podawana była osobom chorym, była 20-krotnie większa, niż zalecana dzienna dawka kurkumy i pieprzu na dzień.
Piperyna a bielactwo
Bielactwo to przypadłość, która dotyka coraz więcej ludzi. Dawniej nie była ona tak zanana i tak powszechnie badana. Stosowanie dużych dawek piperyny zwiększa wydzielanie się melanocytów, czyli barwników skóry. Badania związane z bielactwem i z udziałem piperyny były wykonywane na myszach, którym podawano piperynę. Obserwacje wskazywały na to, że myszy, które otrzymywały piperynę, miały równomierny i nieco ciemniejszy kolor skóry, niż grupa kontrolna myszy. Leczenie piperyną dawało fenomenalne efekty i było krótkie.
Piperyna a lepsza pamięć
Pogorszenie się pamięci potyka najczęściej osoby starsze, jednak nie jest to reguła. Stosowanie piperyny spowalnia proces neurodegeneracji oraz zmniejsza upośledzenie związane z procesem zapamiętywania. Dzięki temu zapamiętywanie informacji i wykonywanie codziennych obowiązków nie będzie już tak uciążliwe, jak do tej pory. Piperyna to więc idealny prezent dla osoby bliskiej, która zmaga się z problemami związanymi z pamięcią i koncentracją.
Piperyna a depresja
Depresja to podstępna choroba, która staje się wręcz chorobą cywilizacyjną. Oczywiście należy rozróżnić jej kilka rodzajów, jednak bez względu, czy jest to depresja związana z porą roku, czy dystymia, piperyna może zmniejszyć przykre objawy związane zarówno z jedną, jak i drugą chorobą.
Piperyna a lepsze trawienie
Piperyna w dużym stopniu pobudza receptory czuciowe zlokalizowane w przewodzie pokarmowym. Znacznie przyspiesza trawienie. Pozytywne działanie piperyny na układ trawienny było opisane już w punkcie związanym z odchudzaniem.
Piperyna a lepsza przyswajalność witamin
Piperyna przyczynia się do lepszej wchłanialności wielu witamin. Wśród tych witamin znaleźć można selen, witaminy z grupy B oraz beta-karoten. Piperyna dodatkowo zwiększa również wchłanialność leków, które są przepisane przez lekarza specjalistę.
Piperyna a działanie przeciwbólowe
Piperyna stosowana jest również w wielu lekach przeciwbólowych, gdyż wykazuje działanie antybakteryjne i przeciwbólowe, co poprawia działanie tabletek. Piperyna oczywiście również przyczynia się do ich lepszej wchłanialności w organizmie.
Piperyna- Gdzie kupić?
Najbezpieczniejsza miejsca, w których można zakupić suplementy diety zawierające piperynę to apteki, sklepy zielarskie oraz coraz częściej odwiedzane sklepy ze zdrową żywnością. Nie należy kupować suplementów diety online, gdyż nieznane jest ich pochodzenie. Cena piperyny uzależniona jest od miejsca zakupu, ilości tabletek oraz zawartości piperyny w preparacie. Można jednak oszacować, że 30 tabletek zawierających aż 95% piperyny kosztuje około 35 zł.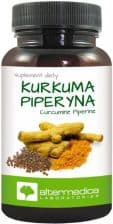 Piperyna
Kliknij i sprawdź ceny!
Piperyna- Przedawkowanie
Piperynę można w szybki sposób przedawkować, poprzez stosowanie większej ilości tabletek, niż jest to zalecane na opakowaniu. Do przykrych konsekwencji związanych z przedawkowaniem piperyny zaliczyć można:
Biegunki,
bezsenność,
podrażnienia układu pokarmowego,
wzmożona praca układu nerwowego (uczucie złości, skrajne emocje),
nadpobudliwość.
Jak widać, piperyna ma wiele korzyści zdrowotnych, jednak należy ją stosować z umiarem i opamiętaniem. Warto również pamiętać o kupowaniu suplementów diety ze sprawdzonego źródła oraz o spożywaniu zalecanej dziennej dawki. Jej przekroczenie może doprowadzić do wystąpienia przykrych sytuacji niepożądanych. Jest to jednak wartościowy składnik suplementów diety.