Każdy kraj ma takie potrawy, które zna każde dziecko, a co więcej lubi każde dziecko. To potrawy, których musi spróbować każdy turysta, by pochwalić się po powrocie, że poznał regionalną kuchnię. W Polsce nie ma takiego dania, które mogłoby równać się z włoską pizzą w swojej popularności, hiszpańską paellą czy grecką musaką. Ale mamy kilka potraw, które kojarzą się jednoznacznie z naszym krajem a w wersji mocno eleganckiej mogą pojawić się na każdym stole.
Pierogi ruskie, co to jest?
Pierogi ruskie, czyli zawierające farsz ziemniaczano – serowy, zwane też pierogami galicyjskimi popularne są w Polsce i na Ukrainie, a ich nazwa wywodzi się z Rusi Czerwonej, części Galicji Wschodniej. Trzeba pamiętać jednak, aby tę słynną Ruś nie mylić z Rosją, ponieważ pierogi ruskie są tam mała znaną potrawą. Pierogi z farszem ziemniaczano-serowym popularne są też na Słowacji, noszą tam nazwę bryndzowe pirohy.
Aby przygotować pierogi ruskie należy zacząć od ciasta, na które składają się:
mąka
woda
sól
czasem jajka w zależności od przepisu
farsz ziemniaczano-twarogowy
smażona cebula
sól
pieprz
Ciasto na pierogi ruskie musi mieć grubość ok. 2mm, wycina się z niego okrągłe niewielkie formy i nakłada farsz, zlepiając krawędzie ciasta palcami w charakterystyczny szlaczek. Pierogi gotuje się w osolonej wodzie i podaje na różny sposób:
ze skwarkami z boczku i tłuszczem
ze smażoną cebulką
ze śmietaną
posypane kminkiem, to przepis z historycznego Lwowa
Podobno jeszcze w XIX w. nazwę pierogi ruskie stosowano do wszystkich pierogów bez względu na rodzaj nadzienia, ważne by były nie gotowane, ale pieczone. Pierogi ruskie są też równie popularne jako danie odsmażane, z chrupiącym ciastem.
Krótka historia pierogów ruskich
W naszym kraju pierogi ruskie pojawiły się podobno już w XIII wieku, a dotarły do nas z Dalekiego Wschodu właśnie przez Ruś Kijowską. Najstarszy przepis opisujący sposób przygotowania pierogów ruskich znajduje się w pierwszej polskiej książce kucharskiej autorstwa Stanisława Czernieckiego Compendium Ferculorum, albo zebranie potraw wydanej w 1682 r. w Krakowie .Stanisław Czerniecki był kucharzem na dworze Lubomirskich w Wiśniczu. Książka traktowała o przepisach kuchni polskiej oraz o procedurach niezbędnych do tego, by powstała potrawa była jadalna. Dzieło zawiera 333 przepisy, dzisiaj powiedzielibyśmy kuchni staropolskiej, a wśród nich znajduje się przepis na pierogi z mięsem z farszem przygotowanym z nerek, łoju i zieloności.
W innych przepisach pojawiają się przede wszystkim pierogi na słodko, nadziewane konfektem – owocami smażonymi w cukrze, czyli współczesną marmoladą. Zaleceniem autora słodkie pierogi należało nie gotować, ale piec. Odmianą pierogów były pierożki nadziewane konfektem bzowym, ale z ciastem drożdżowym, dzisiaj równie popularnym. Tego rodzaju pierogi smażono w głębokim oleju, dzięki takiej obróbce termicznej przypominały bardziej dzisiejsze pączki.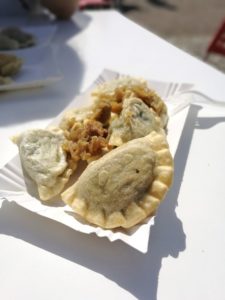 Tradycja pierogów ruskich
W kolejnym zbiorze przepisów kulinarnych, tym razem Wielkiego Księstwa Litewskiego pojawia się jeszcze inny rodzaj pierogów z serem, dzisiejsze leniwe, czyli pierogi wykonane z twarogu z niewielką ilością mąki. Ważne, aby takie pierogi otrzymały sporą ilość masła lub wręcz były odsmażane na maśle.
Inny rodzaj pierogów ze zbioru przepisów potraw z farszem to drożdżowy pieróg zawinięty w kapuściany liść, którego nie jedzono. Zadaniem kapuścianego liścia było dodanie odrębnego aromatu oraz urody potrawie.
Współcześnie pierogi przygotowuje się w naszym kraju na wszelkie możliwe sposoby i z farszem jaki tylko uda się skomponować. Co nie zmienia faktu, że pierogi ruskie, jako głęboko tradycyjna potrawa, pojawiają się systematycznie w większości domów. Najzabawniejsze jest to, że zamawiając pierogi na dzisiejszej Ukrainie należy zamówić pierogi polskie. A w Polsce pierogi ruskie w latach powojennych funkcjonowały jako pierogi lwowskie.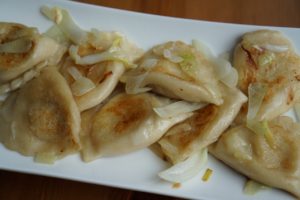 Wigilijne pierogi
Polska kolacja wigilijna akceptuje wyłącznie potrawy postne, pomimo przyzwolenia na obecność mięsa. Jednak polska tradycja z trudem znosi tak radykalne zmiany i cały czas hołduje tradycyjnej kolacji . A do tego rodzaju dań z pewnością należą pierogi. Gdy w okresie świąt rozmowy toczą się wokół kolacji wigilijnej bardzo łatwo, na podstawie samego menu kolacji, określić powiązania rodzinne. Związki rodzinne zza wschodniej granicy przywołuje barszcz czerwony w opozycji do zupy owocowej czy rybnej. Równie znaczący jest podział na tych, którzy muszą mieć na wigilijnym stole pierogi ruskie w opozycji do pierogów z kapustą i grzybami. Podobnie działa kutia w opozycji do grochu z kapustą.
Pierogi ruskie to wyjątkowo smaczne postne danie obecne na kolacji wigilijnej uwielbiane jest przede wszystkim przez dzieci, które i chyba niewiele osób temu zaprzeczy, zwykle podczas Wigilii jedzą bardzo mało i bez entuzjazmu. Dodatkowym atutem pierogów podczas kolacji jest ukryta w nich, tradycyjnie, moneta. Trochę to niebezpieczny obyczaj, zachowywany w znikomej ilości domostw.
Tajemnica dobrych pierogów ruskich
Tajemnica dobrych pierogów ruskich leży wyłącznie w jednym ich składniku – czyli w twarogu. Niestety twaróg do pierogów musi być odpowiednio kwaśny, ale nie zakwaszany cytryną tylko kwaśny naturalnie. A ponieważ w sklepach praktycznie nie ma już kwaśnego twarogu, dlatego trudno dziś osiągnąć ten niepowtarzalny smak pierogów ruskich. Wciskanie soku z cytryny, próby sztucznego zakwaszania twarogu nie na wiele się zdają i pierogi ruskie słabo już przypominają te tradycyjne.
Poszukując przepisu na pierogi ruskie w internecie można znaleźć ich dziesiątki, jak nie więcej. Wszystkie te przepisy są bardzo podobne, różnica może polegać na cechach ciasta, które powinno być miękkie i delikatne.
Pierogi jako polski fast food
Jedną z największych tajemnic pierogów ruskich jest to, że z dania czasochłonnego, wymagającego sporo przygotowań i cierpliwości uczyniono danie fast foodowe, czyli szybką, uliczną potrawę. Coraz rzadziej przygotowuje się je w warunkach domowych, z wyjątkiem kolacji wigilijnej oczywiście, natomiast bardzo często potrawa ta pojawia się w barach szybkiej obsługi, czy wręcz barach fast foodowych. Szybkie pierogowe danie, okraszone cebulką czy boczkiem to wspaniała gorąca i sycąca barowa oferta. Być może popularność polskich pierogów ruskich spowodowana została przewrotnie spopularyzowaniem kuchni orientalnej w naszym kraju, która oferuje wiele rodzajów własnych pierogów. A że jest na nie popyt powstała szeroka oferta pierożkowego dania, pokazując, że nie powinno się bać tego rodzaju wyzwań kulinarnych. Polskie ruskie pierogi mogą stanowić doskonałą konkurencję dla nadziewanych niewielkich pierożków gotowanych w głębokim oleju. Delikatne, pulchne i smakowite pierogi ruskie sprawdzają się również na ulicy.