Właściwości paracetamolu
Paracetamol jest organicznym związkiem chemicznym, o działaniu przeciwgorączkowym i przeciwbólowym, bez komponenty przeciwzapalnej. Należy do grupy leków niesteroidowych.
Dużymi zaletami środka jest fakt, że nie uszkadza błony śluzowej żołądka i nie wpływa na zaburzenia procesu krzepnięcia krwi. Maksymalne stężenie osiąga po około godzinie od zażycia, natomiast efekt jego działania utrzymuje się przez 3-5 godzin. Istotą jego działania jest hamowanie syntezy prostaglandyn poprzez blokowanie cyklooksygenazy prostaglandynowej w ośrodkowym układzie nerwowym. Dowiedziono, że 5% leku jest wydalane przez nerki w niezmienionej postaci.
Historia leku
Zanim wprowadzono do lecznictwa paracetamol, stosowano związek noszący nazwę acetanilid. Wykazał on jednak właściwości toksyczne, zaprzestano więc podawania go chorym. Badacze w 1899 roku poczynili liczne eksperymenty, podczas których wykazano, że acetanilid w drogach pokarmowych ulega rozpadowi, a jednym z elementów wówczas powstających jest paracetamol. Uznano, że to właśnie on ma właściwości przeciwbólowe. Odkrycie jednak zostało zignorowane.
Na rynku światowym pojawił się już w 1955 roku dzięki McNeil Laboratories, natomiast w Polsce popularność zyskał w latach 90. XX wieku.
Wskazania
Ze względu na fakt, iż jest to substancja przeciwbólowa i przeciwgorączkowa, poleca się stosowanie jej w celu likwidacji tych stanów. Do wskazań należą:
bóle słabe i umiarkowane
gorączka
bolesna menstruacja
ból towarzyszący chorobom nowotworowym
bóle migrenowe
nerwobóle
bóle po szczepieniach i pooperacyjne
choroba zwyrodnieniowa stawów
bóle zębów
przeziębienia
Przeciwwskazania
nadwrażliwość na którykolwiek składnik środka
ciężka niewydolność nerek
ciężka niewydolność wątroby
niedobór G-6-PD
niedobór reduktazy methemoglobiny
dzieci do 3. miesiąca życia
choroba alkoholowa
odwodnienia
Osoby niedożywione powinny zachować szczególną ostrożność, a kobiety w ciąży lub karmiące piersią powinny skonsultować się z lekarzem. Nie należy stosować leku po upływie terminu ważności. Nie należy również przyjmować go często, ponieważ może działać szkodliwie bądź organizm wykaże odporność na jego działanie.
Łączenie z innymi lekami
Działanie paracetamolu nasila łączenie go z kwasem acetylosalicydowym. Stosowanie go z lekami NLPZ zwiększa ryzyko uszkodzenia nerek, natomiast eliminację paracetamolu z organizmu wydłużają takie substancje jak propranolol, metyrapon, probenecyd, salicylamid, izoniazyd, ranitydyna i cymetydyna. Paracetamol może nasilać działanie leków przeciwzakrzepowych przyjmowanych doustnie i będących pochodnymi kumaryny. Przy jednoczesnym stosowaniu go z inhibitorami MAO może wystąpić gorączka lub stan pobudzenia. Wchłanianie tego leku w układzie pokarmowym zwiększa działanie metoklopramidu, natomiast zmniejsza stosowanie węgla aktywnego i cholestyraminy.
Skutki uboczne
Jak każdy lek, tak i paracetamol może wykazywać działania niepożądane, choć są one stosunkowo rzadkie. Największe ryzyko ich pojawienia się występuje u osób nadużywających alkoholu i niedożywionych. Już zaledwie dwukrotne przekroczenie zalecanej dawki może skutkować objawami uszkodzenia wątroby. Po zażyciu mogą wystąpić łagodne dolegliwości ze strony układu pokarmowego. Dużo rzadziej spotyka się uszkodzenie nerek, niedokrwistość, małopłytkowość, agranulocytoza czy bóle kolkowe.
Wystąpić mogą również objawy skórne, takie jak rumień, pokrzywka, plamica barwnikowa oraz zapalenie skóry. Do innych objawów zaliczamy anemię i zmiany w obrazie krwi.
Przedawkowanie może skutkować niewydolnością wątroby bądź zgonem. Objawy przedawkowania: brak apetytu, nudności, wymioty, biegunka, bóle brzucha, żółtaczka, bóle wątroby i nadmierna potliwość. Łagodne mogą wystąpić po 2-4 dniach, natomiast ciężkie – po około 6.
Stosowanie paracetamolu nie wpływa na zdolności psychomotoryczne, zatem bez przeszkód można jeździć pojazdami i obsługiwać maszyny.
Dawkowanie
Lek przyjmuje się doustnie bądź dożylnie. W przypadku standardowego zażywania paracetamolu w postaci tabletek, dorośli mogą przyjmować 1-2 tabletki nie częściej niż co 4 godziny, 2-4 razy na dobę. Podczas leczenia doraźnego maksymalna dawka wynosi 4 gramy.
U dzieci odpowiednią dawkę ustala się bazując na ich wadze oraz wieku. Zazwyczaj jest to 10-15 mg na kilogram masy ciała. Wynika z tego, że dzieci w wieku 7-12 roku życia mogą przyjmować średnio pół tabletki co 6-8 godzin.
Jeśli ból utrzymuje się dłużej niż 10 dni, a gorączka dłużej niż 3 dni pomimo stosowania paracetamolu, należy niezwłocznie skonsultować się z lekarzem.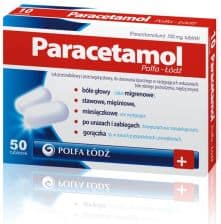 Paracetamol
Kliknij i sprawdź ceny!
Zażywanie
Tabletki mogą być dostępne w postaci standardowej – do połykania, ale i jako środek do żucia lub do rozpuszczania w jamie ustnej. Najlepszym sposobem przyjęcia preparatu jest rozpuszczenie go w wodzie, ponieważ w tej postaci dużo szybciej wchłania się z przewodu pokarmowego, dzięki czemu efekty pojawiają się znacznie szybciej. Dużą zaletą rozpuszczenia tabletki w wodzie jest fakt, że ma krótszy kontakt z błoną śluzową żołądka, a wówczas zmniejsza się ryzyko podrażnień. Środki przeznaczone do wkłucia dozuje lekarz.
Środki na polskim rynku na bazie paracetamolu
tabletki musujące: Apap "ból i gorączka", Efferalgan, Efferalgan Forte
tabletki zwykłe: Acenol, Acenol Forte, Apap, Codipar, Laboratoria PolfaŁodź Paracetamol, Panacit, Paracetamol Accord, Paracetamol Aflofarm, Paracetamol APTEO MED, Paracetamol Biofarm, Paracetamol DOZ, Paracetamol Filofarm, Paracetamol LGO, Paracetamol Teva, Paramax Rapid
tabletki powlekane: Omnipap, Panadol, Paracetamol Biofarm, Paracetamol Hasco
zawiesina doustna: Apap dla dzieci FORTE, Calpol, Calpol 6 Plus, Panadol dla dzieci, Paracetamol Aflofarm, Paracetamol Hasco, Pedicetamol
granulat: Apap junior
czopki: Efferalgan, Paracetamol Aflofarm, Paracetamol Farmina, Paracetamol Hasco
roztwór do infuzji: Paracetamol B.Braun, Paracetamol Kabi, Sinebriv
syrop: Paracetamol Galena