Nadchodzi lato, które sprawia, że czujemy wakacyjny luz, chcemy się zrelaksować i odpocząć od codzienności. Wówczas nachodzi nas też najczęściej ochota na zmiany w swoim wyglądzie. Klasyką jest już robienie "formy na lato" oraz "szykowanie się na wakacje".
Jednak nie wszystkie z nas czują potrzebę wyciskania z siebie siódmych potów, albo przestrzegania wszelkiego rodzaju diet, których celem ma być zapewnienie nam idealnej sylwetki. Dobrym pomysłem, na wprowadzenie zmian, jest udanie się do kosmetyczki albo fryzjera. Nic tak nie poprawia samopoczucia i nie podnosi pewności siebie jak nowa fryzura, perfekcyjny manicure albo poddanie się jakimś zabiegom upiększającym. Dlatego, jeśli odczuwasz potrzebę zmiany, nie wahaj się dłużej. Zapisz się na wizytę u fryzjera i pozwól sobie na odrobinę wakacyjnego szaleństwa, które wniesie trochę świeżości w twoje letnie stylizacje.
Ombre dla każdego
Zacznijmy od ustalenia, czym w ogóle jest ombre, jeśli mówimy o farbowaniu włosów. Otóż jest to sposób farbowania, polegający na stopniowym zmienianiu odcienia, najczęściej w obrębie jednej, czasami większej ilości, barw. Nie ma odgórnych zasad, mówiących o doborze kolorów, bądź zaczynaniu od konkretnego odcienia. Najczęściej możemy spotkać:
ombre kolorowe – robione zwykle przez nastolatki, mogące mieć najróżniejsze i najbardziej zwariowane kolory np. turkusowy, różowy, fioletowy lub płomienno-rudy,
klasyczne blond ombre – polegające na stopniowym, płynnym rozjaśnianiu włosów, tak, aby końcówki włosów wyglądały, jakbyś wróciła prosto z urlopu, spędzonego na słonecznej plaży
sombre – będące delikatniejszą wersją ombre. Przy tej metodzie farbowania, staramy się uzyskać jak najbardziej naturalny efekt, który ma wyglądać dosłownie jak świetliste refleksy, będące następstwem spędzania czasu na słońcu. Nie ma wyraźnej zmiany koloru na całej długości włosów
Czy ombre to dobry pomysł?
Ombre daje ładny efekt, kojarzący się z wakacjami i urlopem, ze względu na efekt, mający przypominać rozjaśnienie włosów letnim słońcem. Jest to dobry sposób farbowania dla każdego, kto chce zmienić swój kolor włosów, bez konieczności martwienia się odrostami. Kiedy natomiast znudzą nam się jaśniejsze końce, zawsze będziemy mogły podciąć włosy, wracając do jednolitego kolory na całej ich długości. Ombre w kolorze blond jest najbardziej popularny, ze względu na to, że stosunkowo łatwo jest płynnie przechodzić pomiędzy rożnymi odcieniami blondu. Dodatkowo, kolor ten kojarzy się z włosami muśniętymi słońcem, pełnymi blasku. Dlatego też wiele kobiet decyduje się na ten sposób zafarbowania włosów na czas wiosenno-wakacyjny.
Czy ombre to opcja dla każdego? Jak najbardziej! W zależności od efektu, jaki chcemy uzyskać, możemy wykonać je mniej lub bardziej wyraziście, na dłuższych lub krótszych włosach. Ściętych na prosto lub półokrągło. Tutaj już wszystko zależy od naszych preferencji i upodobań. Często można się spotkać z obawą, czy na bardzo ciemnych włosach, blond ombre będzie dobrze wyglądać. I co najważniejsze, czy w ogóle będzie widoczne. Jeżeli mamy ciemne włosy i marzy nam się piękne ombre, kończące się jasnym lub złocistym blondem, udajmy się do fryzjera, który (jeśli zajdzie taka konieczność) przeprowadzi dekoloryzacje na odpowiednich partiach włosów.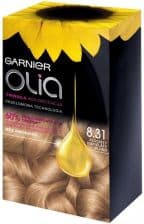 Blond farby
Kliknij i sprawdź ceny!
Ombre – samodzielnie czy u fryzjera?
Jest to jak najbardziej uzasadnione pytanie, skoro sposób wykonania takiej koloryzacji, wydaje się banalnie prosty. Wystarczy po prostu coraz bardziej rozjaśniać włosy, albo nakładać farbę w coraz jaśniejszych odcieniach. Wydaje się proste. Problem może się pojawić, kiedy okaże się, że poszczególne kolory jakoś nie bardzo chcą się trzymać na naszych włosach, albo nie uda nam się stworzyć płynnego przejścia. Za samodzielne (albo wykonywane z czyjąś pomocą) robienie ombre nie powinny brać się osoby, które:
mają bardzo zniszczone włosy – ponieważ samodzielnie trudno będzie przewidzieć, jaki efekt dadzą położone farby. Odcień, który uzyskamy będzie mógł nas bardzo zaskoczyć, niekoniecznie pozytywnie,
regularnie farbują włosy – tak samo jak w powyższym punkcie, będziemy mieć problem z uzyskaniem konkretnego odcienia,
mają bardzo długie lub bardzo krótkie włosy – na takich  długościach ciężko jest samodzielnie dobrać proporcje poszczególnych odcieni, tak, aby uzyskać płynne przejścia,
są posiadaczami bardzo ciemnych włosów – konieczna może się bowiem okazać wcześniejsza dekoloryzacja, na wybranych partiach włosów
Delikatne ombre
Jeśli chcesz uzyskać delikatny efekt, możesz kupić rozjaśniacz i spróbować wykonać ombre samodzielnie. Postępuj zgodnie z instrukcją na opakowaniu, trzymając go po prostu odpowiednio dłużej, na partiach, które mają być jaśniejsze. Po wszystkim zadbaj o włosy, nakładając dużą ilość odżywki, która poprawi kondycję twoich włosów. Jeśli jednak nie lubisz ryzyka, umów się na wizytę do fryzjera.
Dzięki temu będziesz spokojna, że twoje włosy są w dobrych rękach. Profesjonalista pomoże ci dobrać odpowiedni odcień, który najlepiej będzie współgrał z twoją naturalną barwą. Ewentualnie przeprowadzi pełną koloryzacje, jeśli oprócz zrobienia ombre, chcesz jednocześnie całkowicie zmienić swój kolor. Korzystając z usług fryzjera, możesz jednocześnie skorzystać z kompleksowej usługi.
A gdyby odmienić całą fryzurę?
Większość salonów oferuje strzyżenie, modelowanie i farbowanie, jako jeden, rozszerzony pakiet. Oprócz tego, w salonie będziesz mogła poddać się jakiejś kuracji pielęgnacyjnej, która poprawi stan twoich włosów. Ponadto, fryzjer będzie w stanie ocenić stan zniszczenia włosów, odradzając na przykład farbowanie do czasu, kiedy będzie pewny, że farba na pewno złapie tak jak powinna i nie będzie wątpliwości, co do spodziewanego efektu.
Decyzja należy do Ciebie
Odpowiadając na pytanie – samodzielnie czy u fryzjera – wszystko zależy od twoich potrzeb. Jeśli nie boisz się farbować sama, albo masz w swoim gronie bliskich osób, kogoś, komu ufasz na tyle, żeby powierzyć mu swoje włosy, to śmiało możesz spróbować wykonać ombre w domu. Jeśli nie masz bardzo ciemnych włosów, to możesz zakupić szamponetkę w różnych odcieniach blondu i spróbować nią wykonać stopniowe rozjaśnianie włosów. Efekt może być bardzo dobry, szczególnie, jeśli masz zdrowe, zadbane włosy. Jeżeli jednak nie jesteś fanką domowych eksperymentów, lepiej udaj się do fryzjera. Oszczędzi ci to stresu związanego z ewentualnymi błędami, które mogłabyś popełnić rozjaśniając włosy sama.
Dodatkowo, farby i produkty do włosów, dostępne w salonach fryzjerskich, są jednak nieco lepsze niż te stojące na drogeryjnych półkach. Wybór należy do ciebie. Jeśli wraz ze zbliżającymi się wakacjami, zaczęłaś odczuwać potrzebę zmiany swojego wyglądu, nie wahaj się i zrób coś z włosami. To najprostszy sposób na poprawę samopoczucia. Pozwól sobie na odrobinę szaleństwa i postaw na blond ombre, które odejmie ci lat i sprawi, że wakacyjny klimat zostanie z tobą również po urlopie. Piękne włosy to niezaprzeczalny atut każdej kobiety. Zadbaj o swoje i ciesz się latem, będąc piękną i zadbaną.