Melon to dosyć popularny owoc egzotyczny, który z uwagi na zawartość wielu cennych witamin i minerałów powinien stanowić nieodłączny element codziennej diety wszystkich tych osób, które mają problemy z nadciśnieniem oraz chorobą miażdżycową. Właściwości lecznicze oraz walory smakowe melona doceniane były już w czasach starożytnych, jednak do europejskich krajów trafił dopiero w XV wieku, zdobywając tym samym uznanie wielu smakoszy oraz amatorów gotowania. Jakie jednak cenne dla zdrowia właściwości płyną ze spożycia melona, jakie jego rodzaje można znaleźć w sklepach i w jaki sposób można ten owoc wykorzystać w kuchni?
Rodzaje melona
Obecnie w sklepach można spotkać trzy rodzaje melona, a mianowicie melona kantalupa, miodowego oraz kasaba. Melon kantalupa swoim kształtem przypomina kulę, charakteryzuje go brunatna-szara skórka z widocznymi bruzdami. Melon ten może osiągnąć wagę nawet 5 kg, a jeśli chodzi o jego smak, to jest dosyć słodki, dlatego też przepadają za nim dzieciaki. Melon miodowy ma z kolei bardziej okrągły kształt i skórkę, która może mieć kolor żółty lub zielony. Jeśli chodzi o miąższ, to jest on zielonkawy, jednak można spotkać również egzemplarze o kremowym zabarwieniu. Melon ten w porównaniu do melona kantalupa ma nieco mniejszą kaloryczność i jest od niego nieco słodszy, jednak warto wiedzieć o tym, iż zawiera znacznie mniejsze ilości cennej dla zdrowia witaminy C. Niemniej jednak warto wykorzystać go podczas przygotowywania sałatek, ponieważ stanowi bogate źródło potasu, kwasu foliowego oraz witaminy B6. Z kolei melon kasaba ma gładką, żółtą skórę oraz okrągły kształt, jednak pod względem wartości odżywczych nie dorównuje on niestety melonowi kantalupa, dlatego też można po niego sięgać najlepiej od czasu do czasu.
Wartości odżywcze melona
Melon to niskokaloryczny owoc, który zawiera śladowe ilości błonnika, białka, węglowodanów oraz tłuszczu. W produkcie tym można jednak znaleźć kilka cennych dla zdrowia substancji odżywczych takich jak witaminy A, C, E, K, z grupy B, kwas foliowy, cynk, wapń, potas, magnez, żelazo oraz fosfor.
Właściwości lecznicze melona
Melon z uwagi na zawartość wielu cennych składników odżywczych wykazuje szereg korzystnych dla naszego zdrowia właściwości leczniczych. Melon kantalupa zawiera w swoim składzie bardzo duże ilości beta-karotenu, czyli bardzo silnego antyoksydanta, który ochrania nasz organizm przed rozwojem niebezpiecznych chorób nowotworowych oraz miażdżycy. Warto również wiedzieć o tym, iż regularne spożycie produktów bogatych w beta-karoten nadaje skórze złocistego zabarwienia, a także ochrania narząd wzroku przed wieloma nieprzyjemnymi dolegliwościami. Z uwagi na zawartość potasu spożycie melona pomaga wyregulować zbyt wysokie ciśnienie krwi, dlatego też osoby, które zmagają się z nadciśnieniem, powinny dosyć często sięgać po ten owoc. Jeśli chodzi o pozostałe właściwości melona, to jego spożycie wpływa korzystnie na funkcjonowanie układu nerwowego, a także wspomaga proces odchudzania.
Zastosowanie melona w kuchni
Melon to owoc, który można z powodzeniem wykorzystać podczas przygotowywania owocowych sałatek, szaszłyków oraz deserów lodowych. idealnie komponuje się również z owocami morza, mozzarellą oraz szynką parmeńską.
Koktajl z melona, mango i truskawek
Składniki:
200 g melona (należy go obrać i oczyścić z pestek),
1 małe mango (dojrzałe),
7 szt. małych truskawek,
1,5 szklanki soku 

jabłkowego
Sposób przygotowania:
Do blendera kielichowego włożyć oczyszczony miąższ z melona, opłukane pod bieżącą wodą truskawki, obrane mango oraz sok jabłkowy. Wszystkie składniki dokładnie zmiksować, przelewając następnie do szklanek i podając przyozdobione naciętymi truskawkami.
Gazpacho z melona
Składniki:
1 duży melon kantalupa,
3 średniej wielkości pomidory,
2 żółte melony,
1 brzoskwinia,
1 łyżka cukru,
garść posiekanej natki pietruszki,
2 łyżki posiekanego oregano,
3 łyżki oliwy z oliwek,
1 zielona papryczka chili,
szczypta soli i cukru
Sposób przygotowania:
Pomidory sparzyć wrzątkiem, obrać ze skórki i pokroić w małą kostkę. Podobnie postąpić z brzoskwinią, przelewając ją wrzątkiem, obierając, przekrawając na pół, wydrążając pestkę oraz krojąc na mniejsze kawałki. Zieloną papryczkę chilli przekroić na pół, usunąć nasionka i bardzo drobno posiekać. Żółtego melona obrać ze skóry, przekroić na pół, usunąć pestki i pokroić w kostkę. Wszystkie owoce razem z oregano, szczyptą cukru i soli oraz oliwą z oliwek zmiksować. Melona kantalupa obrać ze skóry, przekroić na pół i wydrążyć pestki, krojąc pozostały miąższ w kostkę. Tak przygotowanego melona przełożyć do zmiksowanej wcześniej masy, mieszając delikatnie i wstawiając na około 2 godziny do lodówki. Przygotowane w ten sposób gazpacho można podawać z pokruszonym lodem, najlepiej podczas upalnych dni.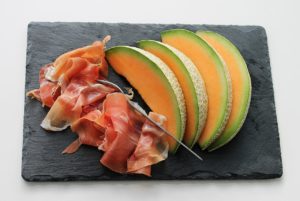 Sałatka z melonem, rukolą i szynką parmeńską
Składniki:
po 1/2 melona żółtego i melona kantalupa,
100 g szynki parmeńskiej w plastrach,
50 g rukoli,
200 g mozzarelli w kulkach,
20 ml białego wina,
50 ml oliwy z oliwek,
szczypta soli i pieprzu do smaku
Sposób przygotowania:
Melony przekroić na pół, wykrawając z nich przy pomocy specjalnej łyżeczki małe kuleczki. Jeśli jednak w domu nie ma na wyposażeniu takiej łyżeczki, to melony można pokroić w małą kostkę. Do półmiska należy wrzucić opłukaną pod bieżącą wodą i osuszoną rukolę, rozsypując na niej przygotowane wcześniej melony. Do sałatki dodać następnie plastry szynki parmeńskiej oraz kuleczki mozzarelli. Całość polać odrobiną wytrawnego białego wina i oliwą z oliwek, oprószając odrobiną soli i pieprzu.
Sałatka z melonem i grillowanym kurczakiem
Składniki:
1 filet z kurczaka,

mix

 różnych sałat (rukola, roszponka, rzymska, lodowa),
1/2 melona kantalupa,
1 małe awokado
Składniki na dressing:
5 łyżek oliwy z oliwek,
po 1 łyżce soku z limonki, miodu, białego octu winnego,
1 łyżeczka poszatkowanej natki pietruszki
Składniki na marynatę do kurczaka:
po 1 łyżeczce sosu sambal, miodu

 płynnego, soku z limonki, tabasco, ketchupu, startej cebuli, posiekanej natki pietruszki, słodkiej mielonej papryki,
2 łyżki coca-coli,
1 ząbek czosnku przeciśnięty przez praskę,
2 łyżeczki sosu 

worchester
Sposób przygotowania:
Pierś z kurczaka opłukać pod bieżącą wodą i dokładnie osuszyć przy pomocy papierowego ręcznika. Wszystkie składniki marynaty bardzo dokładnie ze sobą wymieszać, polewając nią pierś z kurczaka oraz marynując mięso przez około 30 minut. Tak przygotowanego kurczaka usmażyć na ruszcie lub na specjalnej patelni grillowej do momentu aż będzie miękki i się zarumieni (około 15 minut). Gdy kurczak będzie już gotowy odstawić go na bok, aby mięso odpoczęło. Melona obrać ze skóry i pokroić w długie paski. Awokado również obrać ze skórki, wydrążyć pestkę i również pokroić na cienkie paski. Wszystkie składniki dressingu wymieszać w miseczce tak, aby idealnie się ze sobą połączyły. Na dużym talerzu rozłożyć sałatę, układając na niej awokado, melona i pokrojonego w paski grillowanego kurczaka, polewając całość przygotowanym wcześniej sosem.