Medytacja kojarzy się nam z kulturą Wschodu, ze względu na jej obecności w religiach i systemach filozoficznych pochodzących z tamtych rejonów. Warto jednak pamiętać, że obecna była ona już w czasach antycznych, jako ważny element religijności i wierzeń ówczesnych ludzi. Do terminu "medytacja", zalicza się szereg różnorodnych praktyk, mających na celu osiągnięcie konkretnych efektów. Najczęściej chodzi o wzmocnienie swojej wewnętrznej siły lub rozwinięcie jakiejś pożądanej cechy. Na przykład wielkoduszności, cierpliwość lub wyrozumiałość. Często chodzi też o lepsze poznanie siebie, naukę miłości i przyjaźni, a także samoakceptację oraz ogólne poprawienie możliwości umysłowych.
Wybrane rodzaje medytacji
Medytacja jest bardzo ogólnym pojęciem, w które wchodzi szereg różnych praktyk, włącznie z modlitwą. Nie sposób opisać wszystkich znanych człowiekowi technik i rodzajów medytacji. Poniżej zostaną opisane te najpopularniejsze i najlepsze dla osób, które dopiero zaczynają swoją przygodę z medytacją.
Mindfulness
wywodząca się z Buddyzmu technika medytacji, której celem jest zwiększenie samoświadomości. Chodzi o wyrobienie nawyku automatycznego analizowania własnych myśli. Dzięki temu stajemy się świadomi, jakie myśli przepływają przez nasz umysł i jesteśmy w stanie nadać im odpowiedni kierunek. Zyskujemy możliwość wyciszenia negatywnych myśli, które mogą prowokować nieprzyjemne sytuacje.
Transcedentalna medytacja
nie jest możne najprostszą z prezentowanych tutaj metod, ale jej efekty potrafią być naprawdę zaskakujące. Wywodzi się z Hinduizmu, praktykowana najczęściej na siedząco lub w pozycji lotosu. Jej celem jest wyciszenie, relaks i oczyszczenie umysłu. Obecne są w niej mantry. Możemy skupić naszą uwagę na dowolnym słowie, dźwięku lub zdaniu. Medytując w ten sposób, można uzyskać większą świadomość chwili obecnej
Zazen
To najprostsza technika medytacji, polecana osobom, które dopiero zaczynają wprowadzać do swojego życia medytację. Praktykuje się ją poprzez przyjęcie odpowiedniej postawy ciała. Wycisza i odpręża. Nie jest wymagająca, a może być dobrym wprowadzaniem w świat medytacji.
Wizualizacja przewodnia
Może być przeprowadzana z wykorzystaniem pomocy wizualnych lub tylko z użyciem własnej wyobraźni. Jej głównym celem jest zrelaksowanie się i pozytywne ukierunkowanie naszego umysłu. Polega na wyobrażaniu sobie konkretnej sytuacji lub miejsca, albo obejrzeniu specjalnego materiału, mającego na celu przeniesienie nas w inną rzeczywistość.
Tai Chi
Lub inna medytacja w ruchu. Celem jest uwolnienie umysłu od zbędnych myśli i zwiększenie samoświadomości. Poprzez skupianie uwagi na wykonywaniu powolnych ruchów i myślach, które będą się wówczas pojawiać w naszym umyśle. Dzięki temu będziesz w stanie lepiej poznać swoje ciało, swoje myśli. Poczujesz się odprężony i zrelaksowany
Medytacja skoncentrowana
Polega na próbie oderwania myśli od konkretnego zjawiska, na rzecz skupienia uwagi na czymś innym. Chodzi o uzyskanie kontroli i zatrzymanie strumienia myśli, których nie jesteśmy świadomi, a które mogą po cichu sabotować nasze działania. Skoncentrować możesz się na dźwięku, obiekcie lub mantrze. Zobaczysz, że na początku nie będzie ci łatwo nie poddać się bujaniu wi obłokach i świadomie utrzymać uwagę na jednej rzeczy.
Vipassana
Nazywana jest inaczej "medytacją wglądu". Jej ideą jest poznanie sensu istnienia. Chodzi o to, by nauczyć odczuwać absolutnie wszystko, co dzieje się w naszym ciele. Poczuć krew krążącą w żyłach, jak rozszerzają się płuca, kiedy wypełnia je tlen, skupić na biciu serca. Nie jest to proste, ponieważ najmniejsze rozproszenie może zakłócić proces odczuwania. Nie powinno się dopuścić do przeniesienia uwagi na coś innego. A jeśli już taka sytuacja będzie miała miejsce, należy sobie to od razu uświadomić i przejąć nad tym kontrolę.
Medytacja – dowiedz się więcej!
Kliknij i sprawdź ceny!
To tylko niektóre z rozpowszechnionych na całym świecie technik medytacji. Są wśród nich prostsze i trudniejsze. Warto jednak pamiętać, że rozpoczynając swoją przygodę z medytacją, nie podpisujesz żadnego cyrografu, nie wybierasz życiowej drogi. Owszem, jeśli kiedyś odczujesz taką potrzebę, będziesz mógł się bardziej związać z konkretną ścieżką albo systemem filozoficznym. Na początku jednak po prostu sprawdzaj, z czym czujesz się najlepiej. Dzięki temu będziesz w stanie wybrać, w jakiej technice czujesz się najlepiej. A może spróbuj łączyć poszczególne metody? Medytacja to nie jest coś ze ściśle wyznaczonymi zasadami i regułami postępowania liczą się twoje odczucia i twoje zadowolenie z wykonywanych ćwiczeń. Dlatego nie zniechęcaj się i szukaj. Z pewnością znajdziesz w końcu coś dla siebie,
Jak rozpocząć naukę medytacji?
Od podjęcia decyzji, że chcesz zadbać o higienę swojego umysłu. Naprawdę to jest podstawą do efektywnego medytowania. Zacznij od uświadomienia sobie, że w życiu musisz dbać o swoje ciało, ducha i umysł. Dzisiejszy świat dostarcza nam miliony bodźców, z których większość jest nam do niczego niepotrzebna. Jeśli nawet wydaje ci się, że nie poświęcasz czasu na rzeczy nieistotne i dbasz o to, by nie karmić swojego mózgu "śmieciami", to warto uświadomić sobie, że twój umysł nie pracuje tylko na płaszczyźnie świadomej. Wszystko, co tylko zostanie zarejestrowane przez twój mózg, jest następnie przepracowywane przez twoją podświadomość. Kiedy dołożysz do tego troski, stresy i wszystkie sprawy dotyczące dnia codziennego, okaże się, że umysł nie ma nawet chwili wytchnienia. Wszystko się nawarstwia i kumuluje, tworząc mieszankę, która będzie powodować twoje gorsze samopoczucie.
Dlatego warto medytować. Nauczyć się wprowadzać swój umysł w taki stan, kiedy życie na moment znika. Jesteś ty i twoje odczuwanie, oczyszczanie, uwalnianie się od zbędnych i szkodliwych myśli. Poświęcanie tych kilku- kilkunastu minut dziennie, z pewnością zaowocuje, przynosząc pozytywne efekty. Dzięki medytacji zauważysz polepszenie się pamięci i zdolności do przyswajania nowych informacji. Poprawi się też umiejętność kreatywnego myślenia i zmniejszy poziom stresu w organizmie. Należy też wspomnieć o większej ilości serotoniny, która będzie produkowana, co poprawi nasze samopoczucie.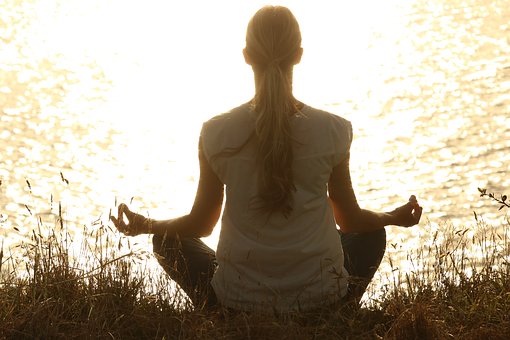 Jak więc zacząć?
Usiądź, wygodnie. Na krześle, fotelu, podłodze, macie. Jeśli czujesz, że potrzebujesz jakiejkolwiek oprawy, takiej jak muzyka, świeczki, kadzidełka czy chociażby poduszki, zadbaj o nie. Nie są one jednak konieczne i zdecydowanie nie decydują o jakości medytacji. Skoro już usiadłeś, to zamknij oczy. I skup się. Na oddechu, biciu serca. Otwórz umysł. Nie chodzi o to, byś zaczął odczuwać jakieś nadprzyrodzone rzeczy, w żadnym razie. Po prostu wycisz się. Pozwól, by twój umysł podsuwał ci wszelkiego rodzaju myśli, wspomnienia. Pozwól im przepływać swobodnie. Ale nie skupiaj się na nich. Bądź jak obserwator, który coś pobieżnie ogląda. Pozostań skupiony na oddechu, a twój umysł niech dostanie "wolną rękę" i ma możliwość przywoływania wszystkiego, co jest mu potrzebne.
Ważne jest, aby nie oceniać tego, co się w danej chwili dzieje. Podczas medytacji pojawią się u ciebie różne emocje, myśli i odczucia. Pozwól im po prostu pojawiać się i znikać. Odczuwaj je, ale nie staraj się kontrolować, nie oceniaj. To wszystko jest częścią ciebie. Medytacja pomoże ci doświadczyć rzeczy, które były do tej pory schowane w twojej podświadomości, A może podczas seansu uświadomisz sobie, że rozwiązanie jakiegoś problemu, jest prostsze niż myślałeś?
I co najważniejsze – nie zniechęcaj się. Tutaj nie ma miejsca na dobre i złe metody. Na dobre i złe odczucia. Dla każdego stan medytacji jest czymś nieco innym. I warto to sobie uświadomić. Jeżeli chciałbyś spróbować, ale jednak brakuje ci motywacji, albo czujesz się niekompetentny do przeprowadzenia samodzielnej medytacji, możesz zapisać się na zajęcia. Indywidualne lub grupowe, w zależności od twoich preferencji. Spróbuj, a z pewnością odczujesz różnicę. Na plus. Samoświadomość i poznanie samego siebie są kluczami do bycia w  życiu szczęśliwym. Dzień rozpoczęty od chwili relaksu na pewno będzie przyjemniejszy, niż ten, który zaczniesz od bycia zdenerwowanym i obrażonym na cały świat,