Trądzik to dolegliwość szczególnie popularna u młodych ludzi. Nadmierna produkcja łoju przez komórki łojowe i rogowacenie skóry oraz szalejąca burza hormonów to tylko wierzchołek góry lodowej, jaka stoi w przyczynach powstawania tej przykrej dolegliwości. Zwykle mija razem z okresem dojrzewania, ale pozostawia po sobie wiele niechcianych pamiątek w postaci blizn. Pomijając względy estetyczne, trądzik wpędza młodych ludzi w kompleksy dotyczące wyglądu. Dlatego warto w tej kwestii udać się po fachową poradę do dermatologa, który spokojnie oceni i przyjrzy się problemowi, a jeśli będzie potrzeba, wdroży odpowiednie leczenie.
Trądzik – brzydki problem
Na samym początku warto zaznaczyć, że mianem trądzika przeważnie określamy trądzik młodzieńczy, występujący u młodych ludzi w okresie pokwitania. U ludzi dorosłych zdarza się inny, trądzik różowaty.
Zaobserwowano, że osoby ze skłonnością do trądziku dziedziczą go po swoich rodzicach. Sam mechanizm powstawania jest dosyć prosty. Skóra nieustannie podlega rogowaceniu, to znaczy warstwy starej złuszczają się, a pod nią jest już wytworzona nowa, w pełni przygotowana do pełnionych funkcji. Kiedy gruczoły łojowe produkują nadmiar substancji, komórki naskórka, które się złuszczają zamiast swobodnie odpadać, zamykają ujścia gruczołów. Wydzielina nie ma którędy się wydostać, a jest ciągle produkowana. Z wolna tworzy się stan zapalny, a wraz z nim zaczerwienienie towarzyszące dookoła kroście.
Trądzik może występować nie tylko na włosach. Równie popularnym miejscem występowania trądziku jest skóra głowy, plecy oraz ramiona a także pośladki.
Witamina A – naturalne dobro dla twojej skóry
Wbrew powszechnemu zdaniu, witamina A to zbiór związków chemicznych z grupy retinoidów. Najważniejszym związkiem spośród nich jest retinol, który pełni niezwykle istotne funkcje w organizmie. Jest między innymi niezbędnym składnikiem pokarmowym, jaki możemy dostarczyć z zewnątrz drogą pokarmową.
Jako ciekawostkę można dodać, że witamina A jest jedną z najwcześniej odkrytych witamin. Skutki jej niedoboru znane były już w świecie starożytnym: starożytni Egipcjanie, Rzymianie oraz Grecy znali chorobę kurzej ślepoty. Charakteryzowała się ona tym, że po zmierzchu znaczne pogorszenie widzenia, na które skarżyli się pacjenci. Problem rozwiązywało wprowadzenie do codziennej diety witaminy A.
Witamina A jest rozpuszczalna w tłuszczach, dlatego spożywając ją warto komponować składniki bogate w witaminę A razem z masłem lub olejami jadalnymi. W pożywieniu zwierzęcym witamina A występuje w postaci palmitynianu retinolu, który jest estrem. Musi przebyć bardzo długą drogę, aby zostać pełnoprawną witaminą A.
Produkty bogate w witaminę A
Podroby
Niektóre gatunki ryb
Jaja
Marchew
Czerwona papryka
Sałata
Morele
Brzoskwinie
Śliwki
Wiśnie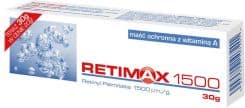 Maść z witaminą A
Kliknij i sprawdź ceny!
Funkcje witaminy A
Niezbędna w procesie widzenia, jej produkty są substratami barwników w czopkach
Dba o prawidłowy przebieg procesów wzrostu w różnicowaniu się komórek organizmu ze szczególnym uwzględnieniem tkanki nabłonkowej i kostnej
Poprawia zdolności regeneracyjne komórek
Roztacza działanie ochronne na nabłonek skóry i błon śluzowych
Bierze czynny udział w syntezie białek i lipidów, jako że jest witaminą rozpuszczalną w tłuszczach
Pełni rolę ochronną przed wolnymi rodnikami, opóźniając procesy starzenia się skóry
Krem z witaminą A na trądzik
Z uwagi na nieocenione działanie na skórę, krem z witaminą A może znacząco poprawić stan skóry zmienionej chorobowo. Przede wszystkim, wsparte zostaną naturalne procesy odnowy, która przyda się podczas leczenia ran powstałych po wyciskaniu pryszczy.
Witamina A jak i tłuszcze odżywią od środka komórki skóry. Dzięki temu poprawi się jej ukrwienie, a co za tym idzie: skóra będzie grubsza, bardziej elastyczna i mniej podatna na uszkodzenia.
Najczęściej lekarz przepisuje preparaty, które zawierają jeden ze składników witaminy A lub jego pochodne, a mianowicie: kwas all-trans. W przypadku stosowania specyfiku z kwasem all-trans w składzie należy dokładnie przestrzegać zaleceń lekarza, ponieważ w przeciwnym razie należy się liczyć z poważnymi skutkami ubocznymi. Kwas, chociaż niezbędny w walce z trądzikiem, może podrażnić skórę, a dodatkowo może objawić się światłowstręt.
Maść z witaminą A na przebarwienia
Dobroczynne działanie witaminy A nie ograniczy się tylko i wyłącznie do walki z trądzikiem, bowiem maść z witaminą A jest doskonałym remedium na przebarwienia. Wiadomo, im jest starsze przebarwienie, tym kuracja powinna trwać dłużej ,aby uzyskać pożądane efekty. Głównym sprzymierzeńcem w walce z przebarwieniami jest właśnie palmitynian retinolu. Co więcej, maść z witaminą A pokochają alergicy, ponieważ nie podrażnia skóry ani nie uczula.
Maść z witaminą A – dla każdego
Dodatkowym plusem jest jej relatywnie niski koszt przy jakże wysokiej skuteczności. Bardzo chętnie po maść z witaminą A sięgają zarówno kobiety, jak i mężczyźni, którym nie kojarzy się ona z czymś niemęskim. Maść doskonale odżywia i nawilża, stąd też znalazła wiele innych zastosowań, na przykład jako produkt do niwelowania podrażnień po goleniu i depilacji.