Maść ichtiolową poleca się stosować na wszelkie stany przeciwzapalne. Dzięki jej wszechstronnemu działaniu hamuje się rozprzestrzenianie się zarazków. W praktyce to gęsta i lepka papka, której zapach z początku może zniechęcać do stosowania. Pachnie nieco roztopionym asfaltem. Lekarze polecają maść ichtiolową do smarowania ran mających trudności z zagojeniem się. Jest ona także doskonałym środkiem dla wszelkich stanów zapalnych występujących na skórze całego ciała. Głównym składnikiem maści ichtiolowej jest ichtiol. Jest to substancja należąca do grupy aktywnych i to właśnie w nim kryją się wszelkie sekrety działania maści. Najczęściej maść ichtiolowa polecana jest na schorzenia typu:
 opryszczka
 czyrak
 wypryski na skórze
Stężenie ichtiolu w maści sięga od 10 do 15% stężenia. Ta substancja ciekła ma bardzo szerokie zastosowanie w przemyśle farmaceutycznym. Można ją znaleźć w wielu preparatach leczniczych, dostępnych na co dzień w aptekach, np.:
 emulsjach
 zawiesinach
 roztworach
 pastach
Maść ichtiolowa – wytwarzanie
Ichtiol jako surowiec farmaceutyczny, naturalnie pozyskuje się dzięki procesowi destylacyjnemu. Biorą w nim udział łupki bitumiczne. Ich pochodzenie datuje się na okres mezozoiczny. Ichtiol w największej ilości znajduje się w Estonii, a także w niektórych rejonach gór Karpat. Jednak pozyskiwanie surowca jedynie metodą naturalną jest dosyć kosztownym przedsięwzięciem, dlatego przez lata naukowcy pracowali nad tym, by można było pozyskiwać ichtiol metodami syntetycznymi. Udało się znaleźć nowe rozwiązania. Podstawowo rozróżnia się dwa rodzaje maści ichtiolowych:
 maść ichtiolowo – kamforowa ( jest składową lanoliny i wazeliny, oprócz stężenia ichtiolu obecne jest tam także 5 – procentowe stężenie kamforowe, maść jest niezwykle przydatna w pozbywaniu się odmrożenia
 maść ichtiolowa klasyczna (tutaj także występuje połączenie lanoliny i wazeliny, jedynie stężenie ichtiolu jest o pięć jednostek mniejsze
Najczęściej stosowana jest właśnie klasyczna forma maści ichtiolowej. Ma ona lekko czerwonawą barwę połączoną z delikatnym brązem. Maść pachnie tak wyraziście dlatego, że występują w nich silne związki siarkowe.
Jak działa maść ichtiolowa?
Trudno znaleźć na rynku farmaceutycznym bardziej skuteczny środek do walki z opryszczką i to taką, która o różnych osób rozprzestrzenia się w różnym stopniu. Maść skutecznie leczy opryszczkę w stopniu delikatnym, jak i poważne owrzodzenia na skórze. Trądzik zostaje skutecznie przyhamowany, pory są wreszcie odetkane i skóra swobodnie oddycha. Maść pomaga także na zwiększony stan wydzielania łoju przez skórę. Każdy fachowo działający dermatolog poleci tę maść w pierwszej kolejności, gdy spotka się z danym pacjentem po raz pierwszy. Dzięki ichtiolowi z pryszczy na skórze zostaje uwolniona ropa i wszystko wydostaje się na zewnątrz. Maść ma silne właściwości sciągające z najgłębszych warstw skórnych wszystko to, co jest dla niej zbędne i szkodliwe. Przy wrzodach także hamuje rozprzestrzenianie się dalszych bakterii. Można ją także stosować przy opatrywaniu stłuczeń, ale już na bardziej otwarte rany nie poleca się jej stosowania. Do tego rodzaju ran funkcjonują inne środki.
Maść ichtiolowa – stosowanie w leczeniu
Bakterie gronkowca mogą wywołać wiele groźnych chorób skóry. Do czołowych chorób skórnych zaliczyć możemy między innymi czyraka. W czasie choroby zauważamy, że pojawiają się ropne zapalenia mieszków włosów, a także stref z nimi sąsiadujących. Czyrak charakteryzuje się zapaleniami ropnymi. Tworzy się na skórze mały, czerwony guzek, który wraz z upływem czasu staje się pęcherzem z ropnym wypełnieniem. Boli i jest bardzo nieprzyjemny. Po drodze dotkniętemu czyrakiem pacjentowi obniża się samopoczucie, pojawia się podwyższenie temperatury ciała, ból w rejonie węzłów chłonnych. Czyrak nie może być ignorowany. W stanie pozbawionym leczenia może skutkować nawet sepsą. Ryzykować możemy także zapaleniem szpiku kostnego, a także dolegliwościami prowadzącymi do zapalenia opon mózgowych. Gdy obrzęk tkanek przy czyraku jest naprawdę duży, trzeba zaopatrzyć się w maść ichtiolową mającą wysokie stężenie. Dodatkowym wsparciem przy wychodzeniu z choroby będzie także antybiotyk. Dobrze będzie mieć pod ręką także standardowe środki odkażające.
Maść ichtiolowa – jak długo działa?
Jeśli chodzi o standardowe leczenie opryszczki, trądziku młodzieńczego we wstępnym stanie i bez większych komplikacji, maść ichtiolowa może pomóc już po pierwszym zaaplikowaniu i zlikwidować problem do tego stopnia, że ponowne jej użycie nie będzie już konieczne. W temacie czyraka maść stosować trzeba dłużej jako wsparcie terapii antybiotykowej. Naprawdę groźne odmiany czyraka trzeba rozwiązywać w sposób chirurgiczny. Lekarze najczęściej radzą, aby maść ichtiolową stosować maksymalnie dwa razy dziennie przy smarowaniu zmian na skórze. Po posmarowaniu dobrze jest miejsce nasmarowane przykryć dodatkowym plastrem, aby nie poplamiło nam się ubranie. Gdy ropa z wyprysku zostanie ściągnięta, pozostaje jeszcze czerwony ślad. Maść ichtiolowa pozostawia jednak pewne podrażnienia skórne. Mimo że nie występują one w praktyce zbyt często, warto być na nie przygotowanym. Często pojawiają się właściwie dlatego, że aplikujący stosuje maść w nadmiernych dawkach. Jeśli przy stosowaniu maści zdarzy nam się wycisnąć więcej specyfiku, niż zazwyczaj, wystarczy nadmiar maści zmyć zimną wodą.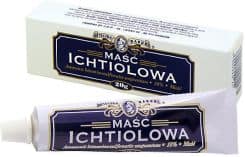 Maść ichtiolowa
Kliknij i sprawdź ceny!
Dla kogo maść ichtiolowa?
Jeśli rodzice chcą użyć maści ichtiolowej w celu leczenia dzieci mających mniej, niż 12 lat, powinni tą decyzję przedyskutować z lekarzem rodzinnym. To samo dotyczy wszystkich Pań spodziewających się dzieci. Nastolatki dzięki maści ichtiolowej mogą wreszcie spać spokojnie i prowadzić tryb życia podobny do trybu życia swoich rówieśników. Pryszcze w wieku młodzieńczym mogą skutecznie obrzydzić życie i relacje towarzyskie. Maść ichtiolowa stosowana przed codzienną wyprawą do szkoły, a także po wieczornym umyciu pozbywa się ropnych wydzielin, zgrubienia na skórze systematycznie maleją. Można więc cieszyć się gładką skórą i przejrzystą cerą.