Malwa to przepiękny kwiat, który zdobi nasze ogródki, jednak prócz walorów estetycznych roślina ta wykazuje szereg cennych dla naszego zdrowia właściwości leczniczych i upiększających. Kwiaty malwy mogą mieć różne zabarwienie, jednak najczęściej spotyka się te czerwone, fioletowe, ciemnoróżowe oraz białe.
Niestety nie wszystkie odmiany malwy znalazły zastosowanie w tradycyjnej medycynie naturalnej, dlatego też warto wiedzieć o tym, aby sięgać wyłącznie po te ciemnofioletowe. W jaki jednak sposób malwa wpływa na nasz wygląd zewnętrzny i stan naszego zdrowia? Jak powinna wyglądać uprawa tej rośliny w przydomowym ogródku i co warto jeszcze o niej wiedzieć?
Pochodzenie i zawartość cennych dla zdrowia składników odżywczych
Za krainę pochodzenia malwy uważa się Bałkany, jednak przepiękne kwiaty od wielu lat uprawiane są również w Polsce oraz wielu innych europejskich krajach. Dzięki licznym składnikom odżywczym malwa od wielu wieków doceniana jest w ziołolecznictwie, jednak roślinę wykorzystuje się również w kosmetyce.
Jakie jednak cenne substancje można znaleźć w malwie? W kwiatach rośliny obecne są antocyjany, substancje śluzowe, liczne flawonoidy, garbniki, pektyny, fitoestrogeny flawonowe oraz związki mineralne, które w połączeniu oddziałują bardzo korzystnie na nasz organizm. Z pewnością niewiele osób o tym wie, ale kwiaty malwy znalazły również zastosowanie w przemyśle spożywczym jako naturalny barwnik dodawany w szczególności do słodyczy (cukierków, żelek, syropów oraz wielu innych produktów spożywczych).
Malwa w trosce o wygląd naszej skóry
W domowym zaciszu z kwiatów malwy można przygotować specjalny napar, który stosowany w formie toniku, pomoże zadbać w szczególności o skórę, suchą, zmęczoną oraz dojrzałą. Zarówno antocyjany, jak i flawonoidy obecne w naparze z malwy pomagają łagodzić różnego rodzaju podrażnienia, wykazują właściwości nawilżające, a także wspomagają leczenie widocznych na twarzy wyprysków i krostek.
Warto również wiedzieć o tym, iż malwowy napar wykazuje bardzo silne właściwości antyoksydacyjne, dlatego też walcząc z wolnymi rodnikami, pomaga opóźnić w czasie nieuchronny proces starzenia się skóry.
Malwa na kobiece dolegliwości
Fitoestrogeny flawonowe obecne w malwie to związki, które swoim działaniem przypominają nieco żeńskie hormony, czyli estrogeny. Niestety wraz z wiekiem w organizmie każdej kobiety zaczyna ubywać estrogenów, dlatego też podczas menopauzy (czyli okresu przekwitania) wiele pań zaczyna odczuwać bardzo nieprzyjemne dolegliwości takie jak napady gorąca, zmiany nastrojów, bezsenność, czy też rozdrażnienie
. W takiej sytuacji warto sięgnąć po leczniczy napar z kwiatów malwy, który w skuteczny sposób pomoże załagodzić pojawiające się objawy klimakterium. W sklepach można bez problemu zakupić ziołowe mieszanki z dodatkiem kwiatów malwy, jednak można również sięgnąć po własnoręcznie ususzone kwiaty rośliny. Napar z malwy okazuje się również bardzo pomocny w przypadku kobiet, które mają nieregularne miesiączki.
W jaki jednak sposób oddziałuje wtedy na kobiecy organizm? Działa w dwojaki sposób, ponieważ może skrócić zbyt długie oraz obfite miesiączki lub wydłużyć dosyć krótkie, a także skąpe krwawienia.
Przeciwzapalne właściwości malwy
Osoby, które całe dnie spędzają przed komputerem, bardzo często uskarżają się na problemy z piekącymi oraz zmęczonymi oczami, dlatego też, aby poczuć wieczorem wyraźną ulgę, warto przygotować sobie leczniczy kompres z kwiatów malwy. Wysuszone kwiaty wystarczy jedynie zalać wrzącą wodą, zaparzając pod przykryciem przez kilkanaście minut.
Tak przygotowany napar należy następnie wystudzić, zamaczając w nim waciki i przykładając do powiek. Aby jednak jego działanie było jeszcze lepsze napar można na kilkanaście minut włożyć do lodówki, sięgając po niego również wtedy, gdy pojawią się różnego rodzaju stany zapalne powiek.
Malwa na problemy żołądkowe
Kwiaty malwy bogate są w tzw. związki śluzowe, które wykazują zbawienny wpływ na błonę śluzową żołądka oraz przełyku. Z tego też względu lecznicze napary z kwiatów malwy polecane są do spożycia wszystkim tym osobom, które zmagają się z chorobą wrzodową żołądka, ponieważ wspomniane związki tworzą na jej powierzchni ochronną warstwę, zapobiegając tym samym niekorzystnym oddziaływaniu kwasów trawiennych i innych niebezpiecznych substancji.
Leczniczy napar z kwiatów malwy
W domowej apteczce nie powinno zabraknąć suszonych kwiatów malwy, z których można w bardzo prosty i szybki sposób przygotować leczniczy napar.
Taki napar po przygotowaniu można stosować zarówno wewnętrznie, jak i zewnętrznie. W celu jego przygotowania należy zaopatrzyć się w suszone kwiaty malwy oraz wrzącą wodę. Kwiaty malwy można bez problemu zakupić w każdej aptece, jednak można również wykorzystać te rosnące na ogródku (tylko ciemnofioletowe), które należy wcześniej zerwać i wysuszyć w przewiewnym i zaciemnionym miejscu.
W jaki jednak sposób należy przygotować leczniczy napar? Szklanką wrzącej wody należy zalać 2 łyżki suszonych kwiatów malwy, zaparzając następnie pod przykryciem przez 20 minut. Po upływie wyznaczonego czasu napar można przecedzić, odstawiając go do wystudzenia i gotowe.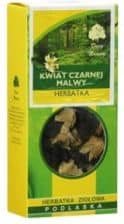 Malwa
Kliknij i sprawdź ceny!
Jak uprawiać malwę na przydomowym ogródku?
Malwa to roślina dwuletnia (można również znaleźć odmianę jednoroczną), dlatego też podczas jej sadzenia należy mieć świadomość tego, iż zakwitnie dopiero w drugim roku od wysiewu. W wielu sklepach ogrodniczych można jednak bez problemu zakupić gotowe sadzonki, które po upływie kilku tygodni powinny już cieszyć oko przepięknymi kwiatami. Jeśli jednak chcemy skorzystać z nasion, to musimy pamiętać o tym, aby umieścić je w ziemi na przełomie czerwca i lipca.
Gdy nasiona przerodzą się w sadzonki, to należy je przepikować jesienią i posadzić w wybranym miejscu. Malwy najlepiej rosną na dosyć żyznych i lekko wilgotnych glebach na stanowiskach słonecznych, ciepłych oraz osłoniętych od wiatru. Jeśli roślina jest zbyt często podlewana, to może doprowadzić do rozwoju wielu niebezpiecznych chorób gnilnych. Z kolei, jeśli malwa zostanie doprowadzona do przesuszenia (czyli otrzyma zbyt małe ilości wody) to należy liczyć się z możliwością pojawienia się rdzy, czyli bardzo popularnej i groźnej choroby dotykającej głównie te rośliny.
Podczas uprawy malwy należy również pamiętać o jej odpowiedniej pielęgnacji, dlatego też w trakcie kwitnienia należy zadbać o to, aby na bieżąco usuwać przekwitłe kwiatostany. Dzięki temu roślina będzie przez cały czas wydawała nowe kwiaty, które przez wiele miesięcy będą z pewnością cieszyły nasze oko.