Białe, puchate futro kojarzy się zdecydowanie z jednym psem – maltańczykiem. Są to psy bardzo towarzyskie i chętnie wybierane do domów. Mały maltańczyk jest częstym wyborem dla rodzin z dziećmi, ponieważ psy te są bardzo łagodne, ale i bystre. Dużą zaletą wyboru psa tej rasy na przyjaciela rodziny jest też długość jego życia. Maltańczyki żyją dłużej niż inne psy – aż do 16 lat! Z pewnością jest to rzecz warta wzięcia pod uwagę, jeśli ktoś bardzo przeżywa rozstanie z domowymi zwierzętami. Warto jednak wiedzieć, że maltańczyki to jedna z najstarszych ras psów na świecie. Co jeszcze trzeba wiedzieć o tych psach?
Skąd pochodzi maltańczyk?
Sama nazwa "maltańczyk" wywodzi się od słowa "maltański", które z kolei pochodzi od terminu "malat", czyli przystań, azyl. Dla wielu nazwa rasy jest mylna i twierdzą, że te psy wywodzą się z wyspy Malty, ale tak nie jest. Wiele innych wysp czy nadmorskich miejscowości również ma ten termin w swojej nazwie. Natomiast faktycznie przodkowie obecnie znanych maltańczyków pochodzą z regionu Morza Śródziemnego. Pierwsza wzmianka o maltańczyku pojawiła się za czasów Arystotelesa (384-322 p.n.e.). Psy te były też bardzo dobrze znane w starożytnym Rzymie jako towarzysze matron. Także w czasach Ludwika XIV bardzo często psy te były towarzyszami madame.
Jednakże dopiero rok 1800 uznaje się za początek hodowli maltańczyków w Europie. Jednak za pierwszego maltańczyka w Polsce uznaje się Kasperka, o którym znajdziemy wzmianki od 1791 roku. Był on własnością starościny małogoskiej Anny Szaniawskiej. Pierwszą zarejestrowaną w Polsce hodowlą maltańczyka była Biała Chryzantema istniejąca od 1953 roku. Jednak dopiero w 1955 roku przyjęto w Międzynarodowej Federacji Kynologicznej wzorzec tej rasy.
Charakterystyka maltańczyka
Maltańczyki to niezwykle towarzyskie psy, które cechują się bardzo ciekawym wyglądem i osobowością. Przede wszystkim są psami bardzo towarzyskimi i lubią przebywać wśród ludzi. Jednak często uznawane są też za "psy kanapowe", ponieważ lubią nie tylko się bawić, ale też wylęgiwać. Dlatego też można powiedzieć, że maltańczyki mają ciekawą osobowość. Z jednej strony to psy skore do zabawy, a z drugiej lubią odpoczywać i nic nie robić. Lubią też przebywać na świeżym powietrzu, biegać i bawić się z właścicielem podczas spacerów. Jednak nie szczekają zbyt często. Niestety jest to też rasa bardzo delikatna i wrażliwa.
Ogromną zaletą dla wielu osób będzie na pewno ich średnia długość życia, ponieważ maltańczyki żyją średnio 12 do 16 lat, co jest wynikiem niezwykle dobrym jak na psa. Jest to wynik kształtowania się rasy przez wiele stuleci. Między innymi selekcja naturalna doprowadziła do umocnienia się genotypu maltańczyków. Dlatego też psy te nie są chorowite. Jedynym problemem mogą być zęby, które szybko pokrywają się kamieniem nazębnym. Ale poza tym maltańczyki rzadko chorują na poważne schorzenia. Aczkolwiek potrzebna jest odpowiednia dieta, ponieważ maltańczyki mają skłonność do tycia.
Często też maltańczyki opisuje się jako posłuszne, pojętne i bystre psy. Maltańczyki są bardzo łatwe do ułożenia, dobrze reagują na komendy i szybko się uczą podczas szkolenia. Tak naprawdę można je nauczyć każdej komendy i sygnału, dlatego są świetnymi psami dla osób, które nigdy wcześniej nie miały psa lub chcą mieć łagodnego czworonoga. Należy też wiedzieć, że maltańczyki nie są skłonne do agresji, więc nie będą walczyć z innymi domowymi zwierzętami czy zaczepiać z premedytacją inne psy podczas spaceru.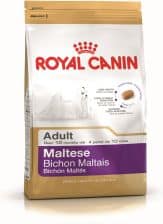 Karma dla maltańczyka
Kliknij i sprawdź ceny!
Kto powinien zdecydować się na maltańczyka?
Każda osoba, która chce mieć psa z powodzeniem może wybrać maltańczyka. Jest to pies, który bardzo mocno przywiązuje się do właściciela lub całej rodziny. Z powodzeniem będzie psem rodzinnym towarzyszem zabaw dzieci czy kompanem osób starszych. Maltańczyki nie są skore do agresji, więc nie ma obawy, że zrobią dziecku krzywdę. Ale będą chętnie uczestniczyć w każdej dziecięcej zabawie. Jednak psy te nie mogą pozostawać same przez dłuższy okres czasu. Maltańczyka można zostawić na jeden dzień samemu sobie, ale już kilkudniowa rozłąka z właścicielem może bardzo negatywnie wpłynąć na psychikę takiego psa. Dlatego osoby, które dużo podróżują, wyjeżdżają służbowo i nie mogą wziąć psa ze sobą niestety nie powinny decydować się na tę rasę.
Z maltańczykiem należy:
często się bawić i go rozpieszczać,
często wychodzić z nim na spacery lub zabawy na świeżym powietrzu,
zapewnić mu bezpieczny i spokojny dom,
być łagodnym nawet podczas karcenia psa.
Maltańczyki są bardzo wrażliwe nie tylko na rozłąkę, ale też na surowe karcenie. Zazwyczaj, aby skarcić psa wystarczy surowo na niego spojrzeć i pogrozić palcem. To zdecydowanie wystarczy, aby pies zrozumiał, że coś zrobił źle. Z kolei rozpieszczanie psa nie oznacza, że ma być on rozpuszczony i robić co chce. Właśnie dlatego warto nauczyć go komend i interpretacji sygnałów, aby zachowywał się poprawnie.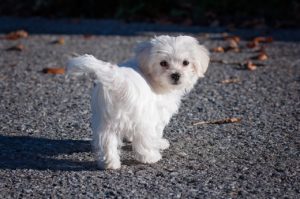 Opieka nad maltańczykiem
Opieka nad maltańczykiem może być czasochłonna, ponieważ psy te potrzebują dużo ruchu, aktywności i lubią być blisko właściciela, a także obserwować otoczenie. Dlatego jeśli to możliwe warto pieskowi przygotować legowisko obok okna czy na balkonie, aby mógł widzieć co się dzieje nawet kiedy z nim nie wychodzimy na zewnątrz. Istotne jest, że mimo iż te psy uwielbiają się bawić to wolą długie i spokojne spacery.
Bardzo ważne jest też prawidłowe odżywianie maltańczyka, aby nie tylko nie utył, ale też, aby był ogólnie zdrowy, Karma maltańczyka powinna składać się w aż 40-50% z mięsa. Jednak nie powinna zawierać zbóż czy mączki kostno-mięsnej. Dozwolony jest jednak ryż. Na szczęście do wyboru jest bardzo dużo gotowych karm. Ale warto wiedzieć, że jeśli podaje się psu gotowe karmy to nie można ich mieszać z gotowanym przez siebie jedzeniem. Maltańczykowi albo dajemy gotowe karmy albo domowe jedzenie.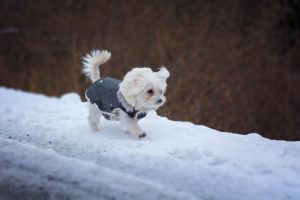 Dużo czasu trzeba też poświęcić na pielęgnację sierści maltańczyka, która w zasadzie jest włosem. Dlatego też rośnie przez cały czas i nie jest wymienna. Niezbędne jest więc czesanie i podcinanie włosów. Maltańczyki trzeba też regularnie kąpać co najmniej raz na dwa tygodnie w odpowiednim szamponie. Co ciekawe można pieska wysuszyć chłodnym powietrzem z tradycyjnej, domowej suszarki do włosów. Jeśli tylko będzie mu to odpowiadać. Łapy i brzuch można myć po każdym spacerze, jeśli pies się pobrudził.
Problematyczne mogą być także łzawiące i brudne oczy, które są podrażniane właśnie przez zbyt długie włosie. Dlatego maltańczykom często upina się "grzywkę". Jednak dostępne są specjalne krople do oczu zapobiegające lub leczące podrażnienia. Tak samo trzeba dbać o czystość uszu i usuwać nadmiar woskowiny oraz pilnować, aby nie doszło do zakażenia drożdżakiem. Ponieważ na zębach maltańczyków bardzo łatwo osiada kamień nazębny również konieczne będzie mycie zębów psa oraz podawanie mu smakołyków, które będą ścierać powstały kamień nazębny. Można więc powiedzieć, że o maltańczyka trzeba dbać kompleksowo od stóp do głów, aby mógł dożyć wspominanych 16 lat.