Lubczyk ogrodowy (z łaciny Levisticum officinale) jest gatunkiem byliny należącym do rodziny selerowatych. Roślina ta jest znana także pod kilkoma nazwami ludowymi, takimi jak lubiśnik lekarski, korzeń, łakotne ziele, czy też mleczeń. Lubczyk pochodzi z rejonu Afganistanu i Iranu, niemniej jednak rośnie on dziko także gdzieniegdzie poza obszarem swojego rodzimego występowania (obecnie nawet w Polsce spotyka się dziki lubczyk). Jest on niezwykle popularną rośliną ogrodową uprawianą w niemalże wszystkich zakątkach świata. Swoją powszechność lubczyk może zawdzięczać nie tylko walorom smakowym, lecz także pozytywnym właściwościom zdrowotnym. Roślinę tę do Europy sprowadzili Rzymianie, którzy używali jej między innymi w celu zwalczania gorączki oraz problemów trawiennych. W średniowieczu dużą rolę w rozpowszechnieniu lubczyku odegrali benedyktyni.
Podstawowe fakty
Lubczyk należy do roślin wieloletnich. Charakteryzuje się dość specyficznym wyglądem liści, które mają intensywną, ciemnozieloną barwę. Poza tym są one pierzaste i wyróżniają się błyszczącą strukturą. Liście lubczyku często mylone są z liśćmi selera. Łodyga jet słabo rozgałęzione, prosta i osiąga wysokość do jednego metra. Lubczyk posiada bladożółte kwiaty oraz krótkie brunatne kłącze. Roślina kwitnie latem, od czerwca do sierpnia. Lubczyk lubi stanowiska dobrze nasłonecznione oraz zasłonięte przed wiatrem. Do najcenniejszych części rośliny zalicza się liście oraz korzeń, który znajduje zastosowanie głównie w tradycyjnej medycynie ludowej. Ziele wykorzystuje się zarówno w postaci świeżej, jak i ususzonej.
Właściwości lecznicze lubczyku
Pod względem zdrowotnym najbardziej wartościową częścią lubczyku jest jego korzeń. Jego składzie znajduje się co najmniej 3% olejków eterycznych, bogatych w estry, kwas octowy, skrobię, żywicę, cukier, kumarynę oraz kwasy polifenolowe. Nie zmienia to jednak faktu, że również łodyga oraz liście lubczyku zostały całkiem szczodrze obdarzone przez naturę. Dzięki bogactwu enzymów, roślina ta ma wiele zdrowotnych właściwości. Oto najważniejsze z nich:
Lubczyk posiada bardzo mocne właściwości moczopędne. Wspomaga on pracę nerek oraz leczy nieżyt dróg moczowych. Właśnie z tego powodu zaleca się stosowanie lubczyku podczas kuracji oczyszczania organizmu z toksyn.
Ponadto lubczyk wykazuje działanie przeciwzakrzepowe. Tę właściwość ziele zawdzięcza zawartej w nim kumarynie. Z kolei fitosterole (sterole roślinne), które wchodzą w skład lubczyku chronią nasze ciało przed rozwojem zmian miażdżycowych.
Lubczyk stanowi także bardzo popularny dodatek do posiłków. Nie tylko wzbogaca on smak potraw, lecz również wspomaga proces trawienia. Ponadto lubczyk zapobiega nieprzyjemnej fermentacji jedzenia rozkładającego się w jelitach. Dobrze jest więc używać omawianego ziela szczególnie przy przygotowywaniu ciężkich, tłustych i smażonych dań.
Kolejna właściwość lubczyku to działanie wykrztuśnie. Mając to na uwadze, wiele osób używa tej rośliny w walce z suchym kaszlem.
Lubczyk może się przydać także podczas walki z kaszlem mokrym. Rozluźnia on flegmę zalegającą w płucach, co z kolei poprawia przepływ powietrza ułatwiając choremu oddychanie. Zawarty w lubczyku eukaliptol, zmniejsza podrażnienie płuc dając znaczące wyniki już po czterech dniach stosowania.
Lubczyk uznawany jest również za afrodyzjak. Przede wszystkim zwiększa on chęć na współżycie. Poza tym, dzięki olejkom eterycznym zawartym w swoim składzie wpływa on pozytywnie na wzrost ukrwienia narządów płciowych, co z kolei przekłada się na jakość stosunku.
Lubczyk zwiększa wydolność fizyczną oraz umysłową.'
Lubczyk poprawia wygląd skóry. Jego liście nakładane bezpośrednio na ciało lub w postaci maści, mogą być skuteczne w zmniejszaniu objawów łuszczycy i trądziku. Lubczyk pomaga osiągnąć gładką i lśniącą skórę. Ponadto dzięki zawartości antyoksydantów ziele to może również pomóc w zapobieganiu zmarszczkom.
Lubczyk zapewnia złagodzenie dyskomfortu menstruacyjnego, usuwając wiele skutków ubocznych związanych z okresem. Pozytywnie działa on na wzdęcia, skurcze i bóle brzucha. Wysoka zawartość składników odżywczych znajdujących się w lubczyku dodatkowo sprawia, że wspiera on również ogólne samopoczucie podczas menstruacji.
Lubczyk w formie przyprawy
Niestety, mimo wyjątkowej wartości korzenia lubczyku, w kulinarii przyjęło się stosowanie głównie jego liści. Czasami można wykorzystać także nasiona oraz kłącze ziela, gdyż charakteryzują się one oryginalnym, ostrym i wyrazistym smakiem. Zarówno świeże, jak i suszone fragmenty lubczyku wspaniale komponują się z wieloma daniami ciepłymi. W naszej, środkowoeuropejskiej kuchni stosuje się je głównie jako przyprawę do zup. Rosół, flaki, grochówka, zupa fasolowa, czy krem z soczewicy – lubczyk nada niepowtarzalnego smaku każdej z nich.
Lubczyk wspaniale sprawia się także w roli przyprawy do sosów, sałatek, surówek, dań rybnych oraz dań na bazie kapusty lub szpinaku. Ponadto wyrazisty aromat rośliny skutecznie zabija nieprzyjemne zapachy niektórych potraw, jednocześnie nadając im niepowtarzalnego smaku
Lubczyk jest również świetną przyprawą do domowego chleba. Dzięki tej niepozornej roślinie nadasz swoim wypiekom smaku, jakiego na próżno szukać w wyrobach sklepowych! Ponadto lubczyk jest składnikiem wielu popularnych mieszanek przypraw, takich jak chociażby "Maggi".
Choć mało kto o tym wie, ziele lubczyku można stosować jako bazę dla aromatycznej i relaksującej herbaty. Ponadto niektórzy koneserzy naturalnej kuchni wykorzystują omawianą roślinę do tworzenia unikalnej nalewki nazywanej kordiałem.
Choć zastosowanie lubczyku w kulinarii jest wyjątkowo szerokie, należy uważać, aby nie przesadzić z jego stosowaniem. Lubczyk charakteryzuje się ostrym i dominującym smakiem, który potrafi także zepsuć potrawę, dlatego też mimo licznych właściwości zdrowotnych ziele to lepiej jest stosować z daleko idącym umiarem.
Lubczyk – hodowla
lubczyk ogrodowy najlepiej rośnie na ciepłych, słonecznych stanowiskach, choć daje on sobie radę również w półcieniu oraz cieniu. Lubczyk lubi lekkie, przepuszczalne, dobrze uprawione, spulchnione, niezbyt zwięzłe i żyzne gleby. Roślina nie pogardzi także większą zawartością próchnicy i wapnia. Lubczyk nie lubi gleb suchych, zlewnych, gliniastych i kwaśnych.
Aby lubczyk nie przemarzł zimą, można obsypać go niewielkim kopczykiem z kompostu lub słomiastego obornika.
Nasiona należy wsiać do ziemi (głębokość 2-3 cm) od razu po ich zbiorze, czyli w sierpniu lub późną jesienią, jeszcze przed nadejściem mrozów. Lubczyk można siać także wiosną. Aby rośliny rosły zdrowo i szybko, należy dbać o jakość gleby wokół nich. Podczas suchych dni warto pamiętać o dodatkowym podlewaniu.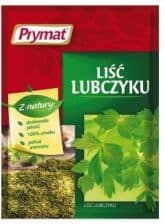 Lubczyk
Kliknij i sprawdź ceny!
Podsumowanie
Lubczyk to tylko jeden z wielu darów, które otrzymaliśmy od szczodrej Matki Natury. Dzięki włączeniu tego ziela do swojego jadłospisu nie tylko poszerzysz wachlarz smaków, lecz także odniesiesz wiele korzyści zdrowotnych. Pamiętaj: jesteś tym, co jesz! Dbaj więc o to, by Twoja dieta była zbilansowana oraz pełna zielonych warzyw i przypraw. Smacznego!