Woda różana to substancja, która łączy w sobie wodę i płatki róży. Stosowana jest jako perfumy ze względu na słodki zapach, ale ma również walory lecznicze i kulinarne. Tradycja stosowania wody różanej w medycynie jest bardzo długa, ponieważ już w VII wieku w historycznych terenach Iranu i innych częściach Bliskiego Wschodu używano go np. do obywania ran. Co więcej, plemiona Indian w Ameryce Północnej bardzo długo stosowali płatki róży do leczenia różnych dolegliwości.
3 fakty o wodzie różanej
Stosowanie wody różanej nie wywołuje żadnych skutków ubocznych.
Woda różana zawiera liczne, silne przeciwutleniacze.
Pomaga w rozluźnieniu centralnego układu nerwowego.
Jakie są korzyści?
Korzyści płynące z stosowanie wody różanej jest wiele. Używana w kosmetologii poprawia wygląd skóry. W przemyśle spożywczym działa kojąco i regulująco na układ trawienny. Poza tym, zarówno w dziedzinie kosmetycznej jak i medycznej jej właściwości są eksploatowane do maksimum. Związku z tym, że posiada wiele zalet, warto się im głębiej przyjrzeć, ponieważ w przyszłości mogą okazać się przydatne.
Skóra
Woda różana jest często stosowana jako perfumy, ale ze względu na swoje właściwości jest używany do produkcji innych wyrobów kosmetycznych.
Skóra jest powierzchnią, która ochrania wszystkie organy i narządy wewnętrzne organizmu człowieka. Ponadto, jej funkcja opiera się na obronie organizmu przed promieniowaniem UV, działaniem chemicznym i innymi zanieczyszczeniami. Obecnie wszystkie produkowane kosmetyki mają na celu pomóc skórze wyglądać jak najlepiej i utrzymać jak najdłużej dobrą kondycję. Woda różana zawiera przeciwutleniacze, które chronią komórki skóry przed uszkodzeniem. Dlatego stosowanie wody różanej może polepszyć stan skóry. Co więcej, woda różana ma również właściwości przeciwzapalne, co oznacza, że można ją nakładać na skórę, aby złagodzić podrażnienie spowodowane przez takie choroby jak egzema i trądzik różowaty. Poza tym, woda różana działa jako inhibitor wobec elastazy i kolagenozy, które są szkodliwe dla skóry. To z kolei może pomóc złagodzić skórę i zmniejszyć zaczerwienienie, a także działać jako produkt przeciwzmarszczkowy, zmniejszając widoczność linii i zmarszczek.
Układ oddechowy
Ze względu na działanie łagodzące i przeciwzapalne, woda różana może być stosowana w leczeniu bólu gardła . Ponadto, dotychczasowe badania dowiodły, że woda różana może działać rozluźniająco na mięśnie gardła.
Oczy
W postaci płynnej woda różana może być używana jako część kropli do oczu. Analizy i badania wykazały, że posiada korzystne oddziaływanie na chore oczy bądź z niedużą wadą wzroku. Obszary łagodzące mogą obejmować:
Zapalenie spojówek,
Suche oko,
Choroby zwyrodnieniowe oczu,
Zaćmę,
Rany
Woda różana ma właściwości antyseptyczne i antybakteryjne , co oznacza, że może pomóc ranom goić się szybciej, utrzymując je w czystości i zwalczając zastrzyki. Grupa ran, na które może być zastosowana woda różana to:
Infekcje
Ze względu na właściwości antyseptyczne i fakt, że woda różana może pobudzić tworzenie histaminy przez układ odpornościowy, wykazano, że jest przydatna w zapobieganiu i leczeniu wszelkiego rodzaju zakażeń.
Samopoczucie
Terapia za pomocą pary różanej może poprawić nastrój i uzyskanie stanu relaksu. Terapia polega na wdychaniu oparów z wody różanej. W ten sposób osoba inhalująca się doprowadza do polepszenia swojego nastroju. Ten pozytywny wpływ wykazały także badania. Potwierdzono również, że woda różana posiada właściwości antydepresyjne i przeciwlękowe. Uważa się, że polepsza jakość snu i ma działanie hipnotyczne. W taki oto sposób można ją wykorzystywać do leczenia depresji. W innych medycznych przypadkach wiadomo, że woda różana jest korzystna w leczeniu stanów takich jak otępienie i choroba Alzheimera.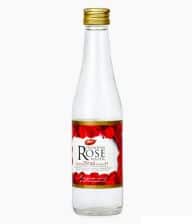 Woda różana
Kliknij tutaj i sprawdź ceny!
Bóle głowy
Opary wytwarzane z wody różanej mogą wpływać kojąco na bóle głowy i przewlekłe migreny. Ponadto, mają działanie antystresowe i likwidują napięcia. Woda różana jest od jakiegoś czasu używana w aromaterapii i można ją również nakładać na ściereczkę a potem na czoło.
Trawienie
Wykazano również, że spożywanie wody różanej ma korzystny wpływ na układ trawienny. Działa poprzez zwiększenie przepływu żółci, co pomaga w objawach typowych dolegliwości, w tym wzdęcia i rozstrój żołądka. Nadmierne użycie wody różanej może również działać jako środek przeczyszczający . Może zwiększyć zarówno ilość wody w kale, jak i częstotliwość pójścia do toalety, co czyni ją dobrą metodą leczenia zaparć .
Postacie wody różanej
Woda różana zawiera w sobie bardzo korzystny, naturalny olejek, który często używany jest w ceremoniach religijnych oraz w przemyśle spożywczym. Jednak ten sam produkt może występować w różnych formach.
Olej różany
Olej tworzony jest poprzez destylację kwiatu róży. Może być produkowany masowo w fabrykach lub przez osoby prywatne. Jego barwa jest blado żółta. Ze względu na wysokie stężenie, olejek różany jest znany jako dość drogi produkt.
Wysuszone kwiaty
Zarówno pąki, jak i płatki róży mogą być suszone i wykorzystywane do przeróżnych celów. Często płatki są spożywane, na przykład z jogurtem, aby poprawić tempo przemiany materii.
Możliwe skutki uboczne
Osoba, która chce zastosować różane wyroby  do miejscowo powinna wykonać test alergiczny, ponieważ u niektórych grup zanotowano reakcje uczulające. Test można wykonać poprzez umieszczenie niewielkiej ilości produktu na ramieniu. Jeżeli w ciągu, kolejnych 24 godzin nie wystąpią żadne objawy niepożądane lub reakcje alergiczne, można śmiało i bezpiecznie stosować produkt w innych miejscach.
W niektórych przypadkach dana osoba może reagować na wodę różaną ze względu na szczególną i często nieznaną wrażliwość na produkt. Może to obejmować: uczucie palenia i kłucia, zaczerwienienie oraz podrażnienie.
Jeśli ktoś doświadcza któregokolwiek z tych objawów po użyciu wody różanej, powinien natychmiast powiedzieć o tym lekarzowi, ponieważ może to być oznaką infekcji lub reakcji alergicznej. Tego typu problemy nie ustają samoczynnie.