Labrador to na chwilę obecną bez wątpienia jedna z najbardziej popularnych ras psów w skali całego świata. Trudno jednoznacznie stwierdzić, jakie są właściwe przyczyny tak ogromnej popularności i dlaczego to właśnie labrardor oraz Golden Retriever a nie inne rasy z grupy Retrieverów cieszą się tak dużym i międzynarodowym uznaniem.
Predyspozycje
Chociaż początkowo labrador był psem typowo użytkowym, obecnie właściwie nie używa się już tej rasy do polowań, czyli zgodnie z jej pierwotnym, historycznym przeznaczeniem. Labrador to na chwilę obecną przede wszystkim wszechstronny pies rodzinny i towarzyski, znakomity kompan spacerów, zabaw a także towarzysz dzieci.
Jednak, pomimo że labradory od dawna nie są już wykorzystywane podczas polowań, przedstawiciele tej rasy nadal zachowali różne "historyczne" nawyki, o których właściciel powinien wiedzieć przed dokonaniem zakupu psa tej rasy. Warto również wiedzieć, że labradory często bywają używane jako psy użytkowe, lecz nie w polowaniach, lecz w innych obszarach.
Co więc przyszły(oraz obecny) właściciel psa rasy Labrador powinien wiedzieć o charakterystce tych psów? Czy labrador jest psem łatwym w prowadzeniu czy może jednak przysparza pewnych problemów wychowawczych, a jeżeli tak, to jakie konkretnie są te problemy? Przyjrzyjmy się charaktertyce tej rasy nieco dokładniej i postarajmy się udzielić możliwie jak najbardziej wyczerpujących odpowiedzi na powyższe pytania a także rozjaśnić inne istotne kwestie związane z tą rasą.
Labrador: historia rasy i klasyfikacja
Labrador retriever to tradycyjna rasa użytkowa pochodząca z obszaru Nowej Fundalndii. Psy tej rasy były pierwotnie używane przede wszystkim w charakterze pomocników rybaków(aportowały sieci znajdujące się w wodzie a także rozmaite inne przedmioty). Po tym, jak rasa trafiła do Wielkiej Brytanii(druga połowa dziewiętnastego stulecia), psy tej rasy podobnie jak Golden Retrievery były powszechnie używane w polowaniach. Zadanie labrardora w trakcie polowanie było podobne do charakteru pracy tej pracy w początkach jej istnienia: pies miał aportować ustrzelonę przez myśliwego zwierzynę, w tym przede wszystkim ptactwo wodne(było to więc aportowanie z wody).
Podobnie jak w przypadku wielu innych ras, dokładna genealogia rasy Labrador Retriever nie jest znana. Wiadomo, że psy te są spokrewnione z dwiem innymi rasami wywodzącymi się z historycznego obszaru Nowej Fundlandii, a mianowicie z Nowofundlandem oraz Landseerem. Kynolodzy zajmujący się historyczną genealogią labradora uważają, że pierwotnie nie istniał dokładny podział pomiędzy tą rasą a dwiema rasami wymienionymi powyżej, czyli Nowofundlandem oraz Landseerem.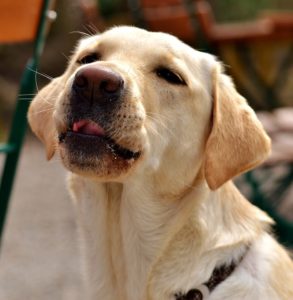 Istniały mniejsze psy użytkowe, używane przez rybaków do wyciągania lżejszych ładunków i rzeczy z wody, oraz psy o większym rozmiarze ciała, które aportowały cięższe ładunki oraz ze względu na dość silny instynkt terytorialny były używane również w charakterze psów stróżujących. Spekuluje się, że labrador pochodzi właśnie od pierwszej z wymienionych kategorii psów używanych dawniej przez rybaków na obszarze Nowej Fundlandi. Za tą hipotezą przemawia nie tylko rozmiar tej odmiany psów typu Retriever(labrador jest wyraźnie mniejszy i lżejszy, niż Landseer czy Nowofundland), ale także fakt, iż labradory są psami przeważnie pozbawionymi wyraźniej zaznaczonego instynktu terytorialnego.
Pod względem klasyfikacji kynologicznej labdardor jest klasyfikowany jako przedstawiciel psów aportujących, płochaczy oraz psów wodnych. Przedstawiciele rasy Labrador Retriever podlegają próbom pracy.
Labrardor: charakter
Pod względem charakteru labrador należy do psów wyjątkowych łatwych w prowadzeniu. Psy tej rasy przeważnie są przyjazne, łagodne oraz bardzo pojętne, dzięki czemu mogą być wychowywane nawet przez początkujących hodowców, którzy nie mają żadnego doświadczenia z psami. Ze względu na swoją legendarną wręcz cierpliwość labdardory znakomicie nadają się również do zabaw z dziećmi. Dzięki swojej wyjątkowej pojętności uczenie labradora zazwyczaj nie stanowi żadnego problemu: pies ten szybko nabywa nawyków wpajanych mu przez właściciela oraz bardzo prędko uczy się niezbędnych komend.
Labrador jest psem dość ruchliwym, zwłaszcza w młodym wieku. Z tego powodu psy tej rasy powinny mieć możliwość wybiegania się. Labradory bardzo często biorą udział również w różnego rodzaju psich sportach, takich jak obedience, flyball, agility, dogtrekking oraz tropienie. Psy te znakomicie nadają się również do towarzystwa w trakcie spacerów oraz przejażdżek rowerowych.
Wychowanie labradora
Jak wspominano, labrador jest psem łagodnym i raczej łatwym w prowadzeniu, co jednak nie oznacza, że przedstawiciele tej rasy są całkowicie pozbawieni kłopotliwych dla właściciela nawyków. Przede wszystkim, labradory wprost uwielbiają się kąpać. Oznacza to, że jeżeli podczas przechadzki będziemy mijać jezioro, staw, rzekę lub strumyk możemy być niemal pewni, że nasz pies skorzysta z okazji i niemal natychmiast wskoczy do wody. Oprócz tego, niektórzy przedstawiciele rasy labrador(zwłaszcza same), mogą wykazywać pewne pozostałości instynktu myśliwskiego, podobne do tego, jakim charakteryzują się harty, tyle, że znacznie mniej nasilonego. Młody labrador może być więc skłonny do gonienia mniejszych zwierząt, jednak niekoniecznie w celu zrobienia im krzywdy.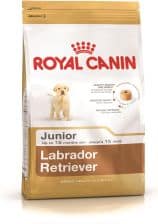 Karma dla labradorów
Kliknij i sprawdź ceny!
Labrador: wygląd, waga i umaszczenie
Według kryteriów przyjmowanych przez światowe organizacje kynologiczne, pies rasy labrador powinien odznaczać się następującymi cechami fizycznymi:
1. Wzrost w kłębie: 56–57 cm dla psów oraz 54–56 dla suk
2. Waga: 30-36 kg dla psów oraz 25-32 kg dla suk
3. Umaszczenie: czarne, biszkoptowe lub czekoladowe(dopuszczalne są różne odcienie tych kolorów)
4. Ogólna budowa ciała: szeroka klatka piersiowa, dość masywna konstrukcja, szeroka szczęka, mocne kończyny
Oczywiście, tak samo jak w przypadku wielu innych ras, tylko pewna część labradorów spełnia powyższe kryteria. Psy czasami bywają wyższe i cięższe, niż dopuszczają to kryteria wystawowe, suki zaś nierzadko charakteryzują się niższym wzrostem oraz wyraźnie przysadzistą budową. Jeżeli jednak pies waży ponad 45 kilogramów a suka ponad 40, należy zasięgnąć porady weterynarza odnośnie żywienia oraz zapobiegania ewentualnym chorobom(labradory są z natury dość podatne na choroby stawów oraz kości, a zbyt wysoka waga psa stanowi w tym przypadku czynnik ryzyka).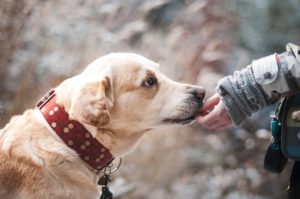 Labrador: zdrowie, choroby i pielęgnacja
Labradory są psami niewymagającymi bardziej zaawansowanej pielęgnacji. Warto jednak wiedzieć, że przedstawiciele tej rasy linieją dwa razy w roku. W okresie linienia sierść psa powina być dokładnie szczotkowana 2-3 w tygodniu. Labradory wykazują również naturalne tendencje do chorób oczu oraz zapaleń uszu, co bywa związane z częstymi kąpielami, do których psy tej rasy wykazują wyraźną predylekcję. Z tego powodu, pies powinien przynajmniej raz w roku być poddawany kontroli weterynaryjnej, zwłaszcza jeżeli często zażywa kąpieli w naturalnych zbiornikach wodnych.
Labrador: zastosowanie użytkowe
Chociaż psy rasy labrador nie są już używane do aportowania ani też w charakterze psów myśliwskich, to jednak ze względu na swoje zalety charakterologiczne przedstawiciele tej rasy często występują w roli psów użytkowych. Labradory najczęściej wykonują takie zadania, jak:
przewodnik osób ociemniałych
psy ratownicze
psy wykorzystywane w dogoterapi
psy używane przez policję oraz inne służby do wykrywania narkotyków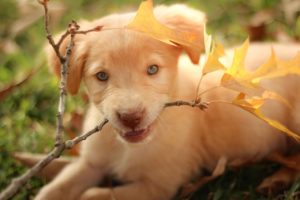 Podsumowanie
Labrador jest znakomitym psem rodzinnym, odznaczającym się pojętnością a także łagodnym, przyjaznym oraz cierpliwym usposobieniem. Psy tej rasy zachowały jednak niektóre naturalne dla siebie tendencje, dlatego nie powinny być traktowane jako typowe psy "kanapowe". Labrador jest psem, który zwłaszcza w pierwszej połowie swojego życia potrzebuje dość sporej dawki ruchu, przy czym najlepszym rozwiązaniem są albo sporty dla psów albo zabawy wymyślone przez właściciela. Labradory nie wykazują instynktu terytorialnego ani obronnego, dlatego też nie mogą być wykorzystywane w roli psów obronnych lub stróżujących.