Koty od zawsze towarzyszą ludziom. Można znaleźć wiele ras, które świetnie sprawdzą się w domu. Bez trudu można znaleźć też rasy, które lepiej będą czuły się żyjąc na dworze tylko od czasu do czasu wchodząc do domu. Dlatego każdy może znaleźć idealną rasę kota dla siebie. A nawet alergicy mogą mieć kotka, na którego futro nie będą reagować kaszlem i płaczem. Jedną z najbardziej popularnych ras kotów w Polsce jest bez wątpienia kot brytyjski. Piękny, dostojny, z grubą, ale krótką sierścią podbił serca wielu osób. Co warto wiedzieć o kotach tej rasy przed zakupem kociaka?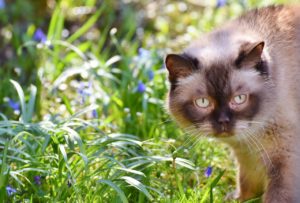 Historia rasy kota brytyjskiego
Wbrew pozorom koty brytyjskie nie wywodzą się z Wielkiej Brytanii, a z Egiptu. Przodkowie obecnych kotów brytyjskich wędrowali wraz z rzymskimi legionami, aby chronić zapasy żywności przed myszami i innymi szkodnikami. Z tego też względu trafiły do Wielkiej Brytanii, gdzie przez wieki żyły na farmach i w miastach jako zwierzęta do ochrony zapasów. Z biegiem czasu ich wygląd się zmienił na bardziej muskularny, a futro stało się gęstsze. Chroniło to koty przed zmienną brytyjską pogodą. Jednak oprócz przejawiania samej łowności są to koty bardzo spokojne i ufne, oraz lojalne. Dlatego chętnie były przygarniane jako towarzysze i domownicy.
Dopiero w XIX zaczęto hodować koty brytyjskie, jako przeciwwagę dla ras kotów perskich i kotów syjamskich, które przywieziono z krajów Orientu. Za twórcę standardu rasy kota brytyjskiego uznaje się angielskiego ilustratora i malarza – Harrisona Weira. To on w 1871 roku zorganizował pierwszą na świecie wystawę kotów w Kryształowym Pałacu, w Londynie. Celem wystawy było pokazanie różnych raz i odmian kotów oraz opracowanie standardów rejestracji ras. Jednak dopiero w 1929 roku kot brytyjski został uznany za rasę. Jednak z powodu licznych krzyżówek rasy kota brytyjskiego krótkowłosego (powszechnie nazywanego kotem brytyjskim) z kotami perskimi i rosyjskimi powstała też osobna odmiana kotów brytyjskich długowłosych. Są one na tyle rzadkie, że jeszcze organizacje felinologiczne nie uznały jej za rasę mimo, że koty te różnią się wyglądem. Warto też wiedzieć, że wyróżnia się aż 150 rodzajów umaszczeń kota brytyjskiego. W Polsce pierwsze koty brytyjskie pojawiły się na początku lat 90. ubiegłego wieku.
Brytyjczyk – charakter i usposobienie
Koty tej rasy są bardzo łagodne, zrównoważone, ale też inteligentne i nienatrętne. Do tego szybko przywiązują się do domowników i nie popadają w konflikty z innymi zwierzętami domowymi, w tym z psami. Choć koty te są zrównoważone i flegmatyczne nadają się do zabawy z dziećmi. Brytyjczyki to koty ciche i spokojne. Nie zdarza się, aby niszczyły kanapy czy firanki, a więc z powodzeniem można je zostawić na kilka godzin samym sobie. Warto wspomnieć, że te koty świetnie dopasowują się do otoczenia i nie potrzebują dużych przestrzeni. Jednocześnie są też kotami domowymi, ponieważ rzadko wykazują chęć wyjścia na dwór. Nadają się więc idealnie do mieszkania w domu wielorodzinnym. Koty te można z łatwością nauczyć komend czy korzystania z kuwety. Są to bardzo mało problematyczne zwierzęta stworzone do mieszkania w domowym zaciszu.
Co ciekawe nie są to koty odpowiednie dla osób prowadzących bardzo aktywy tryb życia, organizujących często imprezy w domu czy też mieszkających w hałaśliwej okolicy. Brytyjczyki są spokojne i lubią też spokojne otoczenie. Ale jako małe kocięta na pewno będą skore do zabawy w każdym momencie. Zwłaszcza jeśli musiały wiele godzin spędzić same w domu. Wtedy wracając do kota warto się z nim pobawić aż się zmęczy, aby potem nas nie zaczepiał w momencie, kiedy my będziemy zajęci np. gotowaniem obiadu.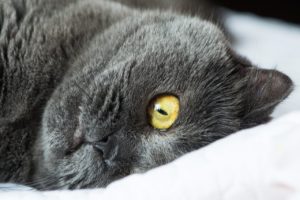 Wady i zalety rasy
Koty brytyjskie są bardzo łagodne, inteligentne, cierpliwe i przez to łatwe w wytresowaniu. Dlatego bardzo łatwo będzie takiego kota ułożyć. Oczywiście jak każdy kot i brytyjczyk lubi chodzić swoimi ścieżkami, więc może się zdarzyć, że w poszukiwaniu miejsca na spokojną drzemkę kot gdzieś się zaszyje. Brytyjczyki nie są pieszczochami i nie lubią brania na ręce. Dla niektórych może to być wadą, zwłaszcza gdy marzy im się tzw. "kot na kolanka". Ten kot sam wybierze moment, kiedy chce podejść. Zwykle jednak życzy sobie spokoju. Jednak koty mogą mieć też różne charaktery. Jedne chętniej podejdą i pobawią się z właścicielem, a inne wskoczą spać na kanapę. Warto też wiedzieć, że są to koty-łasuchy. Jeśli widać, że lubi jeść trzeba pilnować diety kota, aby nie przytył, a co gorsza nie stał się otyły.
Karma dla kotów brytyjskich
Kliknij i sprawdź ceny!
Mimo to koty brytyjskie mają masę zalet. Można do nich zaliczyć na przykład:
koty brytyjskie są zdrowe i odporne na choroby,
są łatwe w pielęgnacji,
mają bardzo spokojne i nienachalne usposobienie,
lubią dzieci i inne zwierzęta,
nadają się dla osób starszych,
nie potrzebują dużo miejsca i wychodzenia na dwór.
Jak dbać o kota brytyjskiego?
Mimo, że są to koty niewymagające to trzeba o nie odpowiednio zadbać. Ponieważ cechują się grubą, krótką sierścią wystarczy je przeczesać raz na tydzień lub częściej, jeśli kot akurat linieje. Kotów tej rasy się nie kąpie, chyba że zajdzie taka potrzeba np. ze względu na problemy skórne. Także nie trzeba czyścić uszu czy oczy kota, ponieważ sam zadba o swoją czystość.
Niestety koty brytyjskie lubią jeść, a więc trzeba je odpowiednio żywić. Zwłaszcza, jeśli kot jest po kastracji może bardzo utyć przejadać się. Koty brytyjskie są mięsożercami, a więc muszę mieć dietę wysokobiałkową. Jednak nie może w niej zabraknąć witamin czy minerałów. Kotom tym najlepiej służą surowa wołowina, drób, gotowane ryby czy podroby. Ale można też podawać ugotowane biało jajka. Z powodzeniem można też kupić mokre i suche karmy zrównoważone pod kątem zapotrzebowania tej rasy na składniki odżywcze. Warto też wiedzieć, że dzięki suchej karmie koty mogą oczyszczać zęby między innymi z kamienia nazębnego, więc i taki rodzaj karmy obojętnie czy będziemy gotować kotu sami czy kupimy mokrą karmę, musi być dla kota dostępny.
Kocur czy kotka?
Kiedy już decydujemy się na kota brytyjskiego powstaje jeszcze jedno pytanie. Czy kupić kocurka czy kotkę? W wypadku tej rasy kocury i kotki różnią się głównie wyglądem. Jednak usposobienie i kotów i kotek jest bardzo podobne. Różnice nie wynikają z płci kotów, a z ich własnego charakteru. Jedne koty są bardziej niezależne, a inne bardziej milusińskie. Natomiast różnica w usposobieniu może ujawnić się u wykastrowanych kocurów. Taki kocur jest bardziej uległy, leniwy, milusiński. Z kolei nie kastrowany kocur może mieć tendencję do dominacji nawet nad właścicielem. Dlatego też zaleca się wykastrowanie kota. Nie tylko ze względu na uchronienie go od ewentualnych problemów zdrowotnych, ale ze względu na złagodzenie charakteru. Podobnie jest też u kotek. Nie wykastrowane kotki mogą mieć "humorki", ale to zupełnie normalne u tych zwierząt. Tak naprawdę patrząc na usposobienie kotów i kotek brytyjskich można powiedzieć, że jest ono na tyle podobne, że płeć kota nie odgrywa dużej roli. Wybierając kota do domu powinno się od razu zastanowić czy będzie on kastrowany czy też nie. A przez to czy będzie rozrabiaką czy miłym koteczkiem do głaskania.