Kimchi to potrawa stanowiąca prawdziwy symbol koreańskiej kuchni, o której większość europejczyków raczej nie słyszała, jednak pragnąc spróbować czegoś nowego, warto przygotować kimchi w domowym zaciszu.
Czym jednak jest wspomniane kimchi, z jakich składników przygotowuje się tę potrawę i dlaczego warto wprowadzić ją do swojego codziennego menu?
Czym jest 
kimchi

?
Kimchi nazywane również gimchi to potrawa powstająca na bazie kiszonych warzyw z różnymi dodatkami, jednak jej bazę stanowi przede wszystkim kapusta pekińska. Tradycyjny przepis na kimchi oprócz pekińskiej kapusty zawiera również czosnek, cebulę dymkę, marchewkę oraz pora, jednak bardzo dużą rolę odgrywają również przyprawy a w szczególności koreańska papryka chili, dzięki której cała potrawa staje się bardzo pikantna.
Oczywiście w klasycznym przepisie na kimchi do dania należy dodać dosyć duże ilości papryki, jednak wiele osób modyfikuje nieco przepis, zmniejszając nieco ilość chili, dzięki czemu kimchi nie jest aż tak ostre.
Kimchi

 w kuchni

Kimchi to przede wszystkim niezależna potrawa, jednak może ono być również serwowane jako przystawka lub dodatek do dań mięsnych, makaronu, ryżu oraz zup.

Jak zostało wspomniane na wstępie kimchi składa się głównie z kapusty pekińskiej, określonych warzyw oraz przypraw. Po połączeniu poddaje się procesowi kiszenia, jednak nazwa ta odnosi się również do sposobu fermentacji warzyw, które następnie wykorzystywane są podczas przygotowywania różnych potraw.
Wartości odżywcze 
kimchi

 i przeciwwskazania do spożycia

Kimchi to potrawa, która zawiera wiele cennych dla naszego zdrowia witamin i minerałów a z uwagi na brak mięsa zaliczana jest on do niskokalorycznych dań, dlatego też osoby, które dbają o swoją linię oraz wygląd sylwetki mogą jak najbardziej sięgać po tę potrawę.

Z uwagi na proces kiszenia kimchi zawiera bardzo duże ilości bakterii Lactobacillus, które pomagają zahamować rozwój chorobotwórczych bakterii, a także wspomagają proces trawienia.

Niestety nie wszystkie osoby mogą delektować się smakiem kimchi, ponieważ z uwagi na zawartość w tym daniu ostrej papryki potrawy tej nie powinny spożywać osoby zmagające się z nadciśnieniem, zespołem jelita drażliwego oraz innymi problemami układu pokarmowego.
Naturalny probiotyk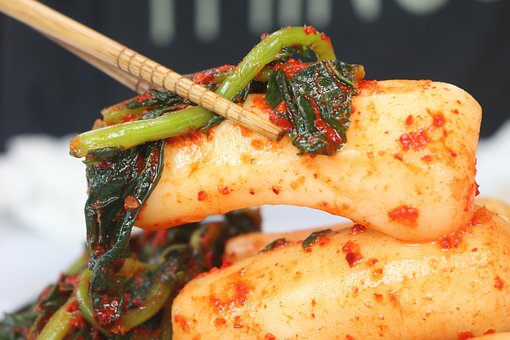 Kimchi podobnie zresztą, jak i inne kiszonki zawiera w swoim składzie bardzo duże ilości cennych dla naszego zdrowia bakterii probiotycznych, które w bardzo pozytywny sposób wpływają na nasze jelita.
Kwas mlekowy obecny w fermentowanych warzywach ochrania nasz organizm przed atakiem chorobotwórczych patogenów, wspomaga prawidłowe funkcjonowanie jelit.
Pomaga usunąć z organizmu toksyczne substancje. Wspomniane bakterie pomagają ponadto wzmocnić naszą odporność, dzięki czemu w mniejszym stopniu jesteśmy narażeni na rozwój przeziębienia oraz grypy.
Właściwości lecznicze 
kimchi
Kimchi to potrawa, która z uwagi na zawartość samych warzyw oraz przypraw pomaga obniżyć zbyt wysoki poziom złego cholesterolu we krwi, zapobiegając tym samym rozwojowi miażdżycy oraz niebezpiecznych chorób serca.
Regularne spożycie kimchi w rozsądnych ilościach i bez ogromnej ilości ostrej papryki wpływa bardzo korzystnie na wygląd skóry z uwagi na zawartość w tej potrawie antyoksydantów, czyli substancji, które poprzez walkę z wolnymi rodnikami, opóźniają proces starzenia się skóry.
Wśród pozostałych właściwości kimchi można również wymienić działanie antynowotworowe, a także pozytywny wpływ na prawidłowe funkcjonowanie narządu wzroku.
Klasyczne domowe 
kimchi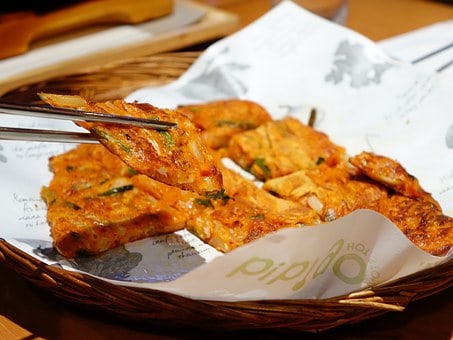 Składniki:
4,5 kg kapusty pekińskiej,
1 por (biała część),
3 średniej wielkości marchewki,
1 szklanka pokrojonej cebuli dymki,
ćwierć imbiru,
3 główki czosnku,
2 łyżki mąki ryżowej,
2,5 szklanki chili w proszku 

gochugaru

,
1 szklanka sosu sojowego,
1/4 szklanki cukru,
1 szklanka 

soli
Sposób przygotowania:
Kapustę pekińską przekroić wzdłuż na około 8 części, pozbywając się jej białego i twardego środka. Liście pokroić następnie w poprzek na mniejsze kawałki, wrzucając kapustę do bardzo dużego garnka lub miski oraz zalewając ją wodą. Kapustę należy bardzo dokładnie wypłukać, wylewając następnie wodę oraz posypując kapustę szklanką soli. Całość należy bardzo dokładnie wymieszać, płukając dokładnie kapustę wodą po upływie około 90 minut.
Warzywa opłukać i obrać. Marchewkę pokroić w słupki, pora w skośne plasterki, natomiast czosnek, imbir i cebulę zmiksować przy pomocy blendera na jednolitą masę. W małym garnku wymieszać ze sobą mąkę ryżową i wodę, podgrzewając całość, aż powstanie kleik. Do powstałego kleiku dodać cukier, gotując mieszankę przez kilka minut i odstawiając na bok do schłodzenia. Gdy kleik już ostygnie dodać do niego chili w proszku, pora, marchewkę oraz zmiksowany imbir, czosnek i cebulę, mieszając wszystkie składniki, aby idealnie się ze sobą połączyły.
W ostatnim etapie należy połączyć ze sobą kapustę pekińską oraz pastę, jednak przed tym etapem na dłonie należy założyć gumowe rękawiczki. Gdy całość zostanie już dokładnie wymieszana, kimchi przełożyć do wyparzonego i osuszonego słoika, pamiętając o tym, aby go nie upychać, gdyż podczas procesu fermentacji powstają gazy, które wypychają masę w górę słoika.
Przygotowane w ten sposób kimchi odstawić na bok (temperatura pokojowa) na około 2 dni, przekładając je po tym czasie do lodówki. Po upływie około dwóch tygodni kimchi nadaje się już do spożycia. Kimchi z uwagi na dosyć dużą zawartość papryki chili jest dosyć ostre, dlatego też osoby, które nie przepadają za taką ostrością, powinny zmniejszyć jej ilość wedle własnego upodobania.
Wegańskie 
kimchi

 czerwone
Składniki:
1 kg kapusty pekińskiej,
3 litry zimnej wody,
5 łyżek soli himalajskiej
Składniki na pastę 
kimchi

:
2,5 łyżki mąki ryżowej,
3/4 szklanki wody,
3 łyżki czerwonej papryki słodkiej,
po 1 łyżce płatków chili i cukru,
1 łyżeczka startego imbiru,
1/2 białej rzodkwi,
1 mały por,
1 średniej wielkości cebula,
3 łyżki jasnego sosu sojowego,
3 ząbki czosnku,
2 średniej wielkości marchewki,
1 jabłko
Sposób przygotowania:
Kapustę pekińską umyć pod bieżącą wodą i poszatkować na paski o wielkości około 2 × 4 cm. Do dużej miski wlać wodę, płucząc w niej poszatkowaną kapustę. Po dokładnym wypłukaniu kapusty wodę wylać, układając w drugiej misce kapustę warstwami. Każda warstwa powinna być przesypana solą. Tak przygotowaną kapustę odstawić na około 1,5 godziny na bok, mieszając ją dokładnie do 30 minut. Po upływie wyznaczonego czasu kapustę przepłukać kilka razy czystą wodą, aby pozbyć się nadmiaru soli.
W międzyczasie można przygotować pastę kimchi. W tym celu do małego garnka wlać wodę i wsypać mąkę mieszając całość bardzo dokładnie oraz gotując przez 6 minut na małym ogniu tak, aby powstał gęsty kleik. Gdy pojawią się bąbelki wsypać cukier i podgrzewać całość przez kilka minut aż mieszanka stanie się niemal przezroczysta. Zawartość garnka ostudzić, dodając do niej następnie płatki chili, słodką paprykę, imbir oraz sos sojowy, mieszając całość bardzo dokładnie, aż powstanie jednolita masa.
Warzywa obrać ze skórki i opłukać pod bieżącą wodą, krojąc je następnie w cienkie słupki, natomiast czosnek i cebulę w drobną kostkę. Warzywa przełożyć do dużej miski, zalewając je przygotowaną wcześniej miksturą mączno-paprykową. Do tak przygotowanej pasty dodać kapustę, mieszając całość bardzo dokładnie dłońmi (należy założyć gumowe rękawiczki). Gdy smaki będą się powoli przegryzać, przygotować słoik, który należy wyparzyć oraz dokładnie osuszyć.
Przygotowane kimchi przełożyć do słoika, pamiętając jednak o tym, aby nie ugniatać masy. Zapełnione w ten sposób naczynie odstawić w suche miejsce tak, aby mieszanka mogła się ukisić. Po upływie 2 dni kimchi nadaje się już do spożycia, jednak aby w pełni delektować się przepysznym smakiem kimchi, warto mieszankę odstawić na co najmniej 7 dni do lodówki.