Pomimo tego, że banany nie rosną w naszej strefie klimatycznej, są z jednych najpopularniejszych w Polsce owoców. owoce te są sprowadzane z takich miejsc jak Indie, Chiny, Uganda, Kolumbia, Filipiny, Kostaryka, Ekwador oraz Brazylia. Po banany sięgają chętnie zarówno dorośli, jak i dzieci. Oprócz szeregu różnorodnych właściwości zdrowotnych płynących ze spożywania bananów, znane jest również ich szerokie zastosowanie w kuchni i nie tylko. Odkryto nawet różne sposoby na wykorzystanie ich skórki. Od kilku lat w Polsce dostępne są w niektórych sklepach nie tylko tradycyjne banany, ale także banany czerwone, plantany, banany jabłkowe oraz banany karłowate.
Wartości odżywcze bananów
Banany są owocami bogatymi w różne witaminy oraz związki mineralne. Są źródłem witamin A, C, E, K, witamin z grupy B, potasu, fosforu, wapnia, magnezu, kwasu foliowego, błonnika i żelaza. A ile kalorii ma banan? Dla osób dbających o linię to bardzo ważna informacja. W 100 gramach banana znajduje się 89 kcal, a więc należy on do jednych z najbardziej kalorycznych owoców. Jednocześnie zjedzenie banana powoduje uczucie sytości, dlatego nie trzeba ich wykluczać z diety nawet podczas odchudzania się. Nawet jedzenie bananów codziennie nie zaszkodzi naszej figurze. Banany zawierają również stosunkowo wysoką zawartość wartościowego białka roślinnego, dlatego też są niezastąpione w diecie wegetarian oraz wegan.
Właściwości bananów
Banany posiadają wiele cennych właściwości, które wywierają korzystny wpływ na funkcjonowanie organizmu. Przypisuje się im takie cechy jak:
obniżanie ciśnienie krwi dzięki wysokiej zawartości potasu, antagonisty sodu,
pomoc w obniżaniu poziomu "złego" cholesterolu we krwi,
łagodzenie wrzodów żołądka, dzięki tworzeniu warstwy ochronnej w przewodzie pokarmowym,
przeciwdziałanie nowotworom nerek oraz okrężnicy,
pozytywny wpływ na pamięć, koncentrację i funkcjonowanie mózgu, zapobieganie stanom depresyjnym,
poprawa nastroju dzięki zawartości związków wpływających na produkcję serotoniny odpowiadającej właśnie za dobry humor
przeciwdziałanie wzdęciom,
zapobieganie niedokrwistości i anemii,
leczenie biegunki u dzieci,
korzystny wpływ na sen,
przeciwdziałanie skurczom mięśni,
łagodzenie bólu menstruacyjnego u kobiet,
leczenie zgagi,
zapobieganie wymiotom.
Jak już zostało wcześniej wspomniane, odkryte zostały również różne właściwości skórki od banana. Są to między innymi:
wybielanie zębów – dowiedziono, że regularne przecieranie powierzchni zębów skórką od banana może rozjaśnić ich odcień,
nawilżenie skóry twarzy dzięki maseczce ze skórki banana,
łagodzenie ukąszeń różnych owadów, na przykład komarów – wystarczy przytrzymać skórkę w miejscu ukąszenia,
pomoc w walce z kurzajkami i usuwaniu brodawek.
Banany w kuchni
Dzięki swoim właściwościom i doskonałemu, słodkiemu smakowi, banany znalazły szereg zastosowań w kuchni. Właściwości banana pozwalają nawet na to, aby zastępował on różne inne składniki potraw, na przykład jajka w cistach oraz naleśnikach czy też cukier w koktajlach. W Polsce najczęściej banany są spożywane jako samodzielna przekąska. Doskonale sprawdzają się w roli drugiego śniadania, ponieważ można je wrzucić po prostu do torebki podczas porannego pośpiechu. Banany stanowią również składnik wielu deserów, są dodawane do ciast, naleśników, muffinek, koktajli, owsianki. Popularny jest również tak zwany chlebek bananowy, na który przepis został przedstawiony poniżej.
Chlebek bananowy – przepis
Składniki:
kilka dojrzałych bananów (około 1 kg)
pół kostki (100g) masła
2 jajka
2,5 szklanki mąki pszennej
aromat waniliowy
2 łyżeczki sody oczyszczonej
szklanka drobnego cukru do wypieków
sól
Przygotowanie:
Po przygotowaniu wszystkich potrzebnych składników wymieszać ze sobą mąkę z sodą oczyszczoną i szczyptą soli. Masło rozpuścić, a banany rozgnieść widelcem. Wymieszać banany z roztopionym masłem przy użyciu miksera, dodać do masy cukier, jajko, aromat waniliowy oraz mieszankę mąki z sodą oczyszczoną i solą. Wszystko wymieszać do połączenia się ze sobą składników. Przygotowane ciasto piec w keksówce wysmarowanej wcześniej masłem lub wyłożonej papierem do pieczenia przez 50-60 minut w piekarniku nagrzanym do temperatury 170 stopni Celsjusza.
To tylko jeden przepis z zastosowaniem bananów. W internecie oraz książkach i czasopismach kucharskich można jednak znaleźć dużo więcej inspiracji do przygotowania dań oraz deserów z bananami. Warto je wykorzystać zwłaszcza w różnego rodzaju koktajlach, które dzięki temu staną się naturalnie słodkie i nie będą już wymagały dodatku cukru. Banany w diecie dzieci również są bardzo ważne, ponieważ w doskonały sposób mogą one zastąpić słodycze. Oprócz tego pozytywnie wpływają one na proces uczenia się i zdolność koncentracji dzięki wysokiej zawartości magnezu.
Banany a dieta
Jak już zostało wcześniej wspomniane, banany mają stosunkowo wysoką wartość energetyczną. Ich indeks glikemiczny również jest wysoki. Czy to jednak oznacza, że banany w diecie osób odchudzających się nie powinny się znaleźć? Absolutnie nie. Co więcej, banany są wręcz zalecane w dietach dla osób aktywnych, uprawiających sport, ponieważ pozytywnie wpływają na poziom energii, wytrzymałość i wydolność organizmu. Podobnie jak w przypadku innych produktów, najważniejsze jest zachowanie umiaru w ich spożyciu. Jeśli włączymy wartość energetyczną bananów do codziennego bilansu, spożywanie tych owoców w trakcie diety odchudzającej na pewno nie przeszkodzi w utracie zbędnych kilogramów.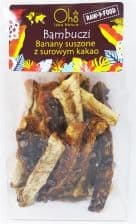 Delikatesy z bananów
Kliknij i sprawdź ceny!
Jak wybierać i przechowywać banany?
W sklepach można spotkać banany lekko niedojrzałe, których skórka jest zielonkawa, jak i banany w pełni dojrzałe, na których skórce pojawiły się już brunatne plamki. Nie jest to jednak żadna wada jakościowa, banany z plamkami na skórce są w pełni wartościowe. Banany pozostawione w suchym, chłodnym i ciemnym miejscu będą same dojrzewać, więc jeśli zdarzy nam się kupić owoce niedojrzałe, wystarczy poczekać kilka dni, aż staną się dojrzałe i smaczne. Jeśli używamy bananów na przykład w sałatkach, to bo obraniu ich ze skórki warto skropić je lekko cytryną – kwas askorbinowy zapobiegnie ciemnieniu bananów.