Gliceryna to jeden z najbardziej znanych substancji. Może pochodzić z tłuszczu kokosowego, ale równie dobrze z przemysłowego propylenu. Wykorzystywana jest najczęściej w kosmetyce jako substancja nawilżająca, ale równie dobrze może być składnikiem mydeł. Używa się jej też w przemyśle spożywczym, farmaceutycznym, a nawet do produkcji wyrobów skórzanych. Często jest też składnikiem domowych przepisów na środki do mycia. Jednak na temat używania gliceryny w kosmetykach narosło też wiele mitów, które niekoniecznie mają potwierdzenie. Co warto wiedzieć o tym składniku?
Właściwości gliceryny
Glicerol, czyli gliceryna to alkohol trójwodorotlenowy. Jest ubocznym produktem produkcji mydła w postaci gęstej, bezwonnej i bezbarwnej cieczy. Można ją rozpuścić zarówno w wodzie jak i alkoholu. Ze względu na sposób pozyskiwania glicerynę można podzielić na:
Naturalnie pozyskuje się ją przez zmydlenie tłuszczu najczęściej palmowego lub kokosowego albo innego roślinnego, ale może powstać też z tłuszczu zwierzęcego. Z kolei syntetyczne gliceryna pozyskiwana jest z propylenu, który z kolei jest gazem wytwarzanym z benzyny. W normalnych warunkach gliceryna jest cieczą, ale może ona występować też jako wazelina. Ale gliceryna w śladowych ilościach występuje też w niektórych warzywach i owocach. A także u owadów, ponieważ glicerol obniża punkt zamarzania, a wiec podnosi odporność na zimno czy lód. Dlatego glicerynę stosuje się także do przechowywania ludzkiej albo byczej spermy.
Bardzo często gliceryna pojawia się w kosmetykach, ponieważ zapobiega krystalizowaniu się kosmetyków, ich zasychaniu czy problemach z nakładaniem na skórę. Dodatkowo gliceryna sprawia, że niektóre składniki lepiej się ze sobą łączą, a przede wszystkim sprawia, że dany produkt ma dłuższą trwałość. W kosmetykach zwykle stosuje się stężenie gliceryny na poziomie 5-15 procent.
Zastosowanie gliceryny w medycynie
Jednak gliceryna jest też bardzo często stosowana w wyrobach medycznych i to nie tylko do użytku zewnętrznego. Bardzo często można ten składnik spotkać w postaci płynu, czopków doodbytniczych czy kropli do oczu. W takich lekach zwykle występuje glicerol w 86% roztworze oraz jakieś substancje pomocnicze. Zależy na co dokładnie ma działać. Jako czopki czy stosowana doustnie może działać przeczyszczająco, ponieważ ma za zadanie miejscowo podrażnić jelita i pobudzić ich perystaltykę. Jednakże przez właściwości natłuszczające i nawilżające ułatwia też oczyszczanie się jelit z treści kałowych. Czopki glicerynowe są na tyle bezpiecznie, że można nawet stosować je u dzieci powyżej trzech lat, osób starszych czy kobiet w ciąży.
Zewnętrznie glicerynę stosuje się też w kremach dermatologicznych na przykład na nadmierne rogowacenie i pękanie naskórka, ale też w kremach działających przeciwzapalnie i łagodzących podrażnienia. Glicerol w kroplach do oczu pomaga łagodzić objawy na przykład zespołu suchego oka. Jedynie osoby uczulone na glicerol nie powinny stosować leków z tym składnikiem.
Zastosowanie kosmetyczne gliceryny
Najszersze zastosowanie gliceryna ma jednak w przemyśle kosmetycznym. Jest tania i łatwo ją pozyskać co też przekłada się na popularność dodawania tego właśnie składnika do różnych kosmetyków. Ma też bardzo dobre właściwości higroskopijne, czyli pochłaniania wody, a do tego nie rozpuszcza się w tłuszczach, choć sama tłuszcze może rozpuszczać. Z tego względu jest dodawana do kremów i pomadek. A ponadto łagodzi wysuszające właściwości alkoholu etylowego, który również jest często używany jako składnik odkażający. Gliceryna jest też dodawana, aby uzyskać w kosmetyku odpowiednią konsystencję, oraz przedłużyć jego trwałość, ponieważ obniża aktywność wody, w której mogłoby się znaleźć drobnoustroje psujące kosmetyk czy zapobiegać rozdzielaniu się składników tłuszczowych na warstwy. Z racji tego, że gliceryna występuje w bardzo małych cząsteczkach świetnie też wnika w warstwę rogową naskórka, przez co kosmetyk działa bardziej efektywnie.
Glicerynę najczęściej można znaleźć w:
kremach nawilżających – ponieważ gliceryna gromadzi oraz wiąże wodę w naskórku, przez co odczuwalne jest nawilżenie nawet do 24 godzin po aplikacji takiego specyfiku,
mydłach – dobrze się pieni i nawilża skórę podczas mycia,
kremach do rąk i stóp – łagodzi podrażniony i popękany naskórek oraz zmiękcza zrogowaciałą skórę na piętach,
kremach do cery dojrzałej – przyspiesza procesy regeneracyjne, ale też dodaje elastyczności i wspomaga napięci skóry,
kremy ochronne – najczęściej do rąk i twarzy na zimę, które mają chronić przez zimnem,
kosmetykach wzmacniających do włosów – wzmacnia włosy od cebulek, nadaje im połysk oraz wygładza.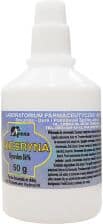 Gliceryna
Kliknij i sprawdź ceny!
Warto jednak wiedzieć, że większość gliceryny w kosmetykach pochodzi z produkcji syntetycznej. Nie ma to jednak znaczenia pod kątem działania na organizm. W kosmetykach zapisana jest jako "glycerin", ale nie ma obowiązku oznaczania czy jest to gliceryna pochodzenia roślinnego, zwierzęcego czy syntetycznego. Aczkolwiek coraz więcej kosmetyków naturalnych czy przeznaczonych dla wegan ma oznaczenie "glycerin vegetal", które oznacza glicerynę roślinną. Jednak jeśli nie ma tego szczegółowego opisu lepiej założyć, że jest to gliceryna syntetyczna.
Przeciwwskazania
Mimo, że gliceryna nie jest toksyczna, a jej wpływ na ciało ludzkie jest oznaczony jako obojętny to mimo to może się zdarzyć, że ktoś będzie uczulony na glicerynę. Najczęstszym objawem uczulenia jest czerwona wysypka. Jednak, aby potwierdzić, że to rzeczywiście jest alergia na glicerynę trzeba zrobić testy skórne u alergologa. Co ciekawe dla skóry wrażliwej gliceryna jest nawet bardziej bezpieczna niż parafina, dlatego warto dokładnie sprawdzać co jest w składzie kosmetyku zanim przesądzimy, że ten właśnie składnik jest alergenem. Może się jednak zdarzyć, że ze względu na swoje właściwości kosmetyki z gliceryną wysoko w składzie mogą "zapychać pory". Dzieje się tak najczęściej, gdy nakłada się dużą ilość kosmetyków z tym składnikiem, a do mycia twarzy używa zbyt delikatnych środków, które nie są w stanie zmyć nabudowanej warstwy gliceryny czy na przykład silikonów, które również mają takie właściwości.
Zastosowanie gliceryny do użytku domowego
Robienie kosmetyków w domu od lat staje się coraz bardziej popularne, a glicerynę z powodzeniem można kupić po prostu w aptece. Można z powodzeniem na jej bazie zrobić sobie maseczkę do włosów czy bazę pod cienie sypkie. Nadaje się też do zrobienia maseczek nawilżających do twarzy czy masek do stóp i rąk. Przepisy można bez trudu znaleźć na portalach z kosmetykami DIY. Warto jednak ściśle trzymać się proporcji, aby uzyskać pożądany efekt, ponieważ w stężeniu 5-15% będzie działać nawilżająco, ale już w stężeniu 25% i więcej działa odkażająco i wysuszająco. Można też po prostu dodać kilka kropel gliceryny do maski do włosów lub odżywki, aby wzmocnić ich działanie nawilżające i wygładzające włosy.
Jednak substancja ta świetnie sprawdzi się też przy domowych porządkach. Można dodać 1 łyżkę gliceryny do wody, aby zrobić sobie płyn do płukania, który zmiękczy tkaniny i sprawi, że będą delikatne w dotyku. Sprawdzi się to zwłaszcza w wypadku zamszu czy wełny. Jednak gliceryna może też świetnie się sprawdzić do wybawiania plam z tkanin. Wodą z kilkoma kroplami gliceryny z powodzeniem można umyć okna i lustra, które nie tylko będą ładnie wypolerowane, ale też gliceryna sprawi, że brud czy para wodna nie będą na tych powierzchniach osiadać. Ten trick można zastosować również na okularach, zwłaszcza zimą, gdy szkła parują po wejściu do ciepłego pomieszczenia.
Dzięki właściwością nadawania elastyczności i nabłyszczaniu gliceryna przyda się też do pielęgnacji gumowych przedmiotów na przykład kaloszy czy sandałów. Guma odzyska elastyczność, a takie obuwie będzie się wygodniej nosiło. Jednak i osoby z alergią na kurz i roztocza powinny zaopatrzyć się w glicerynę do wycierania mebli. Wystarczy do wody dodać odrobinę gliceryny, a potem zmoczoną szmatką przetrzeć meble. Kurz nie będzie na nich osiadał tak szybko jak przy zastosowaniu normalnych preparatów czyszczących co też sprawi większy komfort życia osobom uczulone na roztocza.