Fazy księżyca wpływają na wiele aspektów naszego życia. Starożytne systemy medyczne oraz pradawni mędrcy badali ten fenomen od niepamiętnych czasów, zapisując efekty swoich prac na kamiennych płytach, papirusach, a także w starych księgach. Fazy Księżyca wpływają na ludzkie samopoczucie, zdrowie oraz liczne mechanizmy związane z funkcjonowaniem naszego organizmu. Temat ten przez wieki osnuty był otoczką mistycyzmu, niemniej jednak w dobie nowoczesności udało nam się spojrzeć na niego przez pryzmat odkryć naukowych. Jeżeli chcesz dowiedzieć się więcej na temat faz księżyca oraz ich wpływu na ludzkie zdrowie, zapraszamy do lektury!
Fazy Księżyca – podstawowe informacje
Aby zrozumieć, w jaki sposób fazy Księżyca oddziałują na ludzki organizm, najpierw należy przyjrzeć się wędrówce tego osobliwego ciała niebieskiego. Powszechnie wiadomo, że Księżyc jest widoczny z Ziemi w różnych fazach. Krótko mówiąc oznacza to, że każdej nocy jego tarcza jest rozświetlona w innym stopniu. Oto cztery podstawowe fazy Księżyca:
nów – obszar zwrócony do Ziemi nie jest oświetlony;
pierwsza kwadra – Księżyc jest oświetlony w połowie;
pełnia – jest wtedy oświetlony cały obszar zwrócony do Ziemi;
ostatnia kwadra – Księżyc jest znów oświetlony w połowie, tyle że w innej niż podczas pierwszej kwadry.
Kiedy mówi się, że Księżyc jest w pełni, oznacza to, że znajduje się on po przeciwnej stronie Ziemi niż nasza gwiazda Słońce. W tym okresie Księżyc osiąga najwyższy punkt swojej wędrówki w okolicach zegarowej północy, a najniższy – około południa. Podczas nowiu sytuacja prezentuje się zupełnie odwrotnie. Wówczas dla ziemskiego obserwatora Księżyc podróżuje po nieboskłonie 'w okolicach' słońca.
Pomiędzy dwiema kolejnymi takimi samymi fazami Księżyca (na przykład dwoma nowiami) upływa okres około 29,5 doby. W terminologii astronomicznej taki odcinek czasu nazywa się "miesiącem synodycznym".
Dlaczego Księżyc wpływa na nasz organizm?
Wielu naukowców z całego świata zadaje sobie to pytanie, niemniej jednak pełna odpowiedź na nie wiąż pozostaje tajemnicą. Ciągle brakuje wiarogodnych badań na temat snu, a tym bardziej jego korelacji z fazami Księżyca. Oczywiście istnieje kilka poszlak, które przynajmniej częściowo tłumaczą oddziaływanie naturalnego satelity Ziemi na ludzkie ciało.
Jak powszechnie wiadomo Księżyc jest bezpośrednio związany z grawitacją. Jego istnienie pozwala naszej planecie podróżować przez przestrzeń kosmiczną w ściśle skoordynowanym ruchu obrotowym. Poza tym Księżyc ma wpływ na wiele procesów zachodzących na Ziemi, takich jak przypływy, odpływy, czy też zmiany pogody. W jaki jednak sposób oddziałuje on na ludzkie organizmy? Wielu naukowców doszukuje się klucza do rozwiązania tej zagadki w delikatnych wahaniach siły oddziaływania grawitacyjnego, które zmieniają się razem z fazami Księżyca.
Tak czy inaczej, wiele osób nie odczuwa wpływu faz Księżyca na swoje samopoczucie. Czy i Ty zaliczasz się do tej grupy? Czy ciężko uwierzyć Ci w historie na temat mistycznych powiązań Księżyca z ludzkim organizmem? Jeśli tak, to zapraszamy do zapoznania się z kilkoma interesującymi faktami potwierdzonymi na drodze badań naukowych.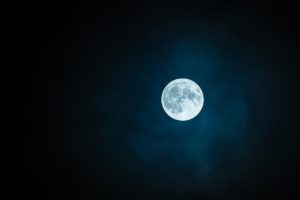 Oddziaływanie Księżyca na nasze życie codzienne
Sen. Wysokiej jakości sen to klucz do dobrego samopoczucia i czerstwego zdrowia. Niestety, fazy Księżyca w wielu przypadkach potrafią skutecznie zakłócić przebieg nocnego odpoczynku. Bardzo możliwe, że i Ty cierpiałeś kiedyś z powodu bezsenności podczas pełni. Niestety wiele osób zmagających się z tym problemem nie wiąże go z podróżą Księżyca po ziemskim nieboskłonie. Badania naukowe na ten temat zostały opublikowane w periodyku Current Biology. Wyniki prób dokonanych na sporej grupie ludzi są zaskakujące. Dowodzą one, że w czasie czterech dni przed oraz czterech dni po pełni księżyca zapadnięcie w sen zajmuje około 5 minut dłużej, sen jest o 30% płytszy i trwa średnio 20 minut krócej. Poziom wywołującej sen melatoniny również ulega obniżeniu.
Cykl menstruacyjny kobiet. Okazuje się, że cykle rządzące ludzkimi organami rozrodczymi również są ściśle powiązane z fazami Księżyca. Wyniki badań na ten temat opublikowano w magazynie naukowym the Journal Acta Obstetricia et Gynecologica Scandinavica, w którym prześledzono cykle menstruacyjne 826 kobiet w wieku od 16 do 25 lat. Wnioski naukowców po raz kolejny zaskakują. Według przeprowadzonych badań, aż 30% kobiet miesiączkuje w pełnię. Poza tym warto zwrócić uwagę na długość trwania omawianych cyklów. Wszystkie fazy Księżyca mieszczą się w ramach 29 dni, podczas gdy cykl miesiączkowy trwa 28 dni.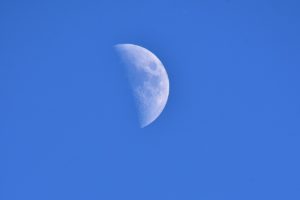 Praktyczne wykorzystanie faz Księżyca
Medycyna ludowa wypowiada się bardzo szeroko na temat związku faz Księżyca z funkcjonowaniem ludzkiego organizmu. Co prawda prawidła te w większości nie zostały potwierdzone przez współczesną naukę, niemniej ich działanie zostało niejednokrotnie potwierdzone w praktyce. Poniżej przedstawiono kilka wskazówek związanych z oddziaływaniem faz Księżyca na nasz organizm, które oparte są o naturalne oraz ludowe systemy leczenia. Wszystkie poniższe porady zostały przyporządkowane konkretnej fazie Księżyca.
Nów. Według medycyny ludowej jest to najlepszy okres na wszelkiego rodzaju aktywność. Nów daje nam energię, siłę fizyczną, a także odporność psychiczną. To właśnie podczas tej fazy Księżyca dobrze jest rozpoczynać kuracje wzmacniające. Medycyna ludowa głosi również, że w okresie nowiu bardzo dobrze goją się rany, co sprzyja przeprowadzaniu operacji. Poza tym warto zdecydować się wówczas na zabiegi kosmetyczne skupione na twarzy.
Pierwsza kwadra. Podczas pierwszej kwadry Księżyc zaczyna się powiększać. Od lat twierdzi się, iż jest to świetny moment na odżywienie organizmu. Minerały i witaminy są wówczas lepiej wchłaniane, a organizm tworzy pożyteczne zapasy energetyczne. Poza tym podczas pierwszej kwadry organizm jest skłonny do regeneracji. Warto zdecydować się wówczas na wszelkiego rodzaju zabiegi upiększające oraz odnawiające.
Pełnia. Nie jest nowością, że Księżyc w pełni silnie oddziałuje na nasz organizm. Rzecz jasna dostrzega się zarówno pozytywne, jak i negatywne wpływy omawianej fazy. Niestety pełnia niejednokrotnie skutkuje pobudzeniem, agresją i brakiem panowania nad sobą. Z tego względu warto zadbać wówczas o wyciszenie oraz wewnętrzną równowagę. Poza tym w trakcie pełni maleje krzepliwość krwi. Co więcej, okres ten sprzyja magazynowaniu wody przez nasz organizm.
Ostatnia kwadra. W tym czasie nasz organizm wycisza się w sposób naturalny. W trakcie ostatniej kwadry dużo łatwiej jest zrzucać zbędne kilogramy oraz wychodzić z chorób. Okres ten sprzyja także oczyszczaniu organizmu z toksyn. Poza tym ostatnia kwadra to odpowiedni moment na walkę z celulitem.
Podsumowanie
Naszym życiem zdrowotnym rządzi wiele niezrozumiałych mechanizmów. Co prawda wpływ faz Księżyca na funkcjonowanie ludzkiego organizmu być może nigdy nie zostanie w pełni wyjaśniony, niemniej jednak życie zgodne z naturalnymi cyklami funkcjonującymi w świecie przyrody z pewnością się opłaca! Medycyna naturalna i jej ponadczasowa mądrość jeszcze nieraz pozytywnie nas zaskoczą!