Ciemieniucha inaczej zwana jest także w niektórych kręgach ciemiączkiem. Nie powoduje bólu, ani swędzeń. Nie ma negatywnego wpływu na zdrowie dziecka. Nie prezentuje się jednak zbyt estetycznie. Wielu rodziców zastanawia się, w jaki sposób można zlikwidować ciemieniuchę. Jej struktura na główce niemowlęcia nasuwa nam na myśl pożółkłą skorupkę od jajka. Rodzice często pytają lekarzy pediatrów, czy to boli, czy wymaga pielęgnacji i czy można to jakoś usunąć. Zwykle rozpoznaje się ją przy obserwacji zrogowaciałego naskórka na głowie dziecka. Najpierw jest on biały, potem stopniowo zmienia się w pomarańczowy. Z daleka ciemieniucha może prezentować się jako pewna forma dziecięcego łupieżu, ale to zdecydowanie nie to. Zmiany ciemieniowe mogą mieć powiązanie także z brwiami u dziecka oraz noskiem. Ciemieniucha daje dla włosków dziecka charakterystyczny powidok, przez który wydaje się, że mamy do czynienia z rudowłosym maleństwem. Dziś nieco bliżej przyjrzymy się przyczynom jej powstawania.
Ciemieniucha – przyczyny powstawania
Młode i niedoświadczone mamy, po jej zauważeniu, wpadają w popłoch, bo myślą, że to przez brak dostatecznych warunków higienicznych dla dziecka. Jest to mylne stwierdzenie, ponieważ ciemieniucha nie ma zbyt wiele wspólnego ze stopniem czystości miejsca, w którym dziecko na co dzień przebywa. Badania pediatryczne wykazały, że ciemieniucha powstaje poprzez słabe wykształcenie się gruczołu łojowego. Skóra dziecięca jest przez nie bardzo mocno natłuszczona. To działanie ma genezę w matczynych hormonach. Ciemieniucha jest więc zjawiskiem w pełni naturalnym i nie powinna stanowić powodów do obaw. Dzieci a pierwszymi następstwami alergicznymi oraz dotknięte zapaleniami skóry mogą częściej i dłużej zmagać się z ciemieniuchą.
Ciemieniucha – występowanie i  objawy
Czas pojawienia się ciemieniuchy datuje się na pierwsze sześć tygodni dziecięcego istnienia. Rzadziej, ale jednak pojawić się może u dzieci nieco starszych. Pojawia się przy intensywniejszej pracy gruczołu łojowego, czyli w miesiące ciepłe, letnie. To, że znika na pewien czas, wcale nie oznacza, że nie ma prawa do nawrotu. W większości przypadków, gdy raz wyeliminujemy ciemieniuchę, nie ma prawdopodobieństwa nawrotu. Rodzice nie muszą się martwić, czy to wywołuje ból i czy sprowadza zagrożenia na dziecięcą główkę. Jedynym minusem ciemieniuchy jest to, że przez nią skóra na główce dziecka trochę trudniej oddycha. Przez to dziecko troszkę bardziej się poci na głowie. Nie wpływa na wygodę dziecka w różnych codziennych sytuacjach. Może w mniemaniu niektórych rodziców stanowić jedynie problem natury estetycznej i za taki w pierwszej kolejności ciemieniuchę się uznaje. Zdarzyć się może, że ciemieniucha ustępuje samoistnie i nie powraca. Są jednak i takie przypadki, że pod wpływem ciemieniuchy skóra głowy u dziecka staje się skorupowata i twarda. W pozbyciu się tej przypadłości pomogą specjalne środki. Wszystkie kupić możemy w aptekach lub medycznych sklepach internetowych. Preparaty mogą mieć postać olejków, maści lub kremów.
Ciemieniucha – domowe metody
 Po pierwsze, trzeba odpowiednio pielęgnować skórę głowy u dziecka.
 Główka dziecka powinna być myta codziennie.
 Po każdej kąpieli dobrze jest smarować główkę dziecka oliwką specjalną dla niemowląt. Jeśli takiej nie mamy, można zastosować oliwę z oliwek.
 Peeling dziecięcy także się sprawdzi. Przygotowujemy go na bazie połączenia wody z płatkami owsianymi i otrębami. Przygotowana maź dobrze zmiękczy naskórek na główce i pomoże go lekko zetrzeć.
 Jeśli domowe metody zawiodą lub ciemieniucha przybiera na intensywności, trzeba skonsultować się z lekarzem pediatrą. Wtedy konieczne mogą się okazać specyfiki przepisywane na receptę.
 Kremy na ciemieniuchę pomóc mogą zmniejszyć podrażnienia wywołane domowymi sposobami pozbycia się jej.
 Nie wolno podejmować prób usuwania ciemieniuchy bez nawilżenia skóry i bez zastosowania kosmetyków do skóry niemowląt. Takie rozwiązywanie sprawy powoduje ból u dziecka, ogromny dyskomfort. W takiej sytuacji do infekcji skóry jest tylko o krok!
Ciemieniucha – profilaktyka, czy się udaje?
Próbować zapobiegać ciemieniusze w żadnym wypadku nie zaszkodzi, o ile te zabiegi będą w pełni bezpieczne dla dziecka i przemyślane. Pomocna okazuje się w takich sytuacjach niezawodna oliwka. Czesanie miękką szczotką także jest dobrym rozwiązaniem. Trzeba to jednak robić bardzo delikatnie i z wyczuciem. Także wtedy, gdy główka u dziecka nie posiada nawet jednego włoska. Dziecko nie powinno się nadmiernie pocić, także temperatura wnętrza, gdzie jest jego pokoik nie powinna być przesadnie wysoka. Jeśli w pokoiku jest ciepło, można zdjąć dziecku czapeczkę. Noszenie czapeczki w ciepłych pomieszczeniach sprzyja niestety rozwojowi ciemieniuchy. Jeśli już chcemy ubrać dziecku czapeczkę, dopilnujmy, by była w miarę cienka i wykonana z przewiewnego materiału. Gdy już naoliwimy główkę dziecka po kąpieli, starajmy się nie głaskać jej zbyt często. Ciemieniucha jest miejscem niezwykle wrażliwym na dotyk. Lepiej więc nie roznosić też dodatkowych zarazków. Dbanie o czystość w sferze najbliższego otoczenia dziecka jest wartością najważniejszą.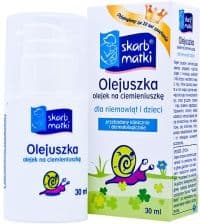 Preparaty na ciemieniuchę
Kliknij i sprawdź ceny!
Ciemieniucha – czas trwania
Jest bardzo różny, od kilku tygodni do pierwszych trzech lat życia. Większość mam po ustąpieniu ciemieniuchy oddycha z ulgą. Zawsze przy przechodzeniu przez dziecko ciemieniuchy pojawia się lęk, czy ta przypadłość kiedyś zniknie, czy też dojdzie do nieoczekiwanej zmiany i dziecko zostanie na nią skazane? Z ciemieniuchą wiąże się wiele ludowych przesądów oraz zabobonów, które z perspektywy czasu wywoływać mogą jedynie śmiech. Niegdyś ludowe przesądy mówiły, że ciemieniuchy w żaden sposób nie można się pozbywać, ponieważ zagraża to dziecku w tak dużym stopniu, że może ono oślepnąć. Doświadczenia współczesnych mam jasno pokazują, że takie zagrożenie po prostu nie istnieje.