Chyba najczęściej powtarzanym określeniem medycznym podczas każdej rozmowy dot. stanu zdrowia i badań z tym związanych jest "cholesterol". To poziom cholesterolu sprawdzamy najpierw samodzielnie na liście wyników badań laboratoryjnych. Wysoki poziom cholesterolu to zwrot przywołujący do porządku każdego pacjenta.
Cholesterol, co to jest?
Cholesterol jest naturalnym lipidem, substancją tłuszczową z grupy steroidów zaliczanych do alkoholi, odgrywającą w organizmie bardzo ważną rolę. Pochodne cholesterolu znajdują się w błonie każdej komórki. Działa on na nie stabilizująco i stymuluje wiele z ich właściwości. Cholesterol uczestniczy w produkcji hormonów, choćby płciowych oraz w syntezie kwasów żółciowych. Jednocześnie bierze udział w wytwarzaniu naturalnej witaminy D, wpływa również na wydajność pracy mózgu.
Najważniejszą informacją dla każdego pacjenta jest to, że cholesterol wytwarzany przez organizm w ilościach niezbędnych do wykonywania określonych dla niego procesów życiowych jest nieszkodliwy. Negatywne skutki z wytwarzania się cholesterolu powstają dopiero wówczas, gdy jest on produkowany przez organizm w nadmiarze. Organizm potrzebuje dokładnie tyle cholesterolu ile sam wyprodukuje.
Cholesterol można podzielić ze względu na sposób dostarczenia go organizmowi na:
cholesterol endogenny, czyli taki który organizm samodzielnie wyprodukował
cholesterol egzogenny, dostarczany organizmowi wraz z pokarmem
Cholesterol endogenny, produkowany przez organizm to 80% zapotrzebowania na tę substancję, reszty czyli cholesterolu egzogennego organizm potrzebuje już tylko w ilości 20%. Cholesterol występuje wyłącznie w produktach pochodzenia zwierzęcego, które ponadto zawierają kwasy tłuszczowe , z których wątroba będzie produkować właśnie cholesterol. To dlatego przede wszystkim ta część cholesterolu, dostarczanego wraz z pokarmem podnosi ponad normę poziom całkowitego cholesterolu w organizmie.
Według aktualnych badań, ponad 70% dorosłych mieszkańców naszego kraju ma podwyższony cholesterol. Zaburzenia poziomu gospodarki tłuszczowej, m.in. gospodarki cholesterolem, są kolejnym po dolegliwościach wynikających z nadciśnienia tętniczego powodem ryzyka wystąpienia zawału serca. A to prawie połowa przyczyn wszystkich zgonów naszych rodaków.
To dlatego należy dbać o zachowanie bezpiecznego poziomu cholesterolu we krwi. Regularne kontrolowanie ilości tej substancji w organizmie pomoże zareagować, gdy zacznie on przekraczać dopuszczalne normy. Najlepszym ze sposobów stałej pieczy nad tymi wartościami jest zbilansowana dieta i wysiłek fizyczny. 
Dobry cholesterol/zły cholesterol
Cholesterol jest tłuszczem i jak wszystkie tłuszcze nie rozpuszcza się w wodzie, krąży więc we krwi razem z innymi substancjami, tworząc wraz z białkami związki złożone o nazwie lipoproteiny. Wyglądają one jak niewielkie kuleczki tłuszczowe otoczone białkami. Każda z tych cząsteczek różni się od innego zawartością i proporcją cholesterolu w stosunku do białek. I zależnie od tego jak rozprowadzany jest cholesterol w liproproteinach dzielą się one na dwie grupy: HDL i LDL.
Liproproteiny LDL to tzw. cholesterol zły. Zawierają one cholesterol o niewielkiej gęstości, a białkowa otoczka jest delikatna i cienka. Dlatego te właśnie złe liproproteiny z cholesterolem łatwo przenikają do obiegu krwi i w ten sposób wpływają na rozwój chorób związanych z miażdżycą.
Liproproteiny HDL to tzw. dobry cholesterol. Zawierają one mniej cholesterolu niż LDL i więcej białka, a sam cholesterol posiada wyższą gęstość. Liproproteiny HDL również przedostają się do krwiobiegu, do ścianek tętnic, ale nie będą się w nich odkładać. Co więcej potrafią one absorbować zalegający już w tętnicach cholesterol i przetransportować go z powrotem do wątroby. W wątrobie transportowany w ten sposób cholesterol powtórnie łączy się z białkami i tworzy razem z nimi kolejne lipoproteiny. Część tegoż cholesterolu przerabiana jest jednak na kwasy żółciowe i wydalana z organizmu. Dobry cholesterol HDL wpływa więc na zmniejszenie ilości i obniżenie stężenia cholesterolu złego LDL. Czyli im więcej dobrego cholesterolu znajduje się w krwiobiegu tym mniejsze prawdopodobieństwo zachorowania na choroby związane z miażdżycą.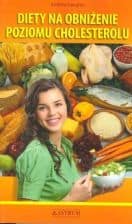 Cholesterol – poradniki i książki
Kliknij tutaj i sprawdź ceny!
Wysoki poziom cholesterolu
Wysoki poziom cholesterolu może być całkowicie niewidoczny, a zwłaszcza wtedy, gdy  poziom cholesterolu jest dziedziczony. Wysoki poziom cholesterolu zwany hipercholesterolemią dotyczy nawet 75% pacjentów i często objawia się:
żółtymi podskórnymi guzkami ulokowanym przy powiekach, łokciach, kostkach i pośladkach
brakiem energii
zawrotami głowy
bólem nóg
Mimo, że system obronny organizmu działa poprzez wydalanie złego cholesterolu na zewnątrz , jego część odkłada się systematycznie w wewnętrznych ściankach naczyń krwionośnych. Złogi te mają kształt blaszek miażdżycowych. Tętnice robią się kruche, mniej elastyczne i ulegają zwężeniu, utrudniając w ten sposób transport krwi do komórek. W wyniku tych trudności do komórek dociera mniej tlenu oraz składników odżywczych wędrujących razem z krwią. Pojawia się choroba wieńcowa, czyli niedokrwienna, zmianom ulega również wydolność mózgu. Gdy proces narastania blaszek miażdżycowych nie zostanie zatrzymany, albo spowolniony, istnieje duże prawdopodobieństwo, że taka blaszka miażdżycowa zamknie naczynie w sercu, wówczas dochodzi do zawału. Gdy nastąpi niedrożność którejś z tętnic transportujących krew do mózgu może dojść do udaru mózgu. W skrajnych przypadkach, czyli wówczas, gdy naczynie transportujące krew do mózgu pęknie, dochodzi do krwotocznego udaru mózgu, czyli wylewu.
Zmiany nazywane miażdżycowymi dotyczą całego organizmu ponieważ wpływają na kondycję całego ciała. Mogą objawiać się:
niedokrwieniem nóg
uszkodzeniami siatkówki oka
niewydolnością nerek
Wszystkie te objawy mogą świadczyć o zaistnieniu u podstaw przyczyny, którą jest wysoki poziom złego cholesterolu we krwi. To dlatego należy systematycznie sprawdzać wartości dla dobrego i złego cholesterolu.