Awokado (smaczliwka, gruszka aligatora) jest owocem o gruszkowatym kształcie. W zależności od odmiany jest bardziej podłużne lub okrągłe. Ma grubą skórkę i kremowy, zielony miąższ, wewnątrz którego znajduje się sporych rozmiarów pestka. Awokadouprawia się głównie w Ameryce Północnej, ale również w Afryce, Azji i na południu Europy. Już od wielu lat było cenione za swoje lecznicze właściwości i wykorzystywane na przykład przy leczeniu cukrzycy, nadciśnienia, zaburzeń układu pokarmowego. Wykorzystywano do tego nie tylko miąższ awokado, ale również sproszkowaną pestkę oraz skórkę tego owocu. W Polsceawokado stało się bardzo popularne już kilkanaście lat temu, cenione za swoje wartości odżywcze, smak i różnorodność zastosowań.
Awokado – wartości odżywcze
Awokado ma najwyższą zawartość tłuszczu spośród wszystkich owoców – zawiera go aż około 15%. Warto jednak zaznaczyć, że większość z tego stanowią kwasy tłuszczowe nienasycone, zwłaszcza jednonienasycone kwasy tłuszczowe (omega-9), które wywierają korzystny wpływ na organizm człowieka, dlatego też nie trzeba bać się awokado. Witaminy, jakie zawiera ten owoc, to głównie witamina C, witamina A, witamina E, witaminy z grupy B oraz kwas foliowy. Awokado jest również bogatym źródłem wapnia, fosforu, magnezu, potasu, żelaza, miedzi, cynku, manganu oraz luteiny. A ile kalorii ma awokado? Szacuje się, że w 100 gramach owoców zawarte jest 169 kcal, co czyni awokado najbardziej kalorycznym owocem.
Awokado – korzyści dla zdrowia i urody
Udowodniono, że spożywanie owocu awokado niesie za sobą szereg dobroczynnych dla naszego zdrowia i urody właściwości. Uważa się, że awokado:
obniża ilość tak zwanego "złego" cholesterolu LDL, a jednocześnie podnosi poziom "dobrego" cholesterolu HDL,
jest pomocne przy wszelkich dietach odchudzających, ponieważ dostarcza zdrowych, potrzebnych tłuszczów do organizmu i tym samym hamuje apetyt na tłuste, niekoniecznie zdrowe potrawy,
zwiększa uczucie sytości,
chroni przed nowotworami, na przykład jamy ustnej, dzięki temu, że zawiera sporo przeciwutleniaczy niszczących wolne rodniki,
zwiększa przyswajalność witamin zawartych w innych warzywach i owocach, np. witaminy A w marchwi,
działa przeciwzapalnie,
wspomaga leczenie reumatyzmu i artretyzmu,
pozytywnie wpływa na układ nerwowy i funkcjonowanie mózgu, wzmacnia pamięć i koncentrację,
zapobiega rozwojowi choroby Alzheimera, 
chroni przed chorobami serca oraz chorobami układu sercowo-naczyniowego,
zmniejsza ciśnienie krwi, dlatego jest polecane dla osób z nadciśnieniem,
reguluje pracę układu trawiennego, zapobiega zaparciom i wzdęciom,
pozytywnie wpływa na wygląd i jędrność skóry,
dzięki zawartości kwasu foliowego przeciwdziała wadom rozwojowym płodu u kobiet w ciąży,
korzystnie wpływa na wzrok, ponieważ zawiera luteinę i zeaksantynę,
hamuje procesy starzenia się organizmu – ma działanie odmładzające.
To oczywiście nie wszystkie właściwości, awokado jest wykorzystywane również w kosmetyce, na przykład olejek z awokado świetnie nawilża włosy oraz działa przeciwstawnio na skórę twarzy, a maseczka przyrządzona z dojrzałego awokado odżywi i nawilży skórę.
Jak obrać awokado?
Kiedy ktoś pierwszy raz kupuje owoc awokado, najczęściej zastanawia się, w jaki sposób najlepiej je obrać. Dojrzałe awokadonajlepiej jest przekroić nożem wzdłuż na dwie części, chwycić w dłonie obie połówki i przekręcić w przeciwnych kierunkach. W ten sposób łatwo będzie oddzielić pestkę od miąższu. Każdą połówkę przekroić ponownie wzdłuż na pół, chwycić delikatnie za końcówkę skórki i wypchnąć palcami miąższ. Otrzyma się wówczas cztery cząstki awokado, bez pestki i łupiny.
Jak jeść awokado?
Okazuje się, że pomysłów na to, co można zrobić z awokado, jest wiele. W Polsce dużą popularnością cieszą się sałatki z awokado. Dodatek pokrojonego w kostkę owocu sprawia, że sałatka jest bardziej syta i pożywna. Warto przed dodaniem do sałatki skropić owoc sokiem z cytryny, aby nie ściemniał. Popularna jest również pasta z awokado (guacamole), która może być używana jako pasta do kanapek lub dip do przekąsek. W diecie wegetariańskiej stosuje się również masło z awokado – jego przyrządzenie tak naprawdę polega na rozgnieceniu owocu widelcem i dokładnym wymieszaniu. Doskonale smakuje również zapiekane awokado, na przykład z jajkiem. Dodatek awokado do lodów i koktajli sprawia natomiast, że nabierają one gęstej, kremowej konsystencji i podnosi się ich wartość odżywcza. Można jeść również awokado na surowo – oprószone solą i pieprzem oraz skropione sokiem z cytryny, pokrojone w cząstki, może być doskonałą przekąską.
Bardzo ważne jest, aby spożywać dojrzałe awokado. Jeśli jednak zdarzy się nam kupić niedojrzałe awokado, które niestety jest mniej smaczne, twarde i trudniej je obrać, można je włożyć do papierowej torebki i umieścić na kilka dni w suchym, ciemnym miejscu. Aby sprawdzić dojrzałość awokado, wystarczy nacisnąć na skórkę palcami – powinna lekko się ugiąć. Dojrzałe awokado warto przechowywać w lodówce, wtedy dłużej zachowa świeżość.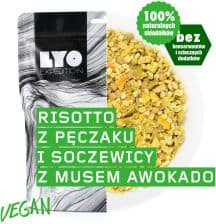 Produkty z awokado
Kliknij i sprawdź ceny!
Awokado zapiekane z jajkiem – przepis na 4 porcje
Składniki:
2 dojrzałe owoce awokado
4 jajka
sól, pieprz
łyżka masła
opcjonalnie świeże zioła, szczypiorek, natka pietruszki, tarty parmezan
Przygotowanie:
Owoce awokado przekroić wzdłuż na pół i przekręcić, aby rozdzielić owoce na połówki. Usunąć delikatnie pestkę z części, w których pozostała, uważając, aby nie uszkodzić miąższu. Do każdego zagłębienia po pestce delikatnie wpić jajko, doprawić solą i pieprzem. Owoc można jeszcze delikatnie posmarować masłem. Tak przygotowane połówki awokado umieścić na blaszce lub w naczyniu żaroodpornym i wstawić do piekarnika nagrzanego do 200 oC. Piec prze zokoło 15 minut, do ścięcia się białka i lekkiego ścięcia żółtka.
Oprócz soli i pieprzu można użyć również ulubionych ziół, a całe danie posypać świeżym szczypiorkiem, natką pietruszki lub startym parmezanem. Zapiekane awokado sprawdzi się dobrze nie tylko na śniadanie lub kolację, ale również jako ciepła przekąska na wszelkiego rodzaju spotkania ze znajomymi. Przygotowanie nie jest trudne ani czasochłonne, a goście na pewno będą pozytywnie zaskoczeni.