Anyż gwiaździsty to jednak z najpopularniejszych przypraw, która gości na naszych stołach dosyć często jako dodatek do wielu potraw, jednak z uwagi na dosyć specyficzny smak i aromat, nie wszyscy za nim przepadają. Przyprawa z uwagi na swoje liczne właściwości znalazła zastosowanie nie tylko w kuchni, ale również w tradycyjnej medycynie naturalnej jako środek walczący z problemami przejedzenia.
Jakie jeszcze inne cenne dla naszego zdrowia właściwości lecznicze płyną ze spożycia anyżu i w jaki sposób przyprawę można wykorzystać w kuchni?
Czym jest anyż?
Anyż to dosyć niewielka wiecznie zielona roślina, osiągająca wysokość co najwyżej 50 cm. Pomimo tego, iż pochodzi z rejonów Morza Śródziemnego, to uprawiany jest obecnie w wielu krajach nie tylko europejskich, ale również w Azji i Ameryce.
Zarówno w medycynie, jak i w przemyśle kulinarnym wykorzystuje się owoce anyżu, które swoim smakiem i aromatem zbliżone są do innej dosyć popularnej potrawy, a mianowicie kminku.
Anyż w walce z problemami żołądkowymi
Anyż nie powinien zabraknąć w codziennym menu wszystkich tych osób, które dosyć często odczuwają bardzo nieprzyjemne skutki przejedzenia.
W jaki jednak sposób oddziałuje on na nasz organizm? Przyprawa wykazuje działanie rozkurczowe oraz wiatropędne a oprócz tego pobudza wydzielanie soków żołądkowych, dlatego też przy jego pomocy można pozbyć się uporczywych wzdęć oraz niestrawności.
Anyż na kaszel
Z pewnością niewiele osób o tym wie, ale anyż to przyprawa, która może okazać się bardzo przydatna podczas problemów z układem oddechowym (np. w trakcie przeziębienia lub grypy) a w szczególności podczas kaszlu. Dzięki cennym substancjom anyż wykazuje działanie wykrztuśne, ponieważ wspomaga wydzielanie śluzu.
Relaksująca moc anyżu
Dosyć ciekawym zastosowaniem anyżu może być przygotowanie z niego leczniczej kąpieli, która po ciężkim dniu spędzonym w pracy (lub po uprawianiu aktywności fizycznej) pomoże się w odpowiedni sposób zrelaksować oraz choć na chwilę zapomnieć o codziennej rzeczywistości.
Podczas przygotowywania takiej kąpieli można oczywiście dodać do niej kilka ziarenek anyżu, jednak zdecydowanie lepiej sprawdzi się olejek anyżowy, który wykazuje szereg cennych właściwości leczniczych. Po pierwsze pomaga zregenerować mięśnie po intensywnym wysiłku fizycznym, po drugie łagodzi silny ból brzucha pojawiający się podczas miesiączki, natomiast po trzecie pomaga poprawić krążenie krwi, dlatego też ciepła kąpiel z odrobiną wspomnianego olejku polecana jest w szczególności zmarzluchom.
Anyż na problemy skórne
Z kolejnej właściwości anyżu skorzystają z pewnością wszystkie te osoby, które zmagają się z różnego rodzaju problemami skórnymi. Z uwagi na właściwości antybakteryjne anyż, a raczej lecznicze wyciągi z tej przyprawy oddziałują bardzo korzystnie na skórę tłustą, mieszaną i trądzikową, ponieważ zmniejszają wydzielanie sebum odpowiedzialnego za pojawianie się na skórze wyprysków oraz krostek.
Warto również wiedzieć o tym, iż wyciąg z anyżu zastosowany zewnętrznie pomaga odpędzić komary, walcząc również w bardzo skuteczny sposób z wszami oraz pchłami.
Pozostałe właściwości anyżu
Anyż może być stosowany zarówno wewnętrznie, jak i zewnętrznie, walcząc z wieloma różnymi problemami zdrowotnymi.
Swoje cenne właściwości zawdzięcza on wielu bardzo ważnym substancjom, wśród których można wymienić w szczególności flawonoidy, sterole, cholinę, tłuszcze oraz węglowodany.
Jeśli chodzi natomiast o pozostałe właściwości nasion oraz olejku anyżowego to można wśród nich wymienić:
właściwości przeciwzapalne,
skuteczną walkę z bólem gardła,
ogólne wzmocnienie organizmu,
korzystny wpływ na mózg poprzez poprawę pamięci,
możliwość pobudzenia laktacji u karmiących matek, które mają z tym

problem
Zastosowanie anyżu w kuchni
Anyż na szeroką skalę stosowany jest w szczególności w kuchni azjatyckiej, jednak sprawdza się również idealnie jako dodatek do tradycyjnej polskiej kuchni.
Przyprawę obecnie wykorzystuje się najczęściej podczas przygotowywania świątecznych wypieków, wyrobów alkoholowych oraz jako dodatek do dań mięsnych, oraz warzywnych. Z uwagi na fakt, iż anyż ma dosyć silny aromat, to nie należy przesadzać z jego ilością, ponieważ może w ten sposób zdominować potrawę. Jeśli chodzi o pozostałe zastosowania anyżu, to zarówno w całości, jak i w zmielonej postaci można dodawać go do kompotów oraz zup owocowych, dzięki czemu zapobiegnie on problemom trawiennym.
Dosyć ciekawym wykorzystaniem anyżu może być również dodanie odrobiny przyprawy do kawy, która dzięki temu zyska zupełnie innego charakteru. Anyż razem z cynamonem, goździkami, pieprzem seczuańskim oraz koprem włoskim wchodzi w skład bardzo popularnej chińskiej przyprawy nazywanej przyprawą pięciu smaków. Taką mieszankę można obecnie bez problemu zakupić w każdym sklepie, jednak warto przygotować ją również w domowym zaciszu, mieszając ze sobą wszystkie potrzebne składniki.
Czy są jakieś przeciwwskazania do spożycia anyżu?
Jeśli anyż spożywany jest w niewielkich ilościach, to nie należy się niczego obawiać, jednak warto wiedzieć o tym, iż przyprawę można w bardzo łatwy sposób nadużyć. W takim przypadku może dojść do pojawienia się reakcji alergicznej, które najczęściej objawia się wysypką.
Na przyprawę powinny w szczególności uważać kobiety w ciąży oraz matki karmiące piersią, a także osoby, które od dłuższego czasu zmagają się z bardzo poważnymi chorobami układu pokarmowego.
Z uwagi na fakt, iż anyż wykazuje właściwości rozszerzające naczynia włosowate, to przy nadmiernym spożyciu przyprawy można spodziewać się takich objawów jak uszkodzenie nerek oraz drgawki. Z tego też względu podczas przygotowywania codziennych potraw anyż najlepiej stosować w niewielkich ilościach.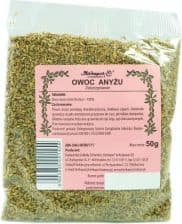 Lecznicza nalewka z anyżu
Składniki:
20 g anyżu gwiaździstego,
3 łyżki miodu naturalnego,
po 1 szklance spirytusu i wódki
Sposób przygotowania:
Do wysokiej butelki lub słoika należy wsypać anyż, zalewając go szklanka spirytusu i odstawiając w ciemne miejsce na około 2 tygodnie. Po upływie tego czasu płyn należy zlać, zalewając przyprawę wódką. Butelkę ponownie należy odstawić na dwa tygodnie w ciemne miejsce. Po upływie kolejnych 14 dni nalewkę należy ponownie zlać, mieszając ją z przygotowaną wcześniej nalewką ze spirytusu.
Tak przygotowaną nalewkę należy następnie dosłodzić miodem, przelać do małej butelki i szczelnie dokręcić. Jeśli w nalewce znajdują się jakieś pozostałości po przyprawie, to można przelać ją przez gazę lub sitko, dzięki czemu stanie się ona krystalicznie czysta.
W jakich jednak sytuacjach można sięgnąć po nalewkę z anyżu? Z pewnością sprawdzi się ona idealnie jako środek wykrztuśny przy mokrym kaszlu, a także przy bardzo silnym bólu brzucha. Jak jednak należy ją stosować? Najlepiej 3 razy dziennie w ilości około 20 kropli.