Amstafy, w zasadzie amerykańskie staffordshire terriery uważane są za psy jednej z najbardziej niebezpiecznych i agresywnych ras. Często podawane są jako przykład psa morderczego i najlepszego do nielegalnych walk. A tymczasem jest to po prostu masywny pies domowy, wystawowy i towarzyski. Jednak rasa ta nie jest wolna od wad, ponieważ powstała na bazie połączenia i ewolucji kilku ras. Niestety to może powodować problemy zdrowotne. Ale większość obecnych ras psów to hybrydy, dlatego warto dowiedzieć się o amstafach więcej zanim podejmie się decyzję o zakupie psa tej rasy. Czy wszystkie opinie mówiące o tym, że jest to pies niebezpieczny są prawdziwe?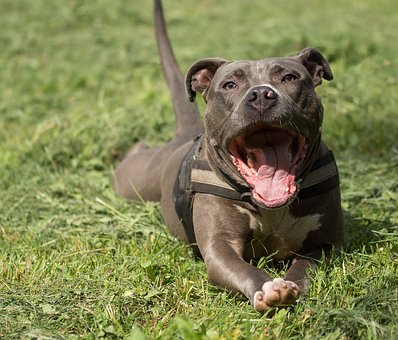 Jak narodził się amstaf?
Amstafy są jedną z młodszych ras. W Wielkiej Brytanii w XIX wieku bardzo często krzyżowano psy rasy buldog z psami rasy terrier w celu uzyskania idealnej rasy przeznaczonej do walki. Między innymi tak powstała rasa bitbull. Na szczęście bardzo szybko zakazano walk psów zarówno w Wielkiej Brytanii jak i w USA. Zatem potrzebna była nowa rasa psów – mniej agresywna. I tak powstały nowe krzyżówki.
Pierwsze psy rasy Staffordshire Terrier zostały wyhodowane jeszcze w XIX. wieku w Birmingham. Jednak na ilustracjach przedstawiających te psy zachowanych z 1870 roku widać większe podobieństwo do buldoga niż terriera. W tym samym roku psy te wywieziono też do Stanów Zjednoczonych, gdzie nazwane zostały Pit Dog, American Bull Terier czy Yankee Terrier. W 1936 roku rasa została zarejestrowana w American Kennel Club pod nazwą Staffordshire Terrier, a w roku 1969 zmieniono jej nazwę na American Staffordshire Terrier, ponieważ w wyniku krzyżówek rasy dokonywanych już w Stanach Zjednoczonych wyhodowano większego molosa, mniej przypominającego z wyglądu buldoga niż Staffordshire Terrier, dlatego konieczne było wprowadzenie nie tylko nowego nazewnictwa, ale całkiem nowej rasy. Od nazwy American Staffordshire Terrier wziął się skrót amstaf lub amstaff. Wszystkie trzy nazwy używane są powszechnie.
Do Polski pierwsze amstafy trafiły dopiero w latach 90. ubiegłego wieku, więc można przyznać, że są u nas rasą młodą i nową. Niestety panuje też błędne przekonanie, że psy te są bardzo agresywne i nie nadają się do hodowli domowej czy nawet przebywania blisko dzieci. Dlatego nie są aż tak chętnie kupowane jak choćby owczarki niemieckie czy inne odmiany terriera. Warto jednak wiedzieć, że w przeciwieństwie do American Pit Bull Terrier na amstafa nie trzeba mieć zezwolenie do trzymania go w domu.
Amstaf – charakter i zachowanie
Każdy pies niezależnie od rasy od jakiej się wywodzi może być łagodny albo agresywny. Nawet urocze i małe buldożki francuskie mogą dać popalić swoim właścicielom, a wiele osób obserwuje, że ich pit bulle są łagodne i leniwe. Jednak American Staffordshire Terrier jest psem bardzo energicznym, dynamiczny i odważnym, dlatego potrzebuje dużo ruchu. Bardzo chętnie wychodzi na spacery i biega wolno, ale może wdawać się w bójki z innymi psami, jeśli od szczenięcia nie będzie nauczony przyjaznych kontaktów z innymi psami. Amstafy są bardzo towarzyskie i potrzebują bliskości z właścicielem. Nie tylko po to, aby być mu posłuszne, ale dlatego, że są to psy bardzo przyjacielskie i serdeczne, które potrzebują uwagi.
Amstafy są z reguły zrównoważone i cierpliwe, zwłaszcza do dzieci. Chętnie się z nimi bawią i opiekują. Bardzo silnie przywiązują się do właścicieli i to może sprawiać problem, ponieważ będą bronić właściciela i swoją rodzinę przed obcymi. Dlatego też należy zwrócić szczególną uwagę na oswajanie psa na przykład z przychodzącymi do domu gośćmi, aby zachowywał się nieufnie, ale nie reagował agresywnie, gdy ktokolwiek, zwłaszcza o dobrych zamiar będzie chciał wejść na posesję. Po prostu ta rasa psa w genach ma zakodowany instynkt obronny, zwłaszcza do właścicieli i dzieci. Z jednej strony są dobrymi opiekunami i przyjaciółmi domowników, a z drugiej strony mogą być nadopiekuńcze. Dlatego tak ważne jest odpowiednie szkolenie i wyznaczanie psu granic od małego.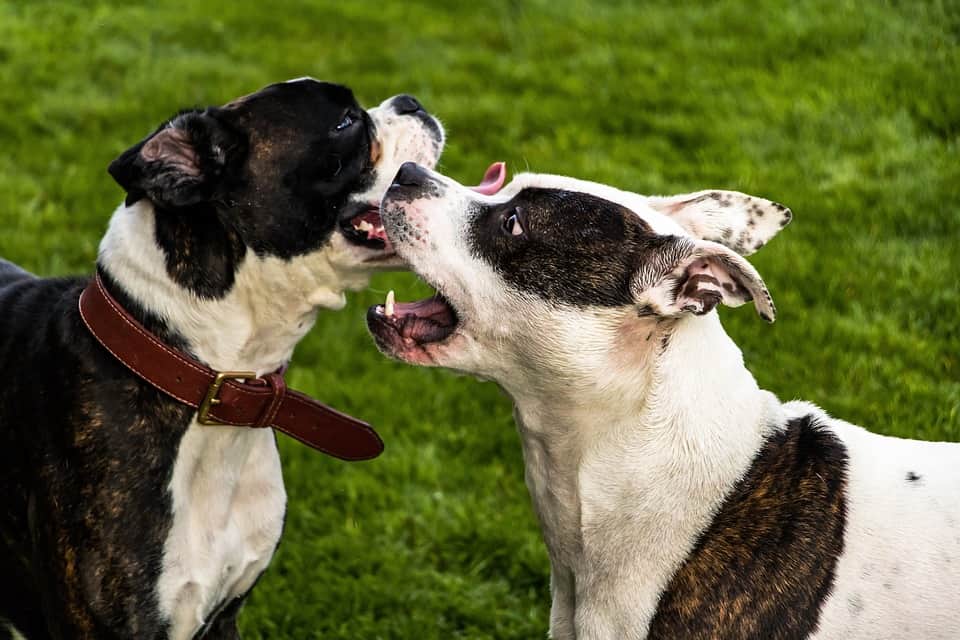 Szkolenie amstafa
Szkolenie amstafa powinno się zacząć u kilkumiesięcznego psa. Źle prowadzony amstaf, najczęściej bez odpowiedniego szkolenia może stać się uparty, dominujący i agresywny. Dlatego decydując się na tę rasę psa trzeba z nim udać się na szkolenie i konsekwentnie wychowywać psa. Amstafy lubią wysiłek fizyczny, więc potrzebują dużo ruchu, aby czuć się dobrze, ale też podczas zabawy rozładowują energię. Bardzo ważne jest zapoznawanie szczeniaka z innymi psami, zwierzętami czy odgłosami od małego, aby nie bał się ich, ale też nie reagował agresywnie.
Niestety zapoznawanie amstafa z innymi psami może być trudne, gdyż większość osób błędnie myśli, że ten pies będzie chciał zaatakować ich psa. A tymczasem młody amstaf będzie chciał się tylko zapoznać. Dlatego właściciel amstafa musi być nie tylko odpowiedzialnym rodzicem dla swojego psa, ale też dobrym negocjatorem, aby inni właściciele psów pozwalali swoim psom zapoznać się z milusińskim amstafem. Dzięki temu pies dobrze się socjalizuje i w przyszłości można uniknąć jego porywczych zachowań względem innych psów.
Amstafy trzeba prowadzić silną i pewną ręką. Najważniejsza w szkoleniu jest konsekwencja. Psy te są inteligentne i podatne na szkolenie, oraz szybko zapamiętują komendy. Jeśli od małego są zapoznawane z innymi zwierzętami to pozostaną do nich przyjazne, ale warto wiedzieć, że samce mogą mieć problem z zaakceptowaniem innego samca albo dominującego psa. Dlatego, jeśli posiadamy już psa w domu, zwłaszcza samca należy bardzo dobrze zastanowić się czy podołamy szkoleniu i układaniu amstafa.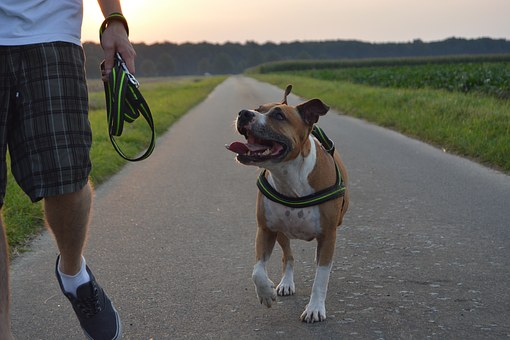 Predyspozycje do chorób
Co prawda amstafy są dość odporne na różne choroby, a mimo tego, że rasa to powstała sztucznie także dość rzadko występują u nich choroby genetyczne, ale niestety nie są to psy w stu procentach odporne na zachorowania wszelakie. American Staffordshire Terrier to pies zaliczany do molosów, a zatem ze względu na szybki wzrost i masywną posturę może u nich dochodzić do dysplazji stawów biodrowych, czasem do dysplazji stawów łokciowych. Niestety dysplazja stawów biodrowych może być spowodowana licznymi nadwichnięciami i stanami zapalnymi, które są częste, ponieważ te psy wręcz wyrywają się do aktywności fizycznej. Pierwsze objawy dysplazji mogą pojawić się już u 6-12 miesięcznego szczeniaka, chociaż zwykle dysplazja objawia się u kilkuletnich psów.
Leczenie dysplazji jest niełatwe, ale coraz częściej jest ona operowana i wymieniane są kości czy panewki biodrowe u młodych psów. U kilkunastoletnich amstafów zwykle zapobiega się nadmiernym ruchom obciążającym stawy, podaje zastrzyki sterydowe oraz suplementy diety, które mają odbudowywać i ochraniać staw, a także leki przeciwbólowe.
Kolejne kontuzje jakich często nabawiają się amstafy to uszkodzenia więzadeł krzyżowych w stawie kolanowym. Może to prowadzić do kulawizny, ale częsta kontuzja może być przyczyną późniejszych zmian zwyrodnieniowych stawu.
Amstafy z racji tego, że są dobrze umięśnione i z tym mogą mieć problem. U szczeniaków może się rozwinąć tzw. wrodzone napięcie mięśni z powodu zaburzenia elektrolitowego. Jeśli objawy pojawiają się u dorosłych psów to klasyfikowane są jako choroba o nazwie miotonia. Niestety jest to schorzenie nieuleczalny i leczy się je objawowo, co umożliwia normalne funkcjonowanie psa na co dzień.
Pielęgnacja i odżywianie
Amstafy nie są wymagające, jeśli chodzi o pielęgnacje sierści. Ale mimo, że jest to sierść krótka i tak trzeba ją wyczesywać co 3-4 dni. Szacuje się, że psy powinno się kąpać 2-3 razy do roku, ale w zasadzie można to robić wedle potrzeby. Jednak należy kupić specjalny szampon i odżywkę do sierści przeznaczone do tej rasy psa. Regularnie trzeba też czyścić oczy przecierając je delikatnie mokrym wacikiem przez co oczyści się kanaliki łzowe. Amstafy powinny same ścierać pazury podczas zabawy, spacerów itd. ale jeśli są one za długie można je obciąć samemu lub u weterynarza.
Psy też spalają dużo kalorii i są bardzo aktywne fizycznie, dlatego dieta amstafa musi być obfita w mięso zarówno czerwone jak i białe, a nawet ryby. Także warzywa, owoce czy nabiał są wskazane w ich diecie. Oprócz dbania o jakość i kaloryczność posiłków ważne jest też podawanie witamin i minerałów.