Zapalenie zatok często pojawia się po przeziębieniach, dlatego większość z nas myli je ze zwykłym katarem. Dopiero gdy pojawia się ból, a objawy wzmagają się rano i przy pochylaniu, wiadome jest, że to coś więcej. Leczenie jest najbardziej skuteczne, gdy zaczynamy je na samym początku choroby, dlatego tak ważne jest rozróżnianie choroby zatok od kataru.
Objawy zapalenia zatok
Warto wiedzieć, że są różne zatoki przynosowe, a te, które najczęściej dotyka zapalenie to zatoki sitowe, szczękowe i czołowe. Od miejsca zapalenia, zależą dolegliwości. Ból czoła oznacza infekcję zatok czołowych, a ból zębów, górnej szczęki i bolesność uciskowa policzków wskazuje na zapalenie zatok szczękowych. Choroba zatok sitowych objawia się obrzękiem powiek, zatkanym nosem i utratą powonienia. Niezależnie od położenia zatok, ból nasila się rano i przy pochylaniu głowy. Przeważnie występuje wydzielina z nosa: gęsta i ropna oznacza, że zapalenie jest wywołane przez bakterie, a przezroczysta i wodnista wskazuje na wirusowe podłoże infekcji. Innymi objawami jest gorączka, brak apetytu, osłabienie i złe samopoczucie. Wydzielina, która spływa po tylnej ścianie gardła, może wywoływać kaszel.
Domowe sposoby na zatoki
Leczenia chorych zatok wcale nie trzeba zaczynać wizytą u lekarza. Działania, które możemy sami podjąć w domu, są równie skuteczne, co leki. Co więcej, naturalne składniki są tańsze i mają lepszy wpływ na nasz organizm. Oto domowe sposoby na zatoki:
1. Inhalacje
Inhalacje, które polegają na wdychaniu pary wodnej z dodatkiem substancji o określonym działaniu. Jedyne co musisz zrobić to pochylić się nad miską z parującą wodą, nakryć głowę ręcznikiem (tak, aby para nie ulatywała) i wdychać opary. Jeżeli dokucza ci katar, do jednego litra wrzątku dodaj 50 g zioła, które ma działanie rozkurczowe, jak szałwia, tymianek, rumianek, skrzyp polny, czy szałwia. Dodanie olejków eterycznych, m.in. kamforowego, eukaliptusowego lub lawendowego zdecydowanie zwiększy działanie inhalacji. Na ból u nasady nosa zadziała inhalacja z dodatkiem soli. Do dwóch litrów wrzącej wody należy wsypać od czterech do sześciu łyżek soli morskiej lub kuchennej. Cały zabieg powinien trwać dziesięć minut. Pamiętaj, aby zamknąć oczy i nie nachylać się zbyt mocno nad miską, gdyż może to skutkować oparzeniami. Inhalacje przynoszą efekty, gdy są wykonywane codziennie przez tydzień, jednak nie poleca się ich osobom o cerze naczynkowej.
2. Nalewki na bazie kwiatów dziewanny i czosnku
Nalewka na bazie kwiatów dziewanny i czosnku. Do słoika należy wsypać garść suszonych kwiatów dziewanny oraz dziesięć rozdrobnionych ząbków czosnku. Całość trzeba zalać szklanką spirytusu, słoik zakręcić i odstawić w chłodne miejsce, bez dostępu do światła. Po dwóch lub trzech tygodniach zawartość naczynia należy przecedzić z użyciem gazy, przelać do butelek i pozostawić na pięć miesięcy. Tak sporządzona nalewka, pita trzy razy dziennie, nie tylko leczy zapalenie zatok, ale również regeneruje błonę śluzową górnych dróg oddechowych.
3. Mocne przyprawy
Mocne przyprawy udrażniają zapchany nos. Należą do nich m.in. kminek, czosnek czy cebula. W ten sam sposób działa również herbata z dodatkiem imbiru lub cynamonu. Oprócz tego jest rozgrzewająca. Pomoże również wdychanie startego chrzanu.
4. Kompresy z różną zawartością
Ciepłe kompresy z gorczycy, przykładane kilka razy dziennie do czoła i policzków, rozrzedzają wydzielinę, która zalega w nosie. Aby je przygotować, do lnianego woreczka należy wsypać pięć garści gorczycy i podgrzać go na patelni lub w piekarniku. Na bolące zatoki działają również kompresy z soli. W płócienną ściereczkę trzeba zawinąć kilka garści soli jodowo-bromowej (dostępna w aptekach) wcześniej podgrzanej na patelni i przyłożyć w okolice zatok. Jod i brom przyspieszają leczenie i udrażnianie nosa. Innym rodzajem kompresów działających na zatoki są te, które zawierają groch. Do lnianego woreczka (można go zastąpić bawełnianą skarpetką) należy wsypać kilka łyżek grochu i podgrzać w piekarniku nagrzanym do 60 °C. Można dodać trochę soli leczniczej. Po zastosowaniu rozgrzewających okładów nie wychodź na zimne powietrze.
5. Irygacje
Za pomocą irygatora lub gumowego wlewnika należy wprowadzić do nosa płyn, może to być zwykła woda destylowana, woda morska, sól fizjologiczna lub gotowe roztwory, które można znaleźć w aptece. W trakcie zabiegu głowę należy przechylić w bok pod kątem 45°, dzięki czemu substancja wprowadzona jest do górnego przewodu nosowego. Irygacja pozwala na przepłukanie kanałów nosowych, co likwiduje bakterie, alergeny i zalegającą wydzielinę. Nawilża śluzówki i ułatwia oddychanie.
6. Maści rozgrzewające
W aptekach można znaleźć wiele rodzajów takich maści, najlepsze są jednak eukaliptusowe, kamforowe, jałowcowe i rozmarynowe. Niewielką ilość specyfiku należy wetrzeć w okolice zatok (czoło i skroń). Dla polepszenia działania, głowę można obwiązać ciepłą opaską. Jeżeli masz wrażliwą cerę, nie stosuj maści rozgrzewających, gdyż mogą powodować pieczenie skóry.
7. Leki bez recepty
Podczas chorób zatok można stosować ibuprofen i paracetamol, które zmniejszają ból i nasilenie objawów. Warto zakupić spreje lub krople do nosa, które dodatkową udrożnią zatoki. Aby zwiększyć odporność, należy przyjmować witaminę C.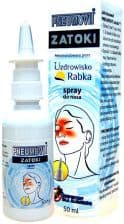 Spray na zatoki
Kliknij TUTAJ!
8. Inne metody
Należy przede wszystkim dużo odpoczywać, ponieważ nasz organizm jest osłabiony w czasie choroby. Pozostanie w domu w czasie infekcji zmniejsza ryzyko napotkania większej ilości drobnoustrojów chorobotwórczych. Trzeba spożywać dużą ilość płynów, zwłaszcza wody, gdyż rozrzedza ona wydzielinę. Pomoże również spanie z uniesioną głową. W ten sposób wydzielina nie zalega, lecz w wyniku grawitacji odpływa z zatok. Warto też zainwestować w nawilżacz powietrza. Zwłaszcza zimą należy zadbać o poprawną wilgotność powietrza.
Podsumowanie
Choroby zatok są uciążliwe, objawiają się głównie bólem zatok i katarem. Przy wystąpieniu pierwszych objawów, skuteczne są domowe sposoby na zatoki. Wizyta u lekarza jest konieczna, dopiero gdy objawy się nasilają lub utrzymują dłużej niż kilka dni. Możemy sobie sami poradzić w domu, używając naturalnych składników, które oprócz leczenia zatok mają inne pozytywne właściwości (zioła, które wykorzystujemy, zwiększają odporność i poprawiają pracę narządów oraz nasze samopoczucie). Co więcej, są one o wiele tańsze niż leki przypisane przez specjalistę, co pozwala na zaoszczędzenie pieniędzy.