Zatkane zatoki to bardzo przykra dolegliwość, utrudniająca codzienne życie. Zatkane zatoki objawiają się bólem głowy, trudnościami w oddychaniu oraz uczuciem rozpierania. Nie muszą być one objawem choroby, jednak jeśli trwają przez długi czas, mogą być powodem zakażenia. Często zatkane zatoki występują zaraz po przeziębieniu, jednak jeśli ich objawy stają się silne i długotrwałe, mogło dojść do zapalenia zatok. Zatoki u zdrowej osoby są wypełnione powietrzem, jednak jeśli zostaną one zablokowane i wypełnią się wydzieliną, jest to doskonałe środowisko dla zarazków, które powoduje infekcje.
W jaki sposób można leczyć zapalenie zatok?
Leczenie zatok przynosowych może odbywać się na dwa sposoby operacyjnie albo zachowawczo. Kuracja zachowawcza ma za zadanie zwalczyć zakażenie, zmniejszyć obrzęk tkanek, a także udrożnić ujście jam nosa. Bardzo dobrym sposobem na chore zatoki używanym w domu, jest irygacja, czyli płukanie zatok. W aptekach dostępne są specjalne zestawy do ich płukania, dzięki którym nos, jak i zatoki zostaną pozbawione wydzieliny i wszelkich zalegających zanieczyszczeń. Zakażenie zatok przynosowych spowodowane przez bakterie leczy się przeważnie przy użyciu antybiotyków, których nie używa się w przypadku zarażenia wirusami. Do uzupełnienia procesu leczenia stosuje się leki obkurczające ujścia zatok przynosowych oraz błonę śluzową nosa warto też wykorzystać domowe sposoby na zatoki, aby szybciej wyleczyć zakażenie i zmniejszyć szanse na zachorowanie w przyszłości.
11 produktów które pomogą w walce z zatokami:
Wilgotny kompres
Położenie wilgotnego kompresu na wysokości zatok przynosi oczekiwane ukojenie, zmniejsza ból, a także sprawia, że zatoki są lepiej nawilżone.
Nawilżacz powietrza
Powodem problemów z zatokami może być przebywanie w pomieszczeniu z bardzo suchym powietrzem, przeważnie klimatyzowanym. Takie powietrze prowadzi do podrażnienia dróg oddechowych, w takim wypadku pomoże nawilżacz powietrza
Sól fizjologiczna w sprayu
Działa w taki sam sposób jak urządzenie do nawilżania powietrza. Jednak jest bardzo łatwa i szybka w aplikacji, można ją zabrać wszędzie ze sobą i w miarę potrzeby zaaplikować, gdy znajdziemy się w klimatyzowanym miejscu.
Leki na zatoki dostępne w aptekach bez recepty
Najczęściej wybieraną metodą radzenia sobie z bólem zatok są leki bez recepty na tego typu problemy. Znaleźć je można w każdej aptece, odznaczają się wysoką skutecznością oraz niską ceną. Leki uśmierzające ból i walczące z problemem zatok można zakupić już za dziesięć złotych.
Jakie leki na zatoki wybrać?
W aptekach dostępnych jest wiele różnego rodzaju produktów na zatoki, warto wybrać przede wszystkim te ziołowe o naturalnym składzie. Zadaniem ich jest zmniejszenie obrzęku, oczyszczenie i odblokowanie nosa oraz zmniejszenie bólu. Najlepiej wybrać preparaty, które są dostosowane specjalnie na problemy z zatokami. Należy do nich między innymi produkt Ibuprom Zatoki Tabs, Theraflu Zatoki (w saszetkach). Leki te działają przeciwzapalnie oraz przeciwwirusowo. Wysoką skutecznością odznacza się również lek Polopiryna Zatoki, dostępna w formie saszetek do rozpuszczenia w wodzie. Można również sięgnąć po produkty homeopatyczne, między innymi po Hydrastis canadensis czy Kalium bichromicum. Dużym plusem jest to, iż ich stosowanie nie niesie ze sobą żadnych skutków ubocznych, dlatego można je przyjmować nawet w trakcie ciąży.
Wskazania do stosowania preparatów na zatoki:
zapalenie zatok
zapalenie zatok czołowych
nieżyt błony śluzowej z bólem oraz uczuciem ucisku u nasady nosa
gęsta i lepka wydzielina spływająca po tylnej ścianie gardła
nieżyt błony śluzowej nosa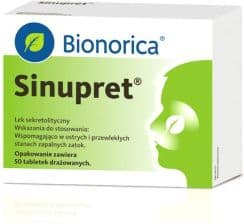 Drażetki na zapalenie zatok
Kliknij i sprawdź ceny!
Olejki eteryczne
Można z ich korzystać dodatkowo, pomagają ułatwić oddychanie, mają właściwości antyseptyczne. Szczególnie polecany jest olejek eukaliptusowy, pomaga również przy zwyczajnym przeziębieniu i katarze. Wystarczy na noc położyć blisko łóżka kominek wodny wraz z dodanymi paroma kropelkami olejku eterycznego.
Neti
poti
To specjalistyczne naczynie, które pomaga przy płukaniu zatok. Do takiego zabiegu należy przygotować litr wody w temperaturze około 36 stopni, dodać do niego najlepiej sól morską. Następnie w trakcie aplikacji przechylamy głowę na bok i z tego naczynia wlewamy do dziurki, która znajduje się dalej od podłoża. Wola wydostaje się drugą dziurką, po ukończeniu zabiegu należy dokładnie wydmuchać nos, przechylając głowę na boki.
Inhalator
Pomocny w trakcie ziołowych inhalacji, do inhalacji świetnie nadaję się mięta pieprzowa, rozmaryn i eukaliptus. Dzięki tym ziołom można udrożnić zatoki, złagodzić występowanie ich objawów i ukoić bolące miejsca.
Sauna do twarzy
Za pomocą sauny, można przeprowadzać tak zwane parówki. Takie zabiegi nawilżają drogi oddechowe, zapobiegają nawrotom problemów z zatokami.
Irygator do nosa
Irygator sprawia, iż nos zostaje bardzo dokładnie nawilżony i wypłukany. Posiada on funkcję pulsującą, która wydala zalegający w nosie śluz. W trakcie zabiegów z irygatorem powinno się zastosować roztwór izotoniczny soli fizjologicznej.
Urządzenie oczyszczające powietrze
Powodem problemów z zatokami może być duża ilość kurzu, dymu i innych zanieczyszczeń w otaczającym nas powietrzu. Aby, oczyścić powietrze ze wszystkich nieczystości, warto posiadać w domu oczyszczacz powietrza
Leki sterydowe
Korzysta się z nich, gdy pacjent cierpi na przewlekłe zapalenie zatok, odznaczają się dużą skutecznością, do terapii korzysta się ze sterydów donosowych.