Maść z witaminą A to doskonały preparat nawilżający. Pokochały go osoby na całym świecie. Charakteryzuje się przede wszystkim delikatnym zapachem, przyjemną konsystencją, niską ceną oraz dużą dostępnością. Może być stosowana praktycznie na każdym obszarze ciała. Warto jednak pamiętać, aby nie dostosować jej na twarz dłużej, niż kilka dni, gdyż może to doprowadzić do zatkania porów i powstawania wyprysków. Co warto wiedzieć o maści z witaminą A? Poznaj 10 możliwości jej zastosowania!
Maść z witamina A – skład
Skład maści z witaminą A jest dosyć prosty i nieskomplikowany. Podstawowy składnik tego preparatu to palmitynian retinolu będący pochodną witaminy A. Jego działanie jest nieco delikatniejsze niż tradycyjnej formy witaminy A. Inne substancje wchodzące w skład maści z witaminą A to:
woda oczyszczona,
wazelina,
aromat cytrynowy,
lanolina.
Poznaj 10 zastosowań maści z witaminą A!
Na Przebarwienia
To problem, który może dotknąć każdego. Przebarwienia powstają pod wpływem słońca. Niektórzy są na jego promienie bardziej odporni, a inni mniej. W przypadku niestosowania kremu ochronnego z filtrem, na skórze mogą pojawiać się rudawe lub brązowe przebarwienia, które wyglądem przypominają niewielkie pieprzyki. Ich usunięcie bywa trudne, jednak nie jest niemożliwe. Maść z witaminą A sprawia, że przebarwienia stają się znacznie mniejsze. Najpierw przebarwienia stają się dużo jaśniejsze, a następnie znikają. Miejsca z przebarwieniami należy 1-2 razy smarować niewielką ilością maści z witaminą A.
Na skórę po depilacji
Depilacja, zwłaszcza woskiem, sprawia, że skóra staje się zaczerwieniona i szczypie. Najbardziej nieprzyjemnym zjawiskiem jest efekt truskawkowych nóg, który nie tylko wygląda nieestetycznie, ale doprowadza do wrastania się włosków i do nieprzyjemnego uczucia ściągania. Może być stosowana zarówno przez kobiety, jak i przez mężczyzn. Ze względu na brak sztucznych barwników w swoim składzie, nie powinna wywoływać bolesnych i agresywnych zmian alergicznych.
Na trądzik
Problemy skórne dotykają wiele osób. Składają się na nie zmiany hormonalne, nieodpowiednia dieta oraz stres. Wypryski to coś, co sprawia, że samopoczucie spada, a my czujemy się niepewnie. Zbytnia keratynizacja skóry oraz zbyt duże wydzielanie się łoju doprowadza do powstawania problematycznych zmian, oraz do blokowania gruczołu łojowego. Maść z witaminą A nie tylko wygładza powierzchnię skóry twarzy, ale również hamuje starzenie się skóry. To idealny preparat do stosowania dla osób powyżej 30. roku życia, które mają problemy związane z trądzikiem i szukają sposób na jego redukcję oraz na spowolnienie procesów starzenia się skóry twarzy.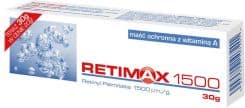 Maść z witaminą A
Kliknij i sprawdź ceny!
Na zmarszczki
Maść z witaminą A powinna być stosowana przez osoby, które skarżą się na powstawanie zmarszczek. Oczywiście maść z witaminą A nie naprawia powstałych już wgłębień w skórze, jednak spowalnia powstawanie następnych. Do jej zadań należy ochrona komórkowa w okolicach skóry, szybsze złuszczanie się martwego naskórka oraz produkcja tworzenia włókien kolagenowych i elastynowych.
Na oparzenia i odmrożenia
Preparat ten łagodzi zmiany, jakie mogą powstać po oparzeniu lub po odmrożeniu skóry. Skóra staje się dużo bardziej nawilżona, przez co szybciej się boi i zyskuje odpowiedni, zdrowy koloryt.
Na skórki paznokci
Wiele kobiet, które samodzielnie wykonuje manicure w domu, z pewnością pozbywa się skórek wokół palca. Dzięki temu manicure dużo dłużej utrzymuje się na paznokciach i wygląda dużo lepiej. Maść może dokładnie zmiękczyć skórki, co ułatwi ich wycięcie. Dodatkowo nawilżone staną się dłonie.
Na skórę pod oczami
Delikatne miejsca pod oczami są wrażliwe i podatne na opuchnięcia oraz na powstawanie fioletowych cieni wyglądających niezdrowo i nieświeżo. Maść z witaminą A może być z powodzeniem stosowana, jako krem pod oczy. Szybko się wchłania, delikatnie pachnie, a efekty mogą być wręcz porażające. Badania dowodzą, że maść z witaminą A ma zdolność zmniejszania delikatnych opuchnięć pod oczami i zmniejsza fioletowe cienie.
Na usta
Preparat ten to również niezastąpiony nawilżacz do ust. Nie jest drogi, a nawilżenie, jakie może dać naszym ustom, jest wręcz nieocenione. Usta nie pękają, pięknie się błyszczą i nie pieką. To prawdziwy ,,must have" w torebce każdej kobiety!
Na stopy
Niektóre osoby stosują maść z witaminą A jako krem do stóp. Idealnie zmiękcza nawet najbardziej oporne miejsca. Warto jednak najpierw dokładnie usunąć martwy naskórek, a następnie rozpocząć nawilżanie.
Na suchą skórę na całym ciele
Sucha skóra to problem wielu ludzi. Nasila się zwłaszcza w czasie jesieni i zimy, kiedy temperatura powietrza, wilgotność oraz wiatr sprawiają, że skóra wygląda na zmęczoną, ziemistą i staje się przesuszona. Maść z witaminą A może być stosowana dosłownie a całe ciało. Nieważne, czy będzie to skóra twarzy, rąk, ust, czy stóp. Działanie witaminy A jest bezpieczne i nie prowadzi do poważnych powikłań. Szczególną ostrożność powinny zachować jednak kobiety w ciąży i kobiety karmiące piersią, gdyż nadmiar tego preparatu może doprowadzić do uszkodzenia płodu.